When I'm planning a reading comprehension unit or information research unit I often have a difficult time finding books at the right level that also showcase the nonfiction text features I want to teach. So, writing my own nonfiction readers for teaching text features glossary and bold print seemed like the right thing to do. This unit will not only help you teach nonfiction text features appropriate for 2nd grade, but you'll have a flappin' fun time learning about these 5 different penguins, too.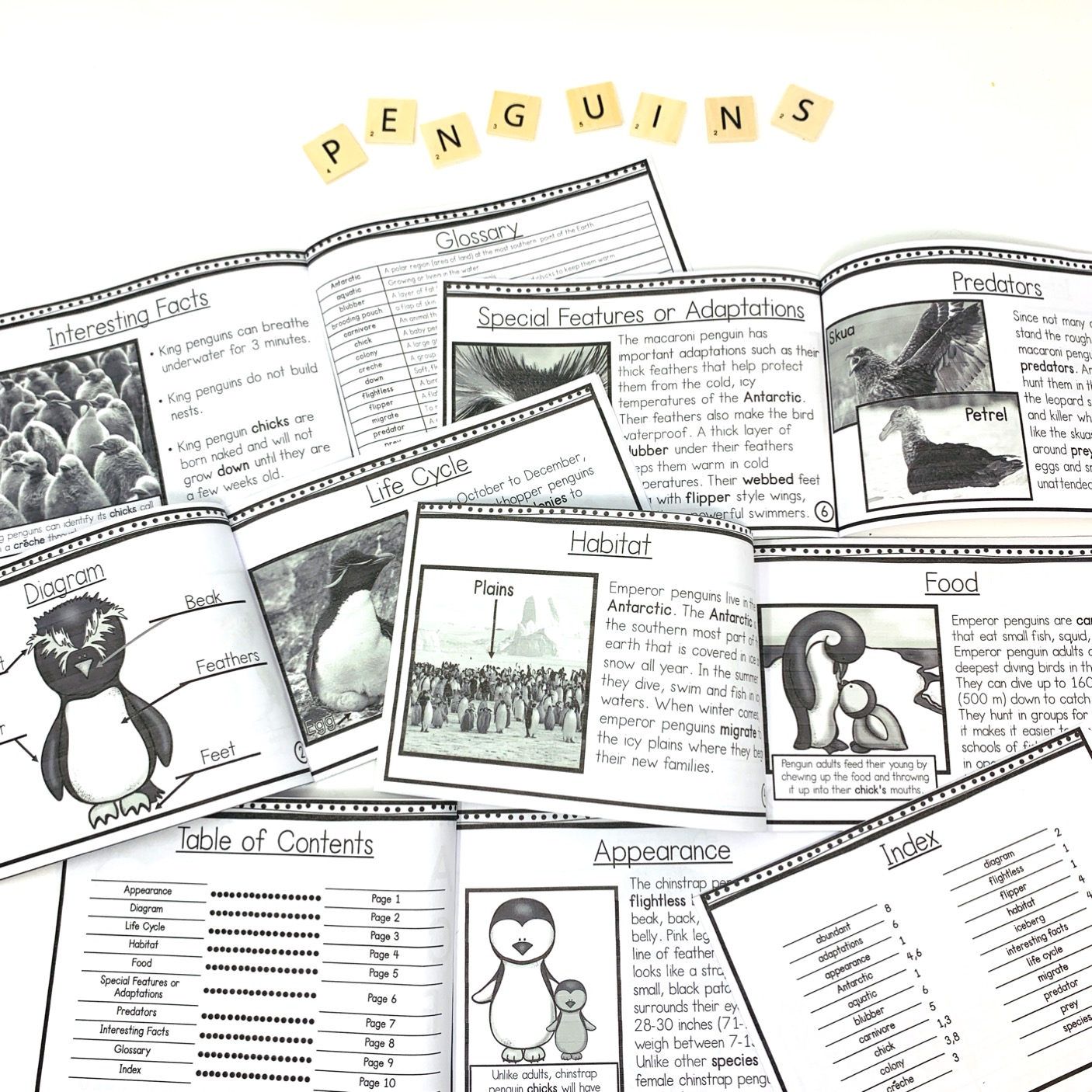 The Importance of Introducing Glossaries and Bold Print in the Text
We know that understanding vocabulary is the foundation of reading comprehension. Teaching new vocabulary that is being introduced in a text as well as existing academic vocabulary is key to understanding what is being read. We have to go beyond mere recognition and develop meaning. Bold-faced words signal to students that this is an important/ new word that I will need to know. Helping students understand the use of a glossary is giving them a tool that allows them to increase independence and extend their own learning.
Penguin Reading Comprehension
Every time I teach a polar unit the penguin is highly sought after when selecting animals for our research. I decided to take my students' fascination one step further with some in-depth research on 5 different types of penguins.
Besides the fact that penguins are so much fun to learn about when completing nonfiction research, the penguin crafts that accompany each unit will add so much winter festiveness to your classroom! In this week's reading comprehension unit I chose to focus on Emperor Penguins, Macaroni Penguins, Rockhopper Penguins, Chinstrap Penguins, and King Penguins.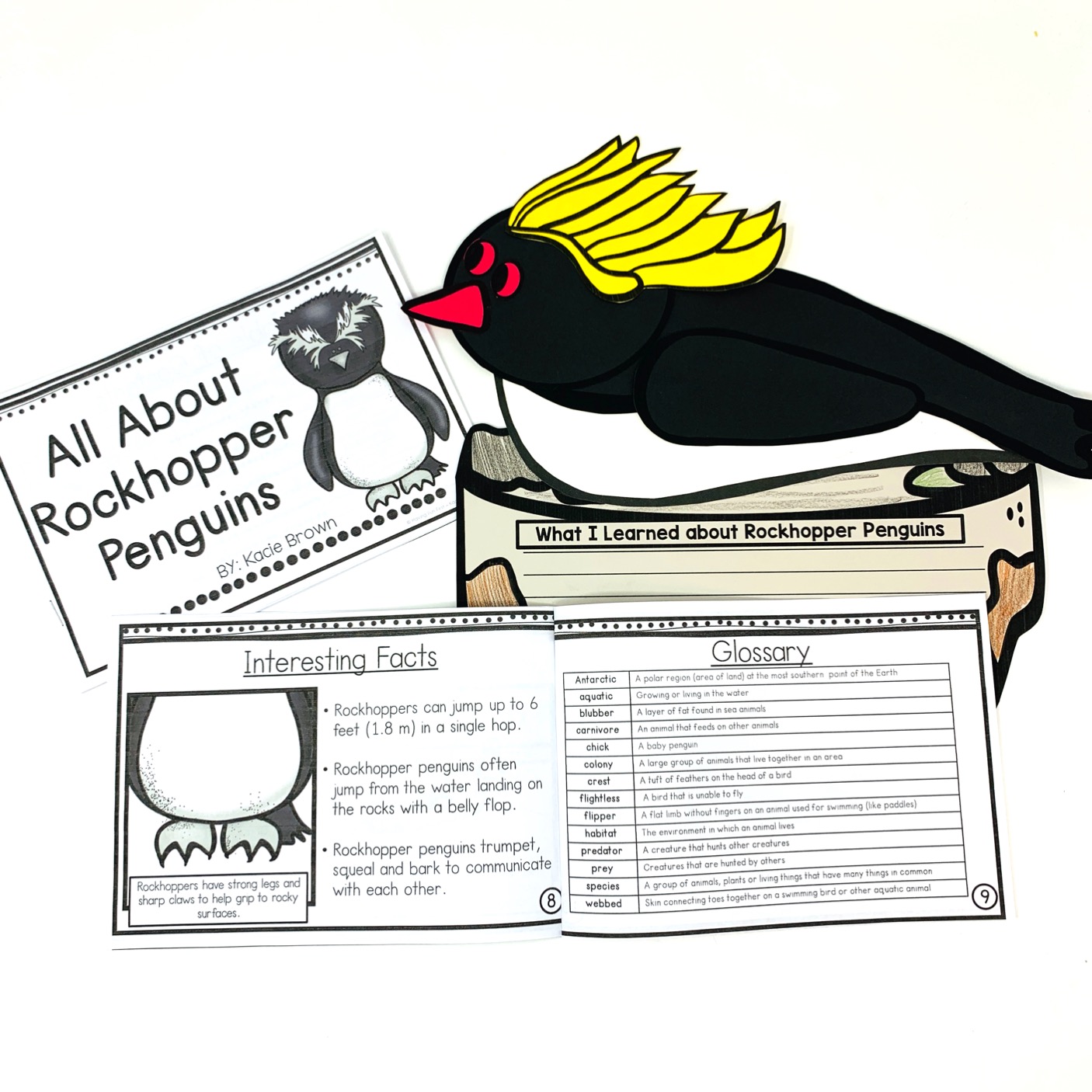 I included all the nonfiction text features appropriate for 2nd grade into the nonfiction readers. If you are strictly looking for these nonfiction passages you can check those out separately in my store.
Each of these penguin units includes all the supporting materials you need to teach about text features including posters, worksheets, home connection materials, and more.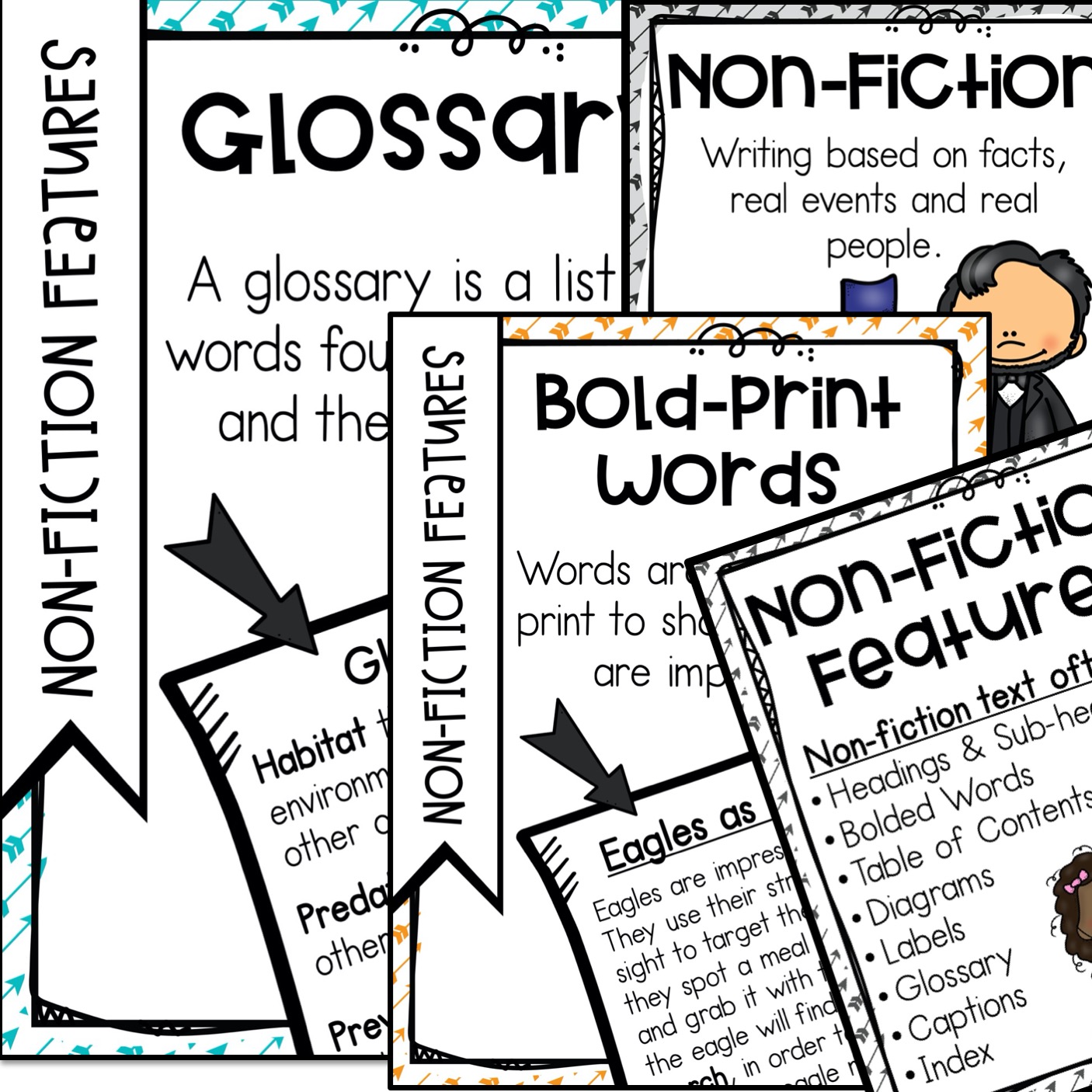 All 5 penguin readers and activities are included in my Guided Reading with a Purpose Penguin Bundle.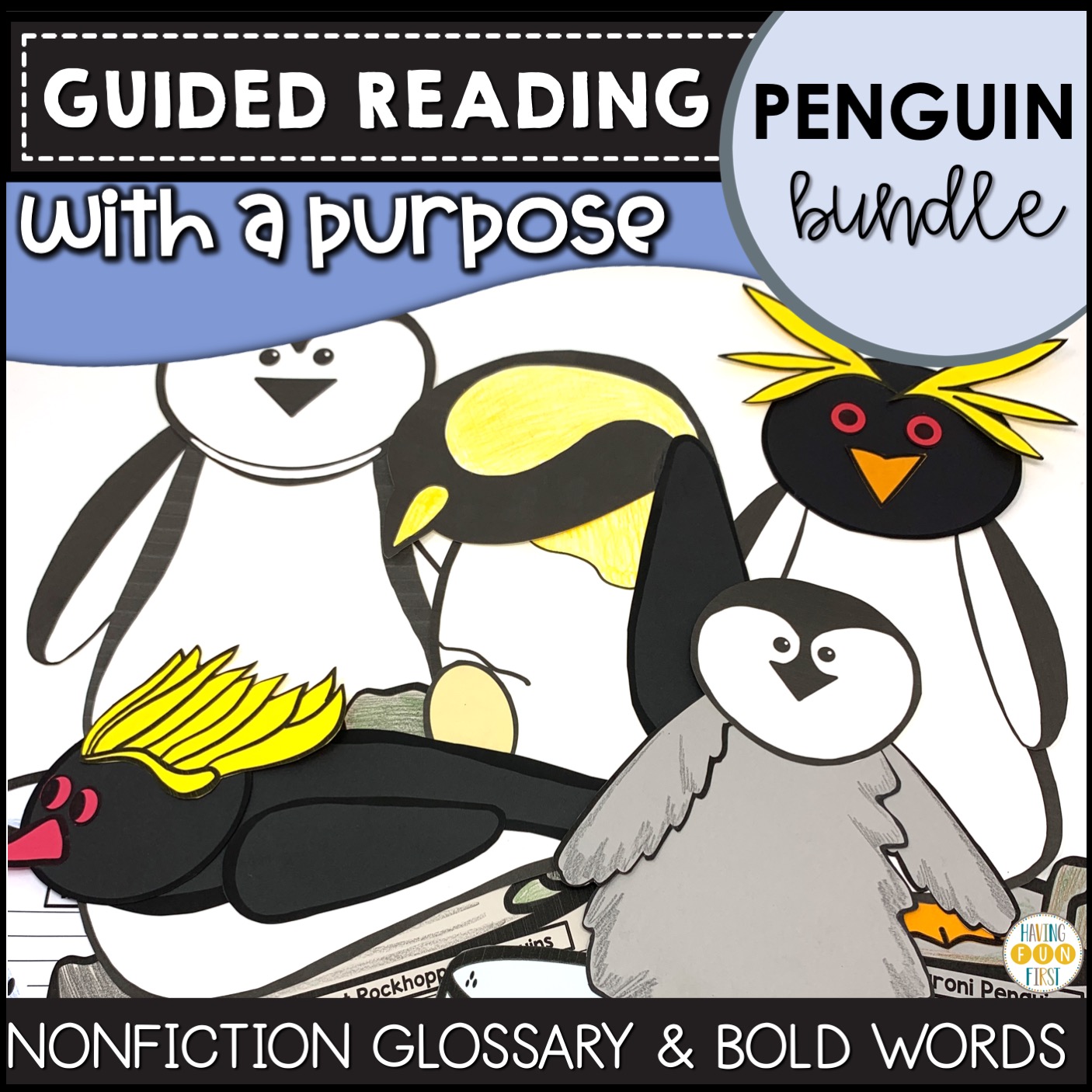 You can do so many fun things with this Penguin Reading Comprehension Bundle. Simply teach it as is selecting from a plethora of materials or build on your students' excitement and turn it into a full nonfiction research project.
Remember, that Guided Reading with a Purpose isn't all reading… It is a multi-subject curriculum strong in reading and writing and always has fun art extensions! You will learn this as you explore the many resources that are part of this year-long curriculum.
End of Unit Penguin Activities
After diving into the penguin reading comprehension activities, creating adorable penguin crafts, and writing interesting informative text reports on penguins, there are many things you can do to celebrate the learning. Here are some of my favorite ways to end this penguin unit:
Have students display their writing and crafts (I love using these mini-easels to display the work) and invite families into the classroom for an open house walkthrough. Whenever we do this, I encourage parents to ask a variety of students to share something new they have learned. It is always a huge hit and informal.
You can invite other classrooms to come in and your students can share all or parts of their reports with other students. I have done this with big buddies, little buddies or another same-grade classroom. It is always fun seeing your students share their hard work with their peers.
Have students partner-read their reports or summaries of learning with other students in your own classroom or group share with a classroom microphone.
Last, but not least… who doesn't love a themed snack? Check out these adorable penguin bananas I found while deep diving on Pinterest. All you need is melting chocolate, bananas, M&Ms, and candy eyes. You can add coconut oil to the melting chocolate to make it easier to spread. Once you have the ingredients, melt the chocolate and coconut oil. You can either dip the top of bananas in this mix or let kids paint it on their bananas (with clean brushes of course ha). Then you add the candy eyes and M&Ms for feet and a beak. Check out this simple recipe on Delish.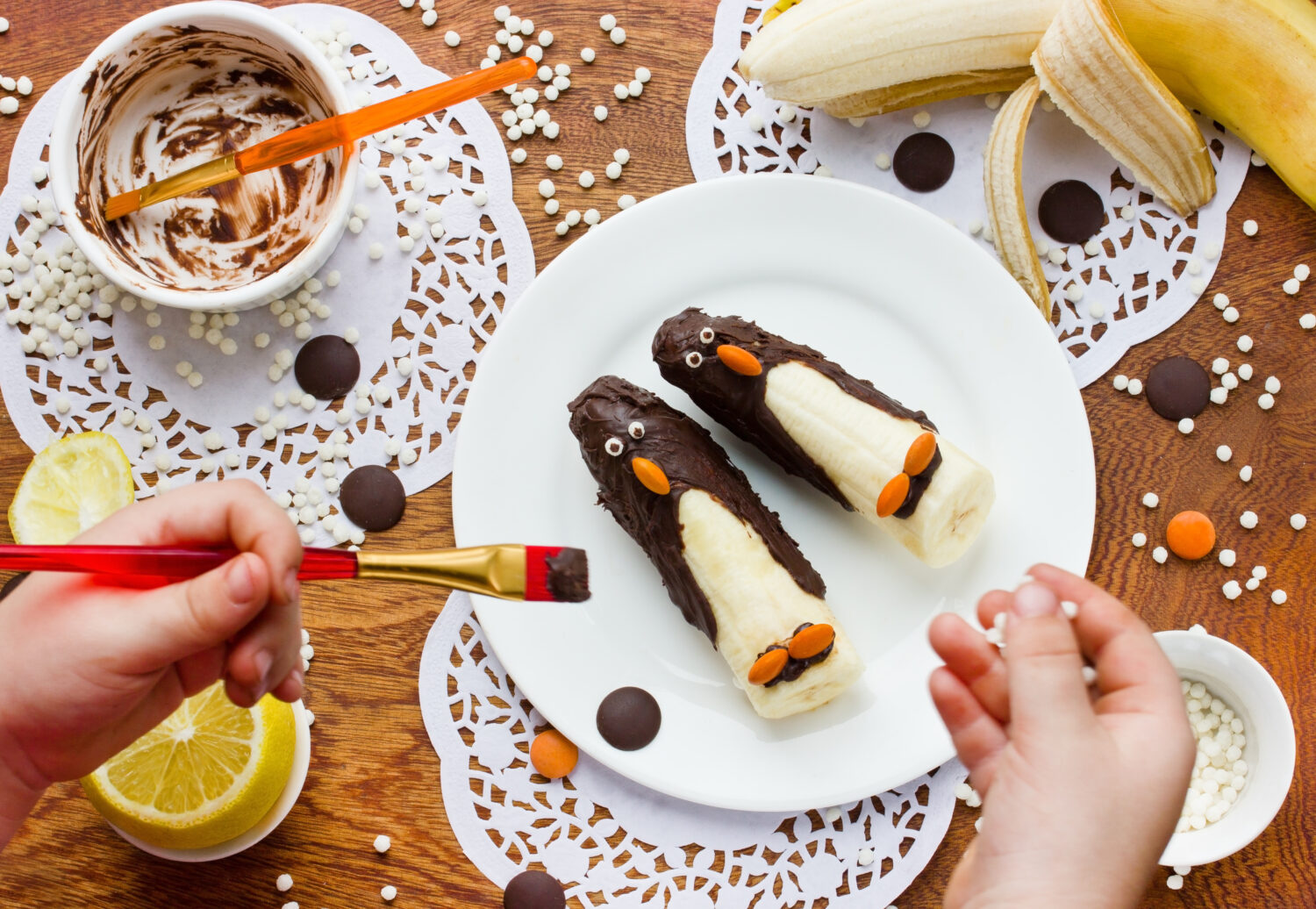 More Resources for Teaching Text Features
Read more about my nonfiction text feature units right here on my blog:
As always, feel free to reach out with questions, suggestions or just to connect!