Maybe it's all the snow or the dropping temperatures, but every year in January I love teaching my kids all about polar animals and their arctic habitats! I thought  I would give you a glimpse into my favorite Arctic activities and help you to bring polar animal fun into your classroom with exciting ideas and a free nonfiction text features worksheet!
Polar Animal Unit
Each year I have a fun activity-packed Polar Animal Unit that covers all areas of the curriculum. I love it because there are lots of activities to choose from so I can differentiate from year to year depending on what my kids can handle and what they need. Having choice also keeps it exciting for me.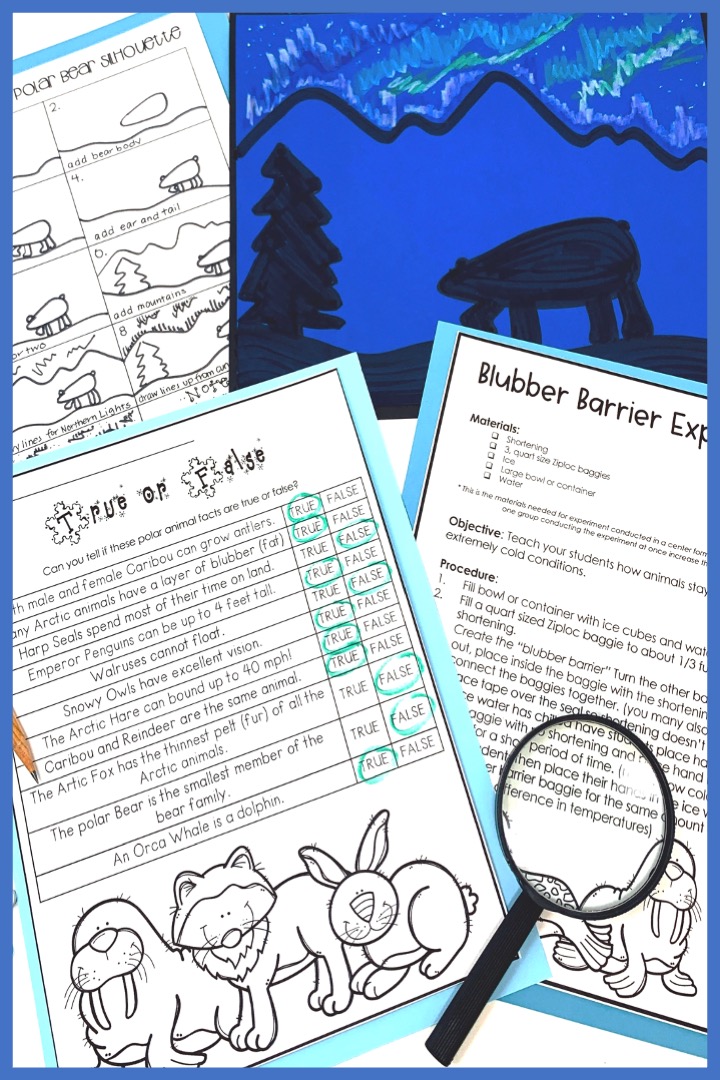 In the Polar Animal Unit, I have 9 non-fiction passages about different arctic habitats and a variety of polar animals with reading comprehension activities to go with each. The unit also includes compare and contrast activities, labeling diagrams, graphing our favorite animals, solving polar-themed math problems, and even completing a blubber barrier science project! My main goal with the unit is to help students gain confidence in their knowledge of polar animals so I can successfully guide them through writing an informative report on the polar animal of their choice.  Guess what?! The kid's favorite part last year was creating our polar animal report folders. They worked so hard on them and begged to continue when it was time to put materials away… WIN!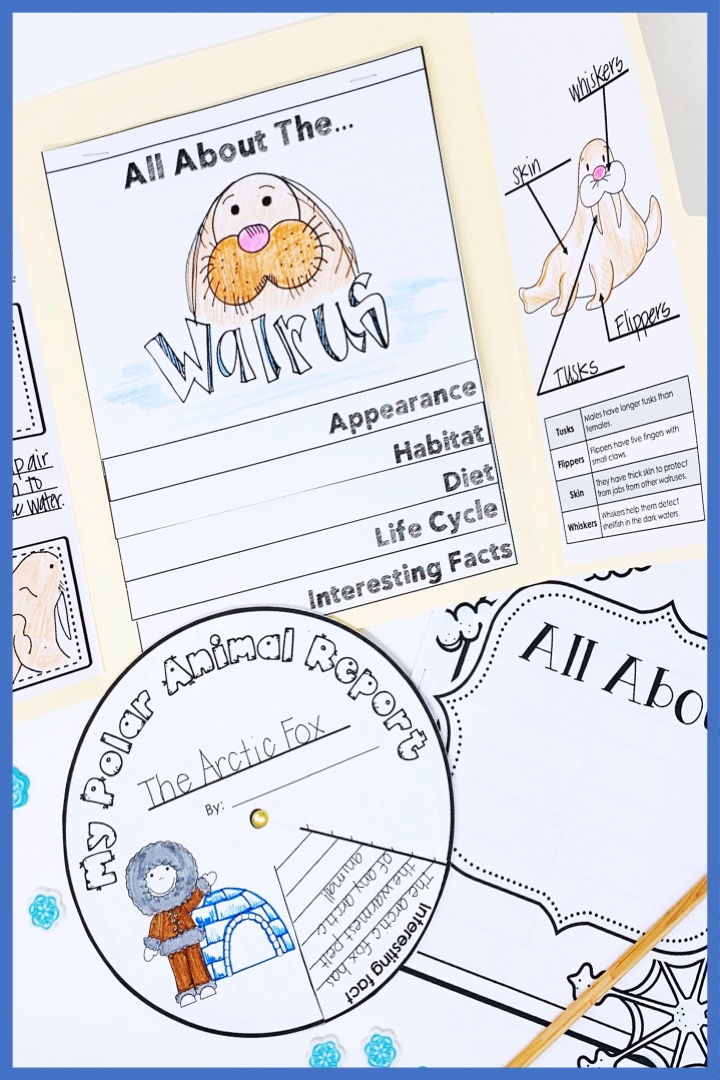 Nonfiction Text for Polar Animals

The only problem was I was having to run to the library each year, print numerous online articles, and apply for grants to get polar animal nonfiction into their hands. So, this year I decided to take the polar animal theme one step further by adding a more in-depth guided reading resource to round out our studies. This Guided Reading with a Purpose nonfiction polar animals bundle focuses on nonfiction text features. The polar animals included in this nonfiction set are the arctic fox, walrus, narwhal, reindeer or caribou, and polar bear.

Each of these polar animal nonfiction texts are available separately by clicking the images above, or you can purchase them together as a part of my

Polar Animal Nonfiction Readers Set

.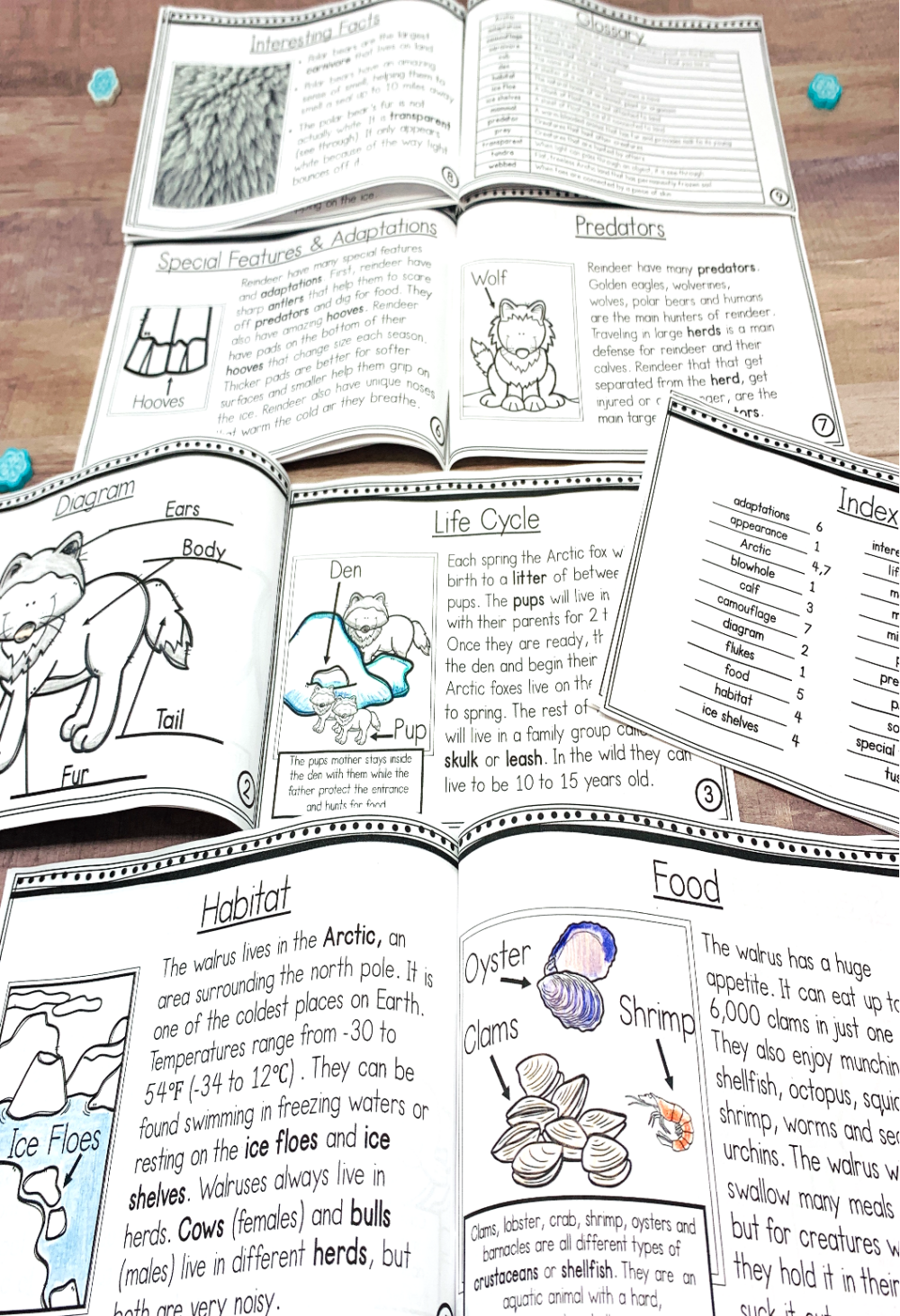 Nonfiction Text Features
Since we were gearing up to write an informative report on the polar animals I needed to make sure my text modeled all the expected nonfiction features and more.  With this in mind, I knew nonfiction text features would also be a great choice for my guided reading theme. I don't know about your students, but many of the nonfiction text features were always a hard grasp no matter how much we covered it. This is why I LOVE Guided Reading with a Purpose. 
Instead of covering the features a little here and a little there,  we go in-depth each week to assure confidence and hopefully mastery in each area. The Polar Animal Unit focuses on nonfiction text features like diagrams and labels. I made sure that all the small readers had a diagram and multiple opportunities to see labels in use. Other text features I included are boldfaced words, table of contents, captions, index, and glossary, for review or as an introduction point. 
Guided Reading with a Purpose
I cannot tell you how excited I am to not make the haul to the library this year, knowing that my kids will have at least 2 solid nonfiction resources to support their polar animal reports! The best part is that after creating my Guided Reading with a Purpose polar-themed unit I can now truly spread the polar animal fun throughout the whole curriculum with more direction, depth, and purpose. 
If you aren't already familiar with my curriculum resources, The Guided Reading with a Purpose units not only include the readers and comprehension activities to go along with them but also…
Mini-lesson ideas to introduce the focus 

Comprehension cards to accompany the book to review throughout the book or for discussion after you read

Parent communication: letter home going over the weekly focus with suggested conversation starters around literature

Book talk bookmarks for guided reading groups, at-home support, or independent student use

Posters supporting the target skills

Bulletin board headers and posters 

Skill cards: character, setting, problem & solution, etc. 

Morning work or fast finisher activities

Multiple worksheets covering current skills and previous week's skills

Writing prompt(s)

Graphic organizers & writing paper

Craft  
CLICK HERE to learn more about the "Guided Reading with a Purpose" Curriculum
Nonfiction Text Features Worksheet
FREEBIE ALERT! I wanted you to be able to take a glimpse into a small part of my latest Guided Reading with a Purpose unit on polar animals so I included a FREEBIE! The orca/killer whale book in this freebie is exactly what the small readers are like in my Guided Reading with a Purpose Polar Unit… full of many text features. I also provided one of my mentor posters and one of the many focused worksheets included in the unit.
And check out my other Nonfiction Text Features freebie in the post, "Pass, Shoot, Score!  Basketball Nonfiction Readers and a Free Text Feature Scavenger Hunt."
CLICK ON THE IMAGE BELOW to receive your orca whale nonfiction reader, diagram and label activity, and mentor poster.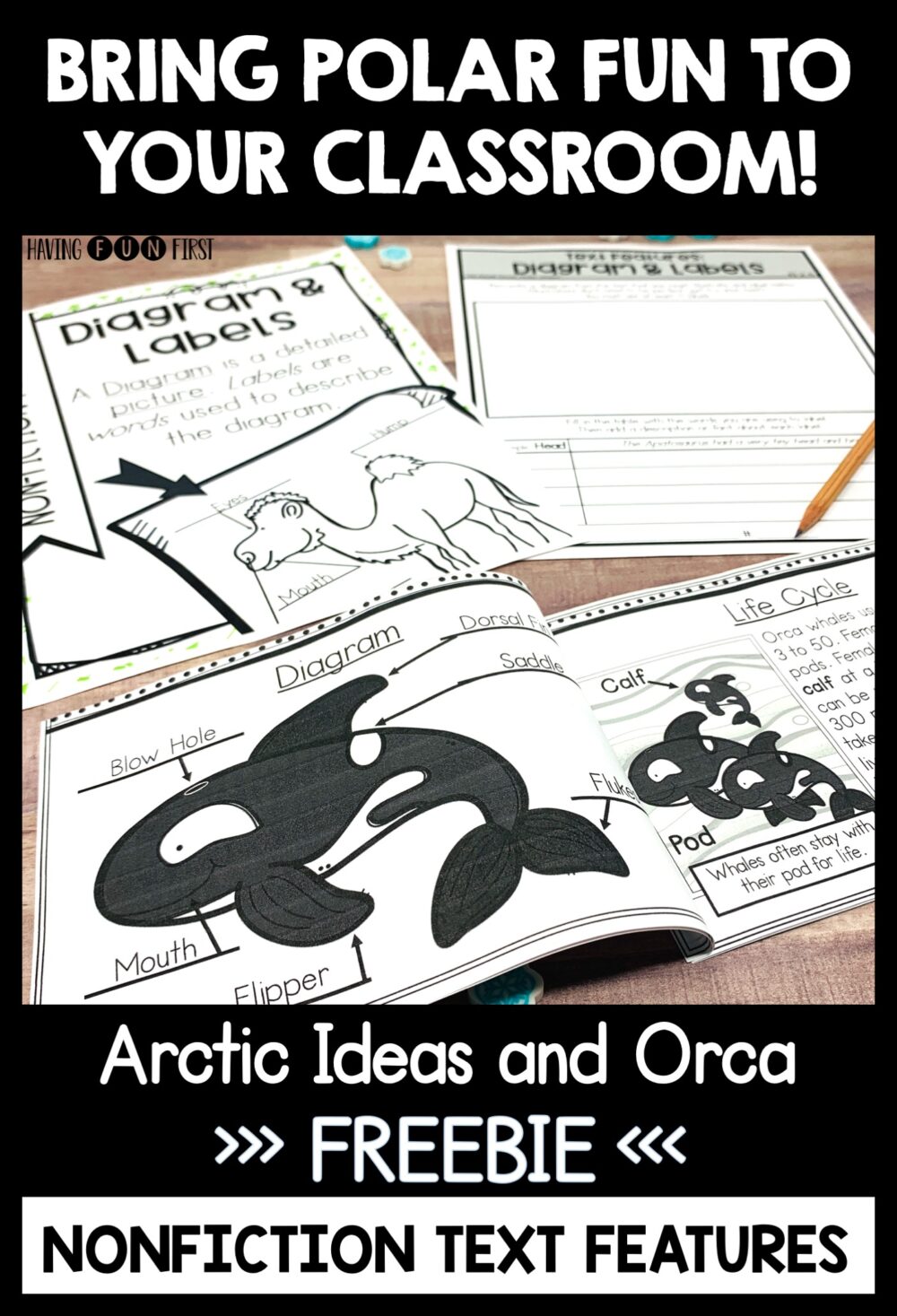 I hope you enjoy this freebie and always feel free to contact me with questions you may have!