Hey there friends,
This week here in Washington we have had some beautiful sunny days (in between the random snowstorm) and it has me so excited for spring. I don't know about you, but the sun just brings me to such a better mindset on anything and everything.
Beach Field Trip
With sunny weather on the brain, I started thinking of my absolute favorite field trip we took every spring when I taught 1st grade. I even took my own kids on the field trip when I was on maternity leave. The trip to the beach at Brackett's Landing was always a first-grade favorite. We would venture out on a low tide day to explore the amazing tide pools.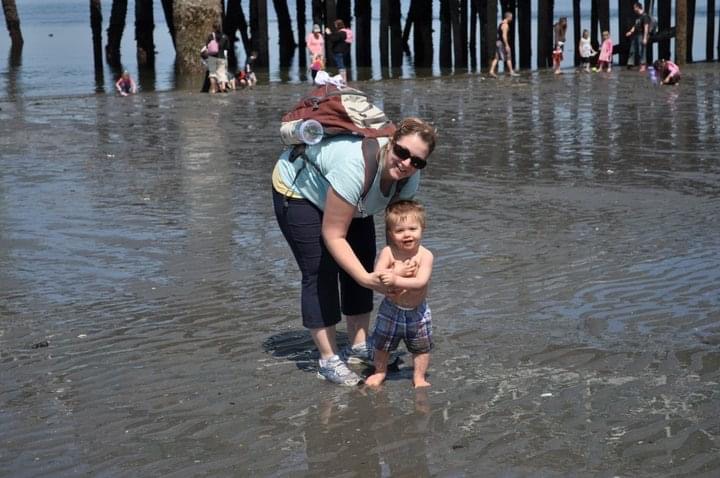 Preparing for a Beach Field Trip
The week before the field trip we would talk about the many different ocean animals we might discover on the field trip. We then let the kids choose the animal they want to do a report on. I know kids are generally pumped on a field trip, especially to the beach, but it is amazing the difference of engagement when they are hoping to spot their ocean animal in real life.
Beach Field Trip Chaperone Bags
One other thing I always prepared before field trips was my chaperone bags. In the bags I would have:
Printed directions to the destination
A printed list of all chaperones with the kids they will have in their group with cell phone numbers including my own. (This has been a HUGE savior in the past, and I have never had anyone abuse having my phone number.)
A baggie of band-aids, baby wipes, hand sanitizer, and medical gloves
Specific to this field trip I also include a checklist list of all the animals they could see. The kids and parents both love this.
Tide Pool & Ocean Animals Lesson Plans
Coming back from the field trip, the kids were so excited to share what they observed about their ocean tide pool animals and equally ready to work on their projects. The one problem we were running into was that there was a lot of nonfiction text available on some of the ocean animals we would meet. As a result, I decided to write a few passages about common sea creatures.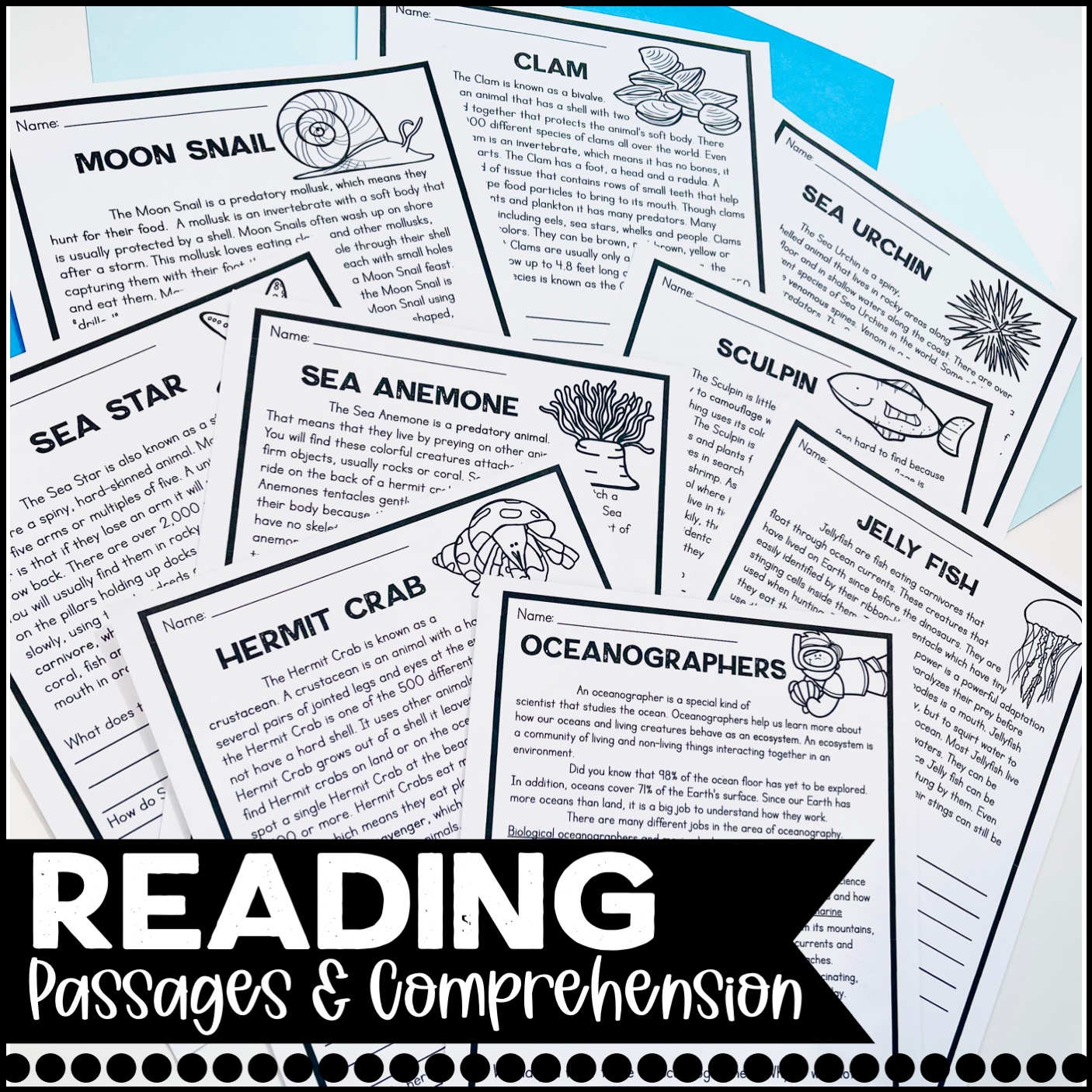 Then… I may have gotten carried away, and created a variety of report templates, graphic organizers, math and literacy center work, morning work activities plus other materials to help students show what they know about tide pools and ocean animals.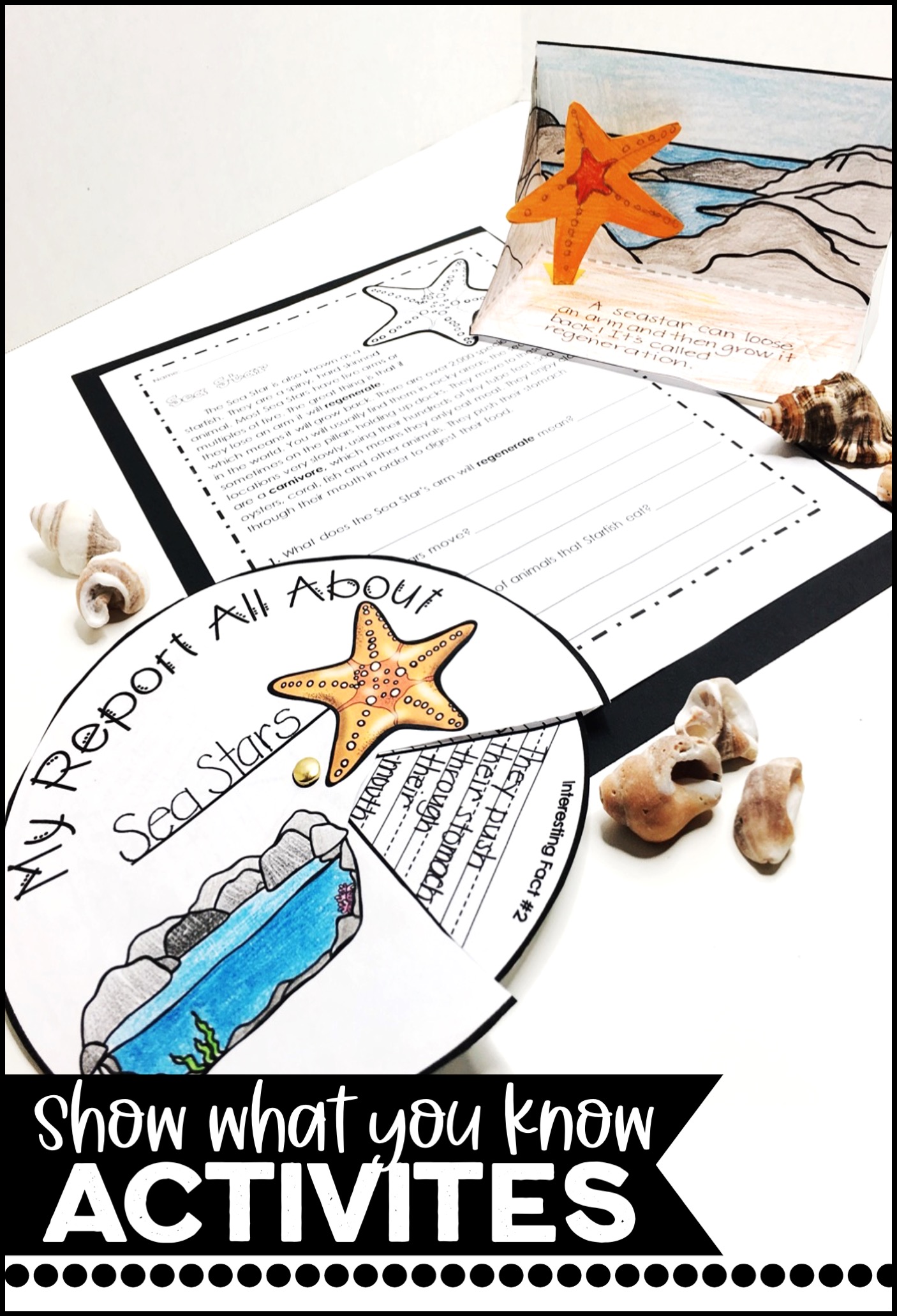 Here's a deeper glimpse into what is included in this tide pool and ocean animal resource…
Reading and Writing
There are 9 different nonfiction passages about tide pool animals with comprehension questions. Students will read about clams, moon snails, sea stars, sea anemones, sea urchins, jellyfish, hermit crab, sculpins, and oceanographers.
After reading these passages, along with any additional informational text or digital resources you provide, students can create their very own informational writing reports. I provide a plethora of graphic organizers and writing templates to accommodate all levels of writers.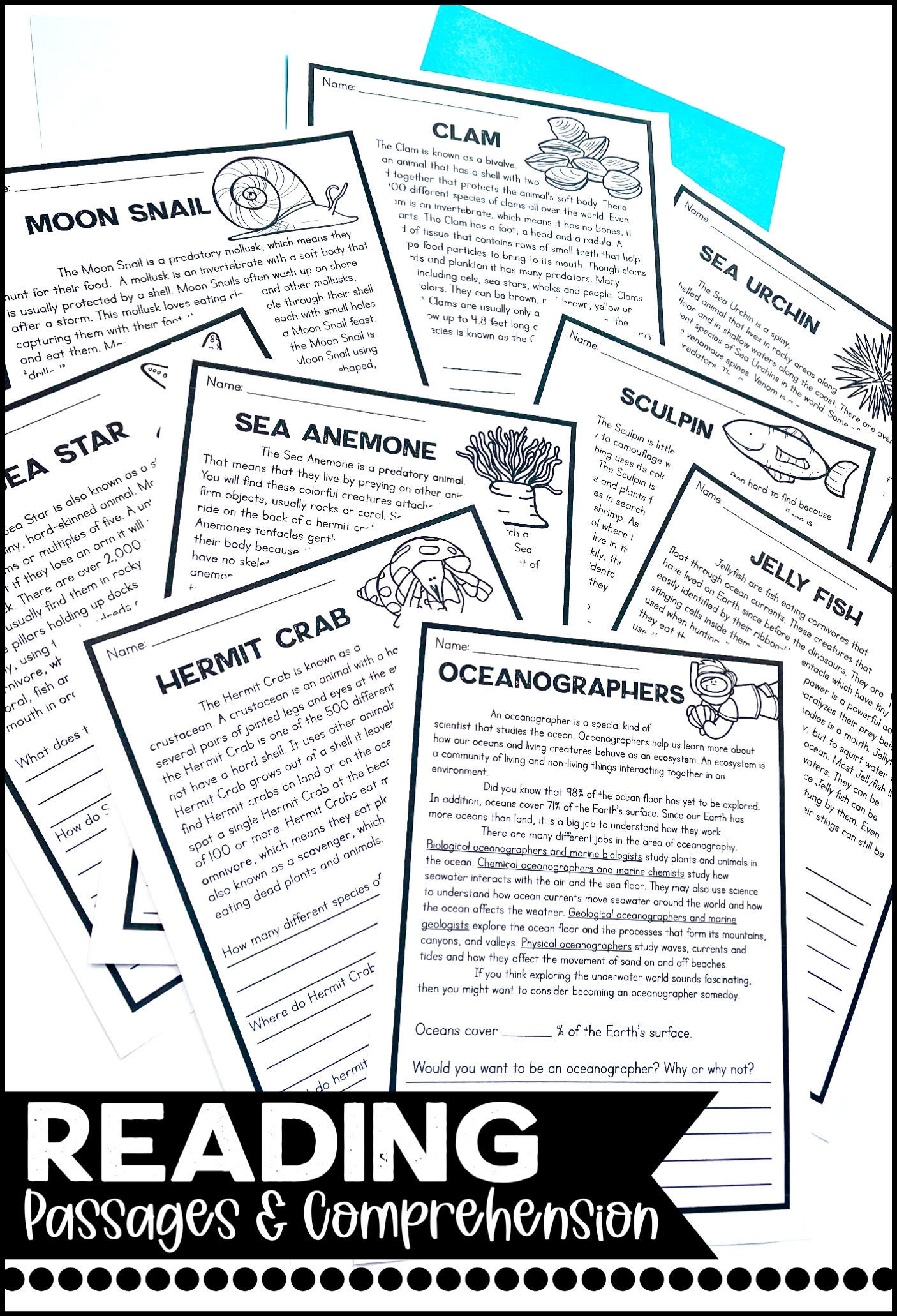 Morning work materials and literacy center ideas with a fun ocean and tide pool theme are included as well.
Math and More
I like to add extensions to other curriculum areas whenever possible. For example, for math, I created graphing activities, math center games, and some number sense (doubles, 10's partners, skip counting, story problems, etc) morning work or fun homework options.
If you are looking for fast finishers or just fun extension activities for your tide pool and ocean studies you will enjoy the ABC order, word searches, and website extensions to further your students' learning.
Lastly, I also included a labeling activity with a diagram of the tidal zones, to not only help students identify where their tide pool or ocean animal lives.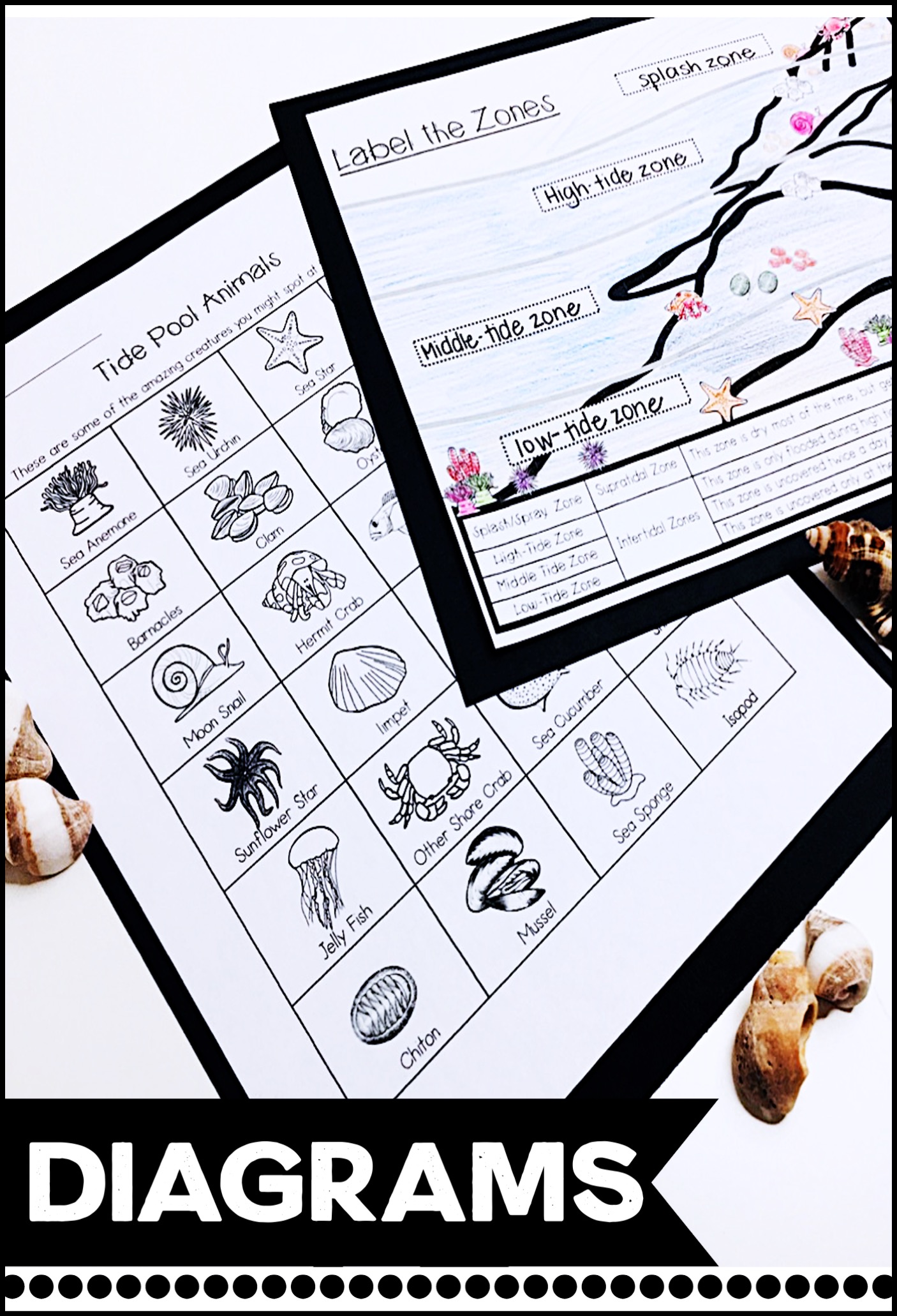 Ocean Animals Nonfiction Passages Freebie
To give you a sneak peek of this Tide Pool & Ocean Animal Nonfiction Unit, I wrote an additional passage about oceanographers that I would love to share with you as a free download. If you're looking for more nonfiction reading comprehension passages be sure to check out my previous blog post about Nocturnal Animals & Nonfiction Text Features.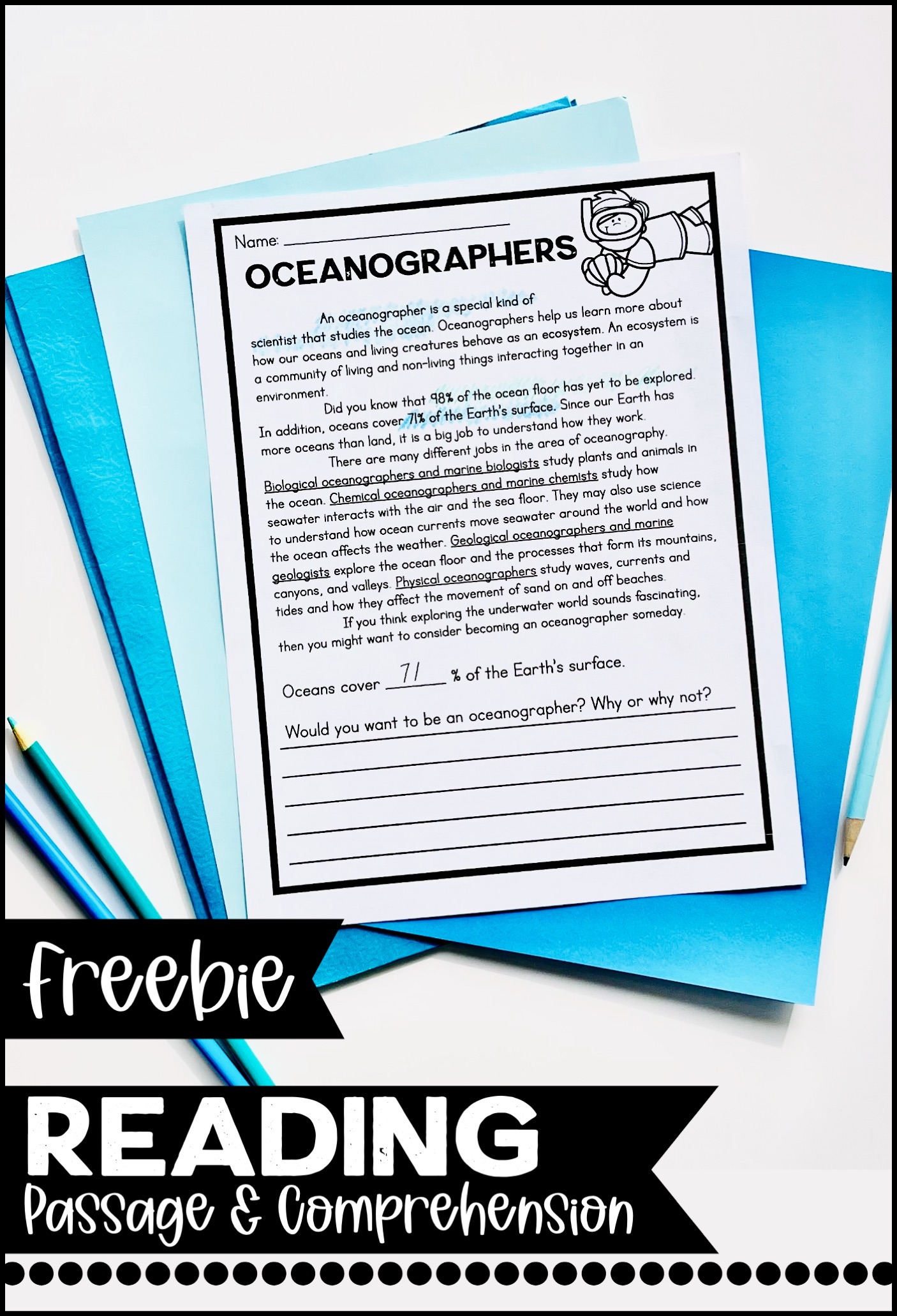 Even if you aren't able to go on a beach adventure with your nuggets, I know you will enjoy learning about ocean life with this unit or use these resources to plan your own virtual beach field trip!
Virtual Beach Field Trip
Speaking of virtual field trips, it would be so fun to plan a day when your students could dress in their beach gear and check out these virtual beach field trips! Here are a few links to various virtual ocean visit options:
Leave a comment below and tell me about your beach field trip and, as always, feel free to reach out with questions, suggestions or just to connect!