Hey there friends,
Though our weather can't decide if it's going to be spring yet, the animals and insects are out and about here in Washington state. With the arrival of spring brings one of my favorite nonfiction units… insects reading comprehension!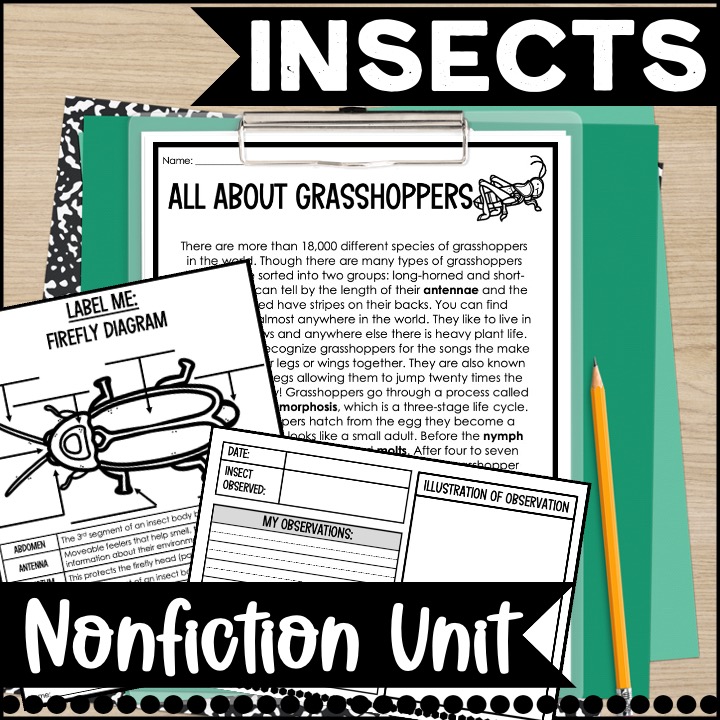 Insect Unit Study
In 2nd grade our science curriculum always had 2-3 insects delivered to our classrooms including caterpillars and mealworms. It's hard to contain the excitement around this theme so my team and I always ordered extra species of insects such as ladybugs, ants, silkworms, and stick bugs to name a few. It was not only fun but important for students to see how different the various life cycles can be.
My team and I typically order our insects from Insect Lore when adding additional insects to our studies. If you are choosing to incorporate insects on your own, make sure to research which insects are local and can safely be released into your local habitats.
I typically don't want to let mealworms crawl all over me, pick out old food from the insect habitats, or pet darkling beetles, but I am willing to look past my squeamish tendencies towards exoskeleton creatures for the pure joy and excitement it brings to my class.
When I first started teaching, we didn't have a science curriculum, so I was left to create something that would engage students in science and go over some basic science processes. I didn't complain because I love creating and being creative. This is when my insect unit was born. Over the years I have edited, omitted and added all kinds of engaging educational components.
In my Insect Nonfiction Unit, I have 7 non-fiction passages about different insects with reading comprehension activities to go with each. The unit also includes compare and contrast activities, labeling diagrams, an insect observation journal, graphing our favorite insects, solving insect-themed math problems, and even a digital BOOM card deck all about insects!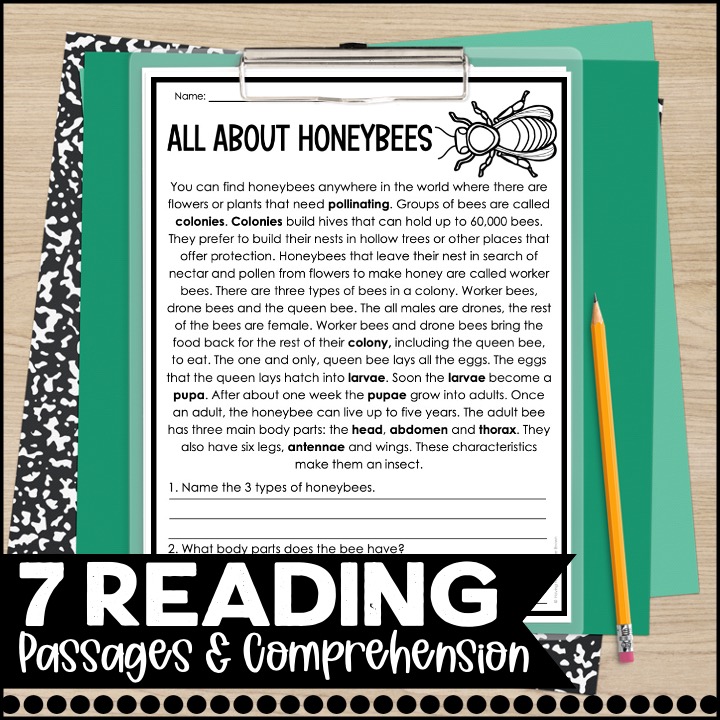 My main goal with the unit is to help students gain confidence in their knowledge of insects so I can successfully guide them through writing an informative report on the insect of their choice. I also have a fun report wheel as a smaller modified option or center choice.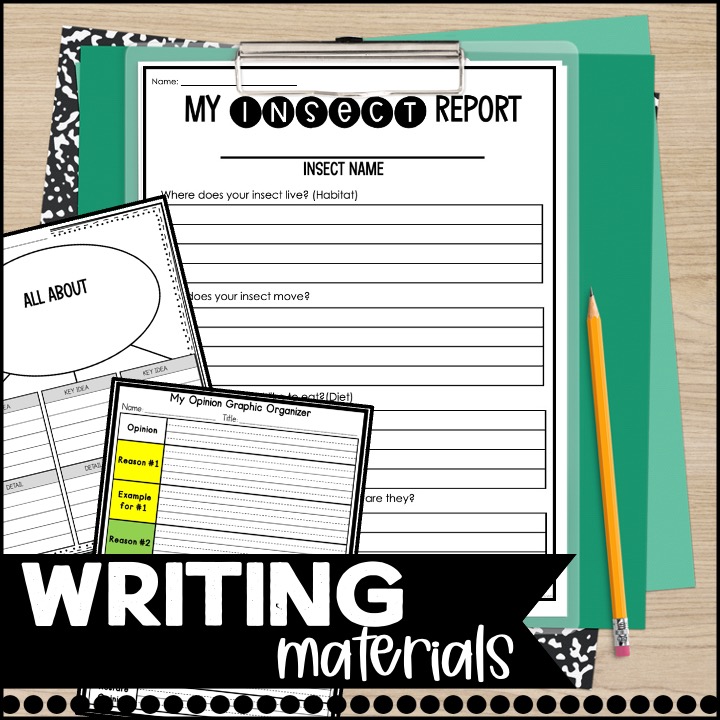 My students always LOVE learning and showing what they know about insects. Even after the unit has "ended" I continue to have insect activities as a center choice. My students choose to keep researching more about bugs and love showing what they have learned and that is a win!
Looking for more nonfiction units? Check out my previous blog post about my Tide Pool & Ocean Animal Nonfiction Unit that includes a free nonfiction reading passage.
Insects Reading Comprehension Activities
After years of excitement packed science lessons I was also able to successfully incorporate science into our writing curriculum through consistent observation journals and nonfiction reports. Though the writing portion of my literacy block felt well addressed I knew I wanted to dive into reading deeper beyond reading for research. This is why I created my Guided Reading with a Purpose unit on insects with a focus on the author's purpose. By exploring and examining multiple fiction and nonfiction texts students will be able to determine the author's purpose of persuading, informing or entertaining.
Here are my top 5 mentor texts and guided reading resources about insects that can be used to teach author's purpose:
This beautifully illustrated book takes readers through the life cycle of the dragonfly in an engaging way with fun narration. Exploring metamorphosis in this way helps students to fully grasp the stages.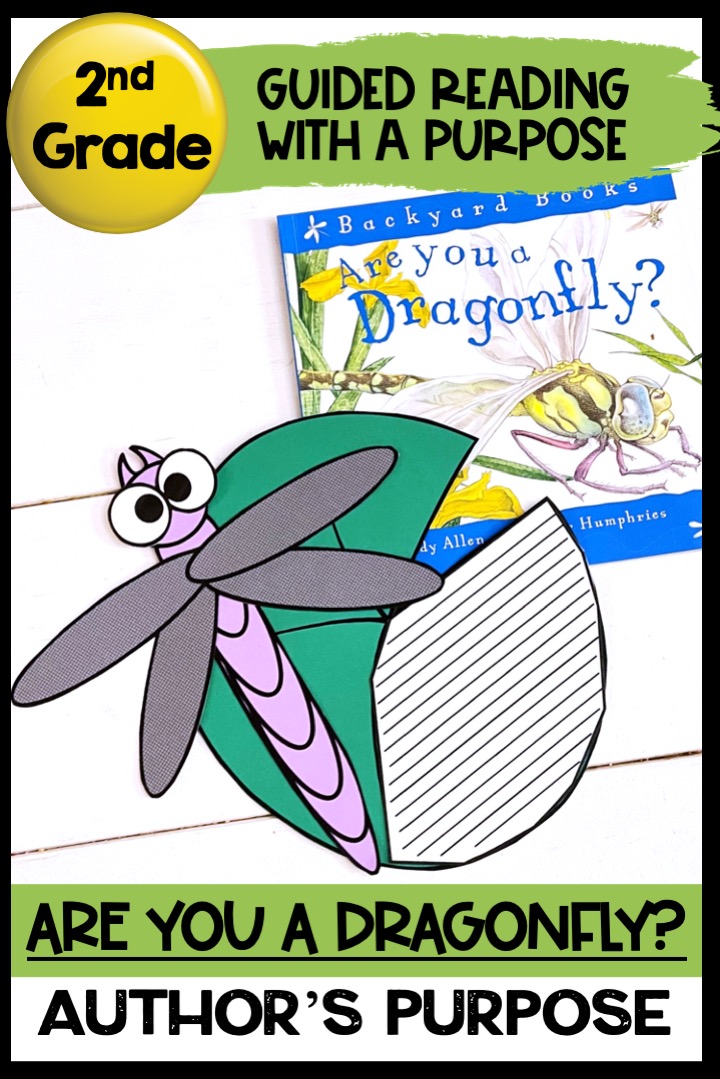 Gail Gibbons always delivers if you are looking for a book packed with nonfiction text features and detailed illustrations and diagrams. This book on ladybugs will leave readers feeling like experts on the insect without overwhelming the mind.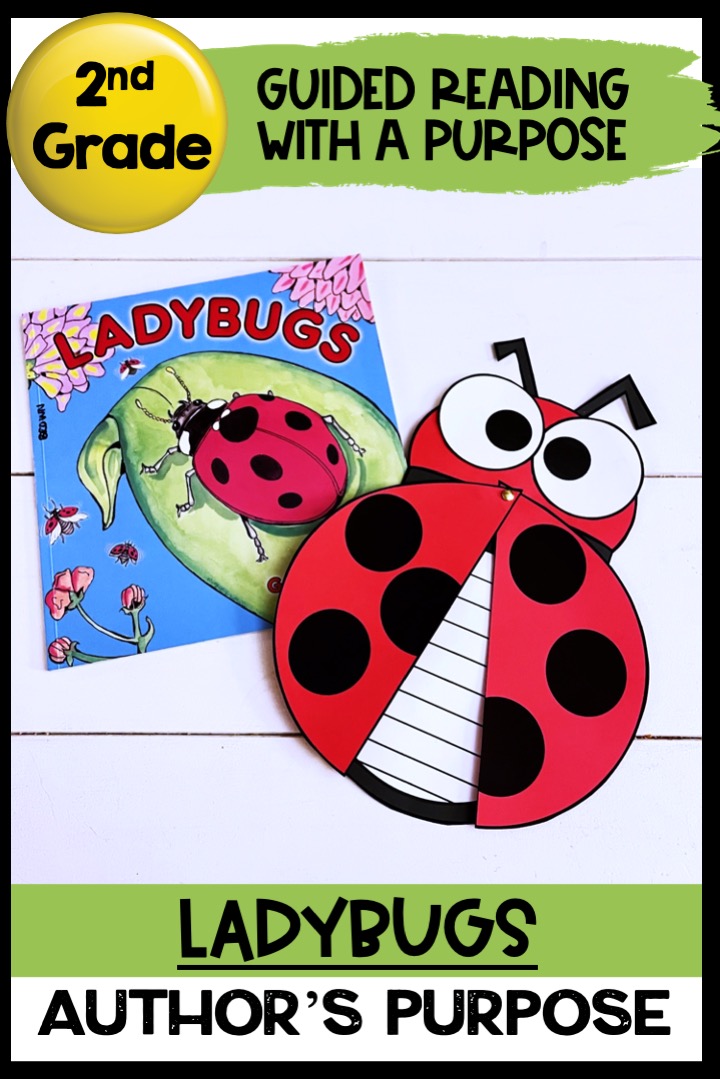 This is a lighthearted fictional text that introduces many species of bugs or "minibeasts" while also lending to some great social emotional conversations of teamwork, confidence, bravery and being yourself.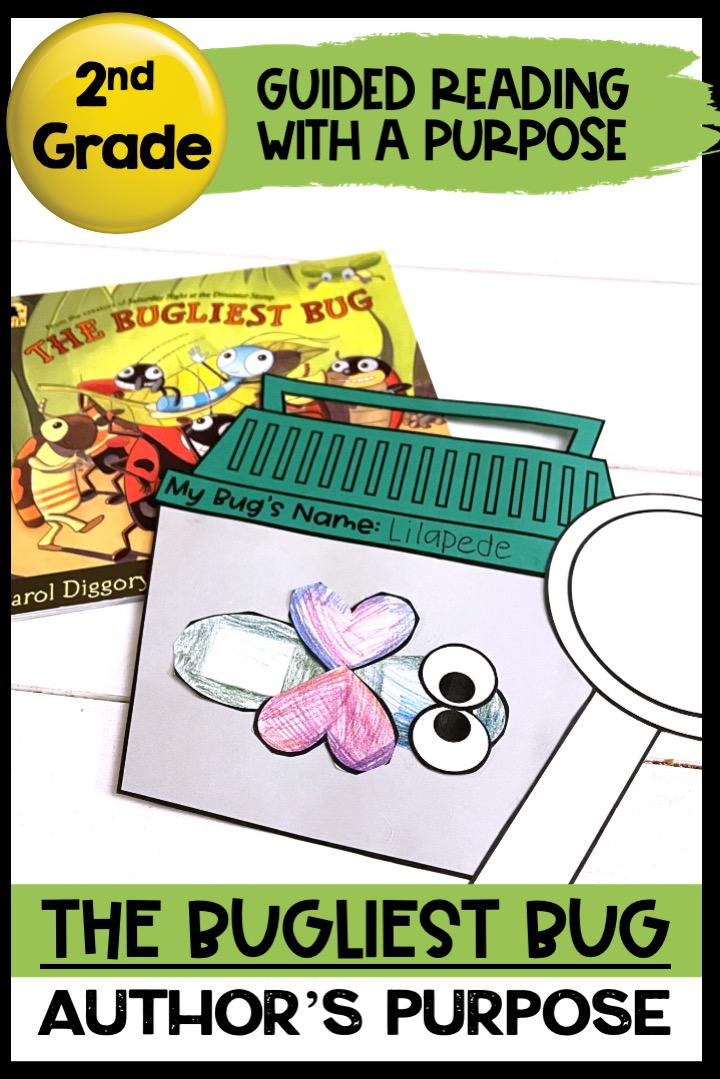 I love this book because it challenges students to see things through someone else's lens. A boy is trying to decide if he should smash an ant but the ant asks him to consider his perspective. The ant shares why he is important and should be spared. This could also be another great social emotional spin off on empathy.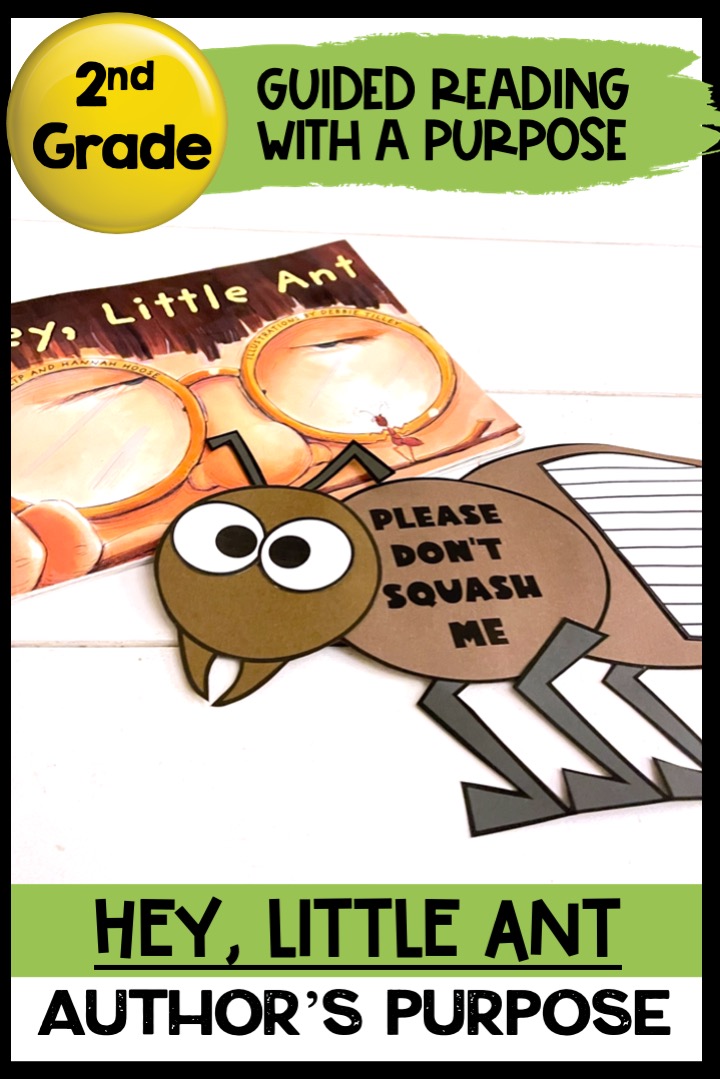 This fun book plays on the fears of a young boy when it comes to bees. It helps all those who may not appreciate the insect to see its importance and the impact bees have on humans and the world around us.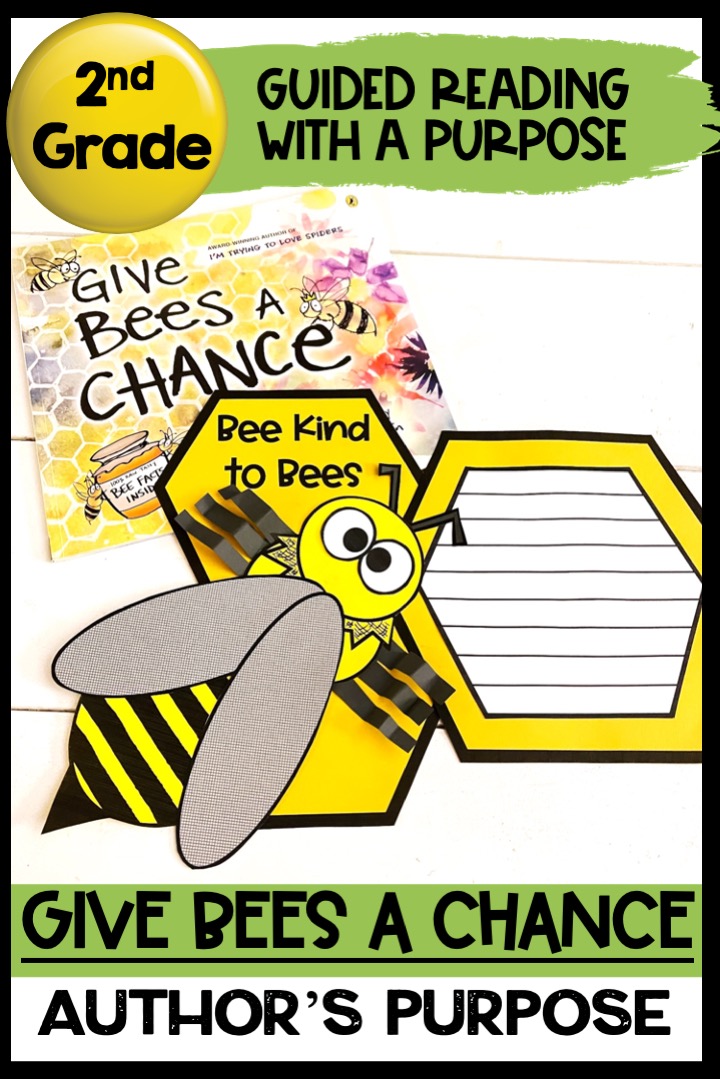 Click on the book title links above to check out these books in my Amazon store. (As an Amazon Associate, I earn from qualifying purchases.) Click on the product images above to view my guided reading resources to go along with each text. All 5 resources can also be purchased together with my Guided Reading with a Purpose Bugs Bundle.
If you aren't already familiar with my curriculum resources, The Guided Reading with a Purpose units not only include the readers and comprehension activities to go along with them but also…
Mini-lesson ideas to introduce the focus
Comprehension cards to accompany the book to review throughout the book or for discussion after you read
Parent communication: letter home going over the weekly focus with suggested conversation starters around literature
Book talk bookmarks for guided reading groups, at-home support, or independent student use
Posters supporting the target skills
Bulletin board headers and posters
Skill cards: character, setting, problem & solution, etc.
Morning work or fast finisher activities
Multiple worksheets covering current skills and previous week's skills
Writing prompt(s)
Graphic organizers & writing paper
Craft
Teaching Author's Purpose
Teaching students about an author's purpose is important to help them understand why they are reading a text, what the author hopes you take from their text and helps to prepare your mindset when beginning to read. Another important impact that teaching author's purpose can have is that each purpose holds different techniques to convey the direction of persuasion, informing or entertaining such as word choice, voice, and content.
Each of my guided reading resources mentioned above come with lots of printable materials and activities to help you teach the author's purpose.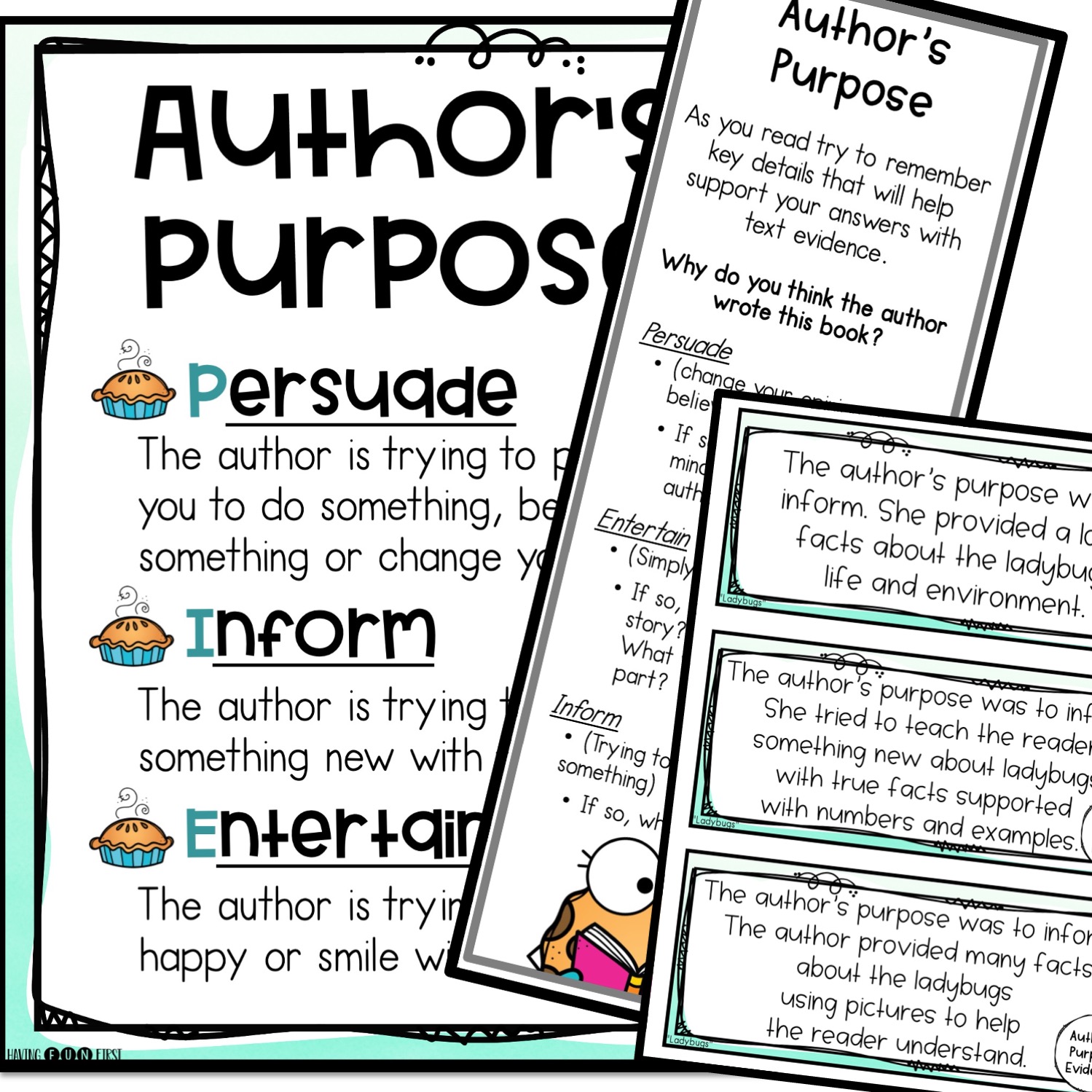 If studying insects isn't a theme in your science curriculum, don't let that keep you from introducing these 6-legged creatures into your classroom. I hope these insect-themed resources will bring you and your nuggets lots of excitement, learning, and fun!