Hey there friends,
Here in Washington state, our Spring break isn't until April and we can hardly wait for some consistent sunny weather! With Spring in the air, the excitement for Earth Day is building so I thought I would talk to you about some of the activities I have done with my students and my own kids over the years plus share some fun virtual Earth Day activities, too.
Earth Day is a fun holiday in our house because my kids have always loved taking care of the Earth and I love that compassionate side of them. Mason, my oldest, vowed at an early age that when he grew up, he would protect the Earth and all things living, even mosquitos LOL. This week my boys even surprised me with a "Mother Earth" Glassybaby. Glassybaby is a local company here in Washington that blows its own candle holders.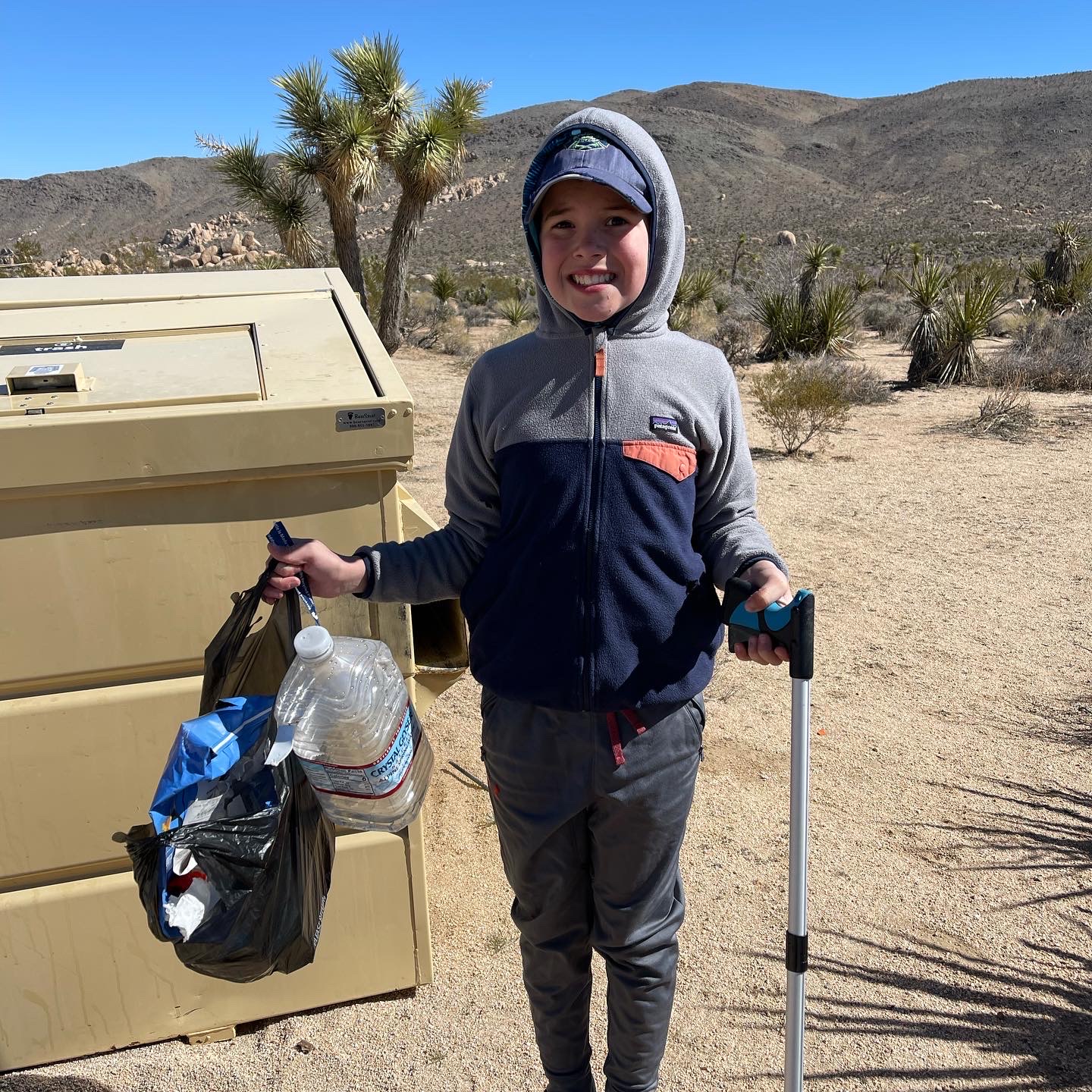 And if that doesn't show you how much I love celebrating Earth Day with my nuggets, the following activities certainly will!
School Campus Clean Up
One of my favorite Earth Day activities is school campus clean-up. Campus clean-up is a simple, yet impactful, way to celebrate Earth Day.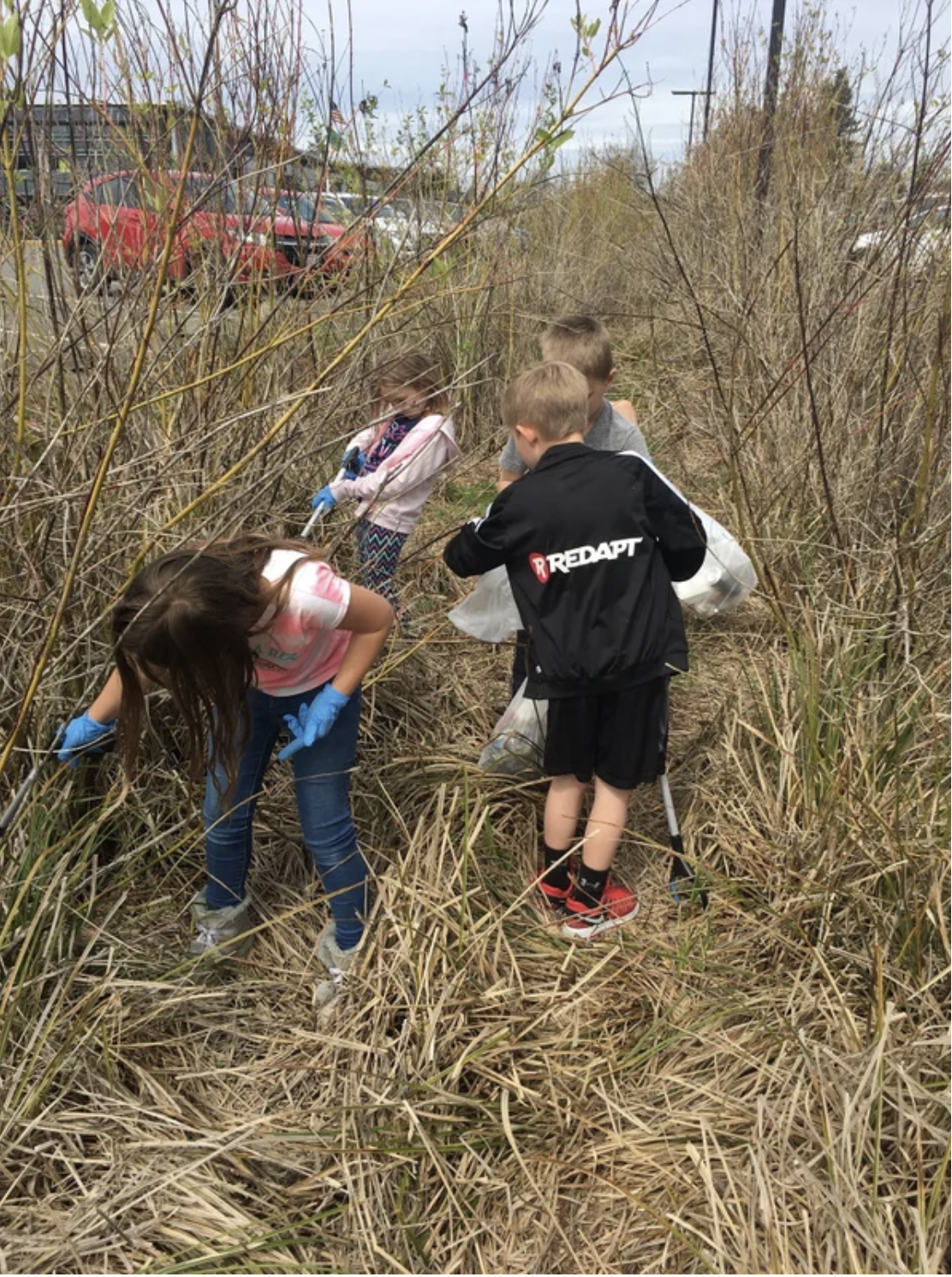 After years of experience with campus clean-up, I have learned that you can find creepy stuff littered even on school grounds. Due to this, I try to always enlist a few parent volunteers to walk around with us. We go over safe and unsafe things to pick up and when we need to get adult assistance. Due to this, I always had my students and parents wear gloves, but there were a few too many borderline scary pick-ups that I quickly wrote a grant for garbage grabbers. I even invested in some for my boys at home who were always picking up something nasty off the ground.
I, fortunately, was awarded 12 garbage grabbers in the grant. They can also be found on Amazon here. I would put students in groups of 2 or 3. Jobs must also be assigned as you know haha. Someone oversees the grabber, someone holds the bag, and someone assists with the bag and scouting for trash. We switch up jobs every 5-10 minutes so everyone gets a turn to use the grabber.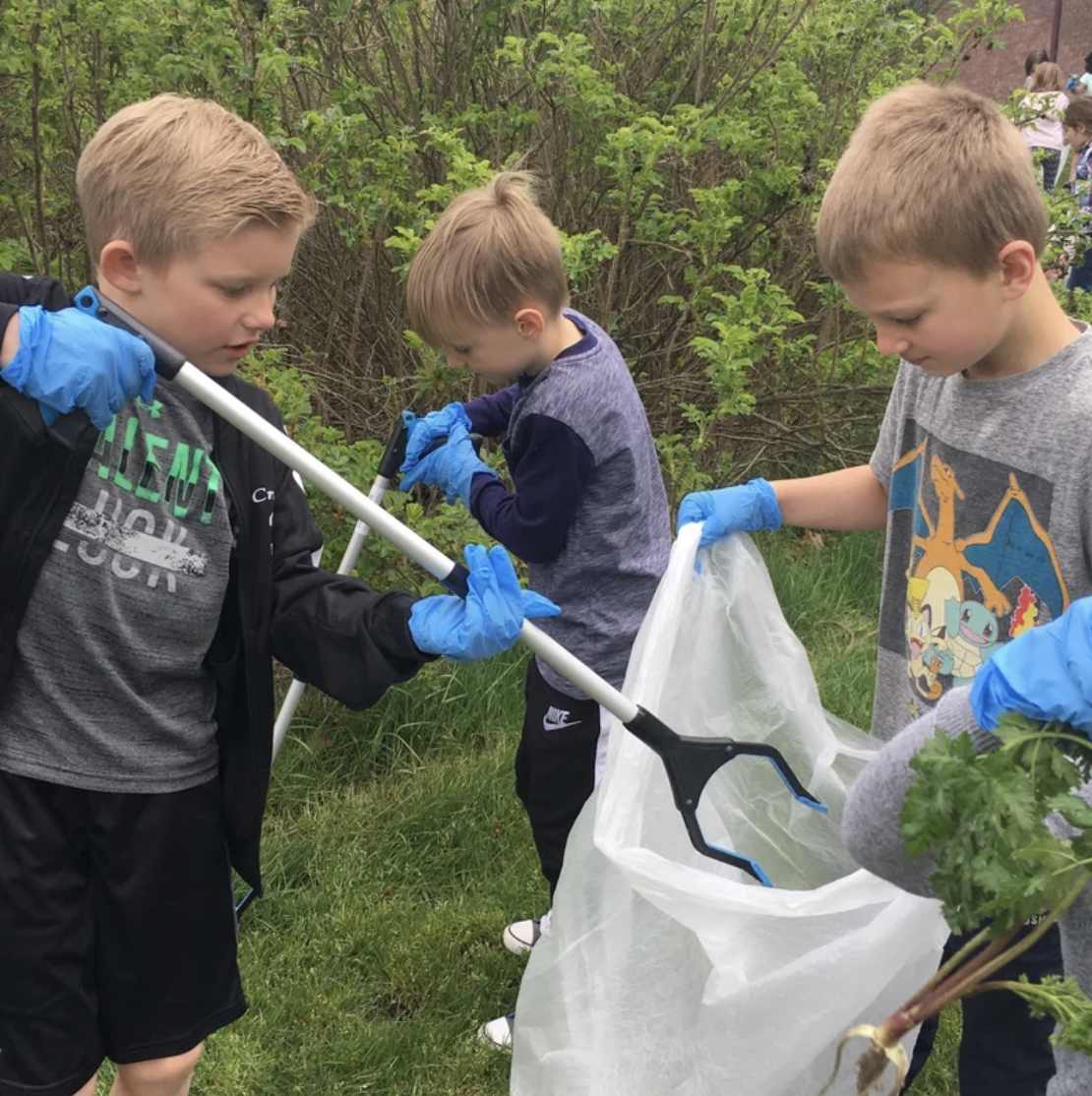 You wouldn't believe how much we would pick up in a short amount of time on what seemed to be a clean campus. It was so rewarding, inspired students and the adults, and best of all kept our campus clean.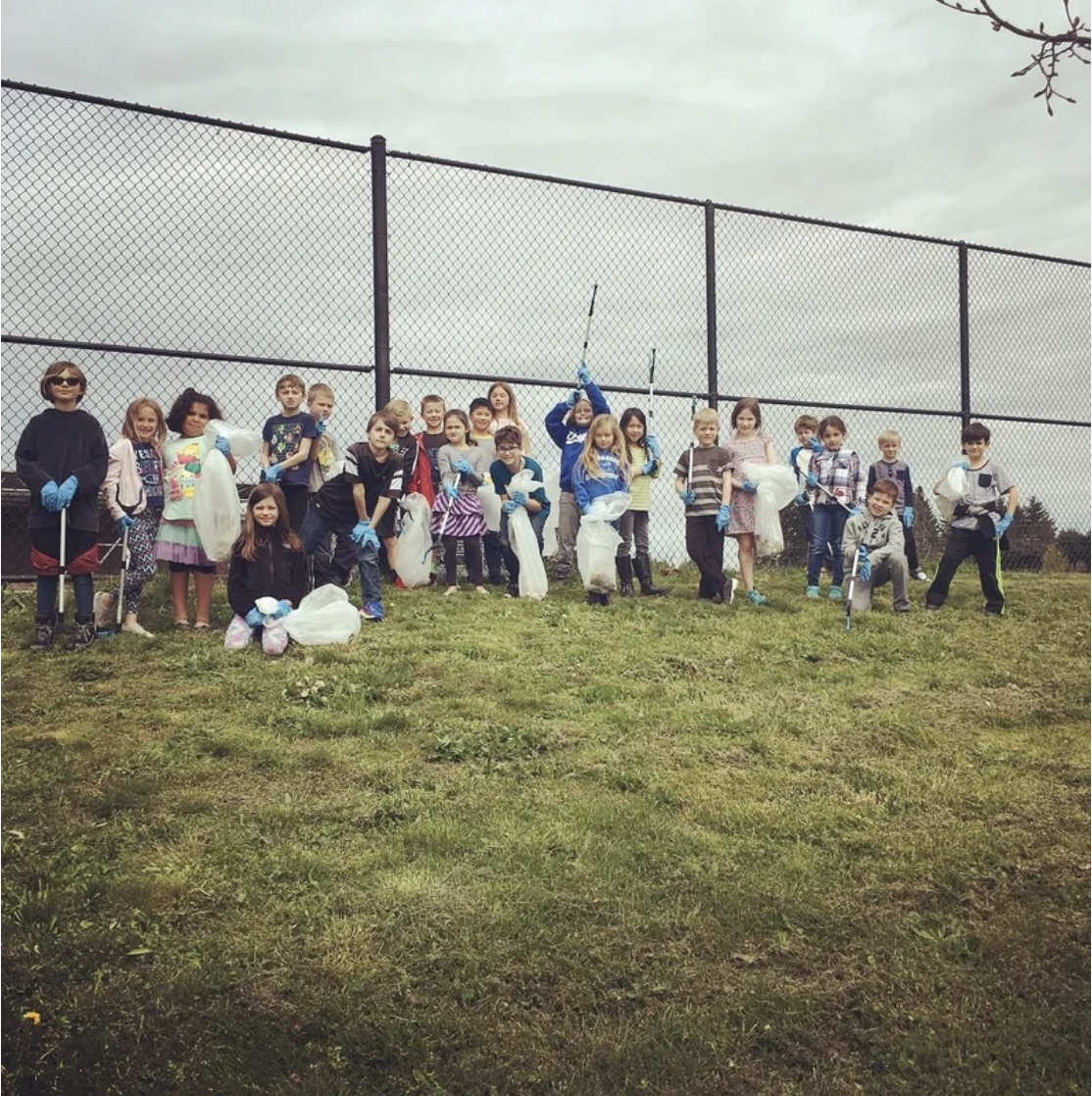 If you are thinking of writing a grant, or wish you had resources check out this link to my previously funded Donors Choose grant for garbage grabber tools and Earth Day books to get ideas or inspiration.
Earth Day Unit
I have put together an entire unit of activities just for Earth Day (or week, or month) so that you can celebrate with themed activities in every subject area. Here's what my printable Earth Day Activities Unit includes:
Earth Day Literacy Activities: Read Alouds
Literacy is always a huge part of my teaching strategies in all areas of the curriculum. I chose 5 different books that not only had a great message for Earth Day but work well to teach several different reading comprehension strategies. The mentor texts I chose are: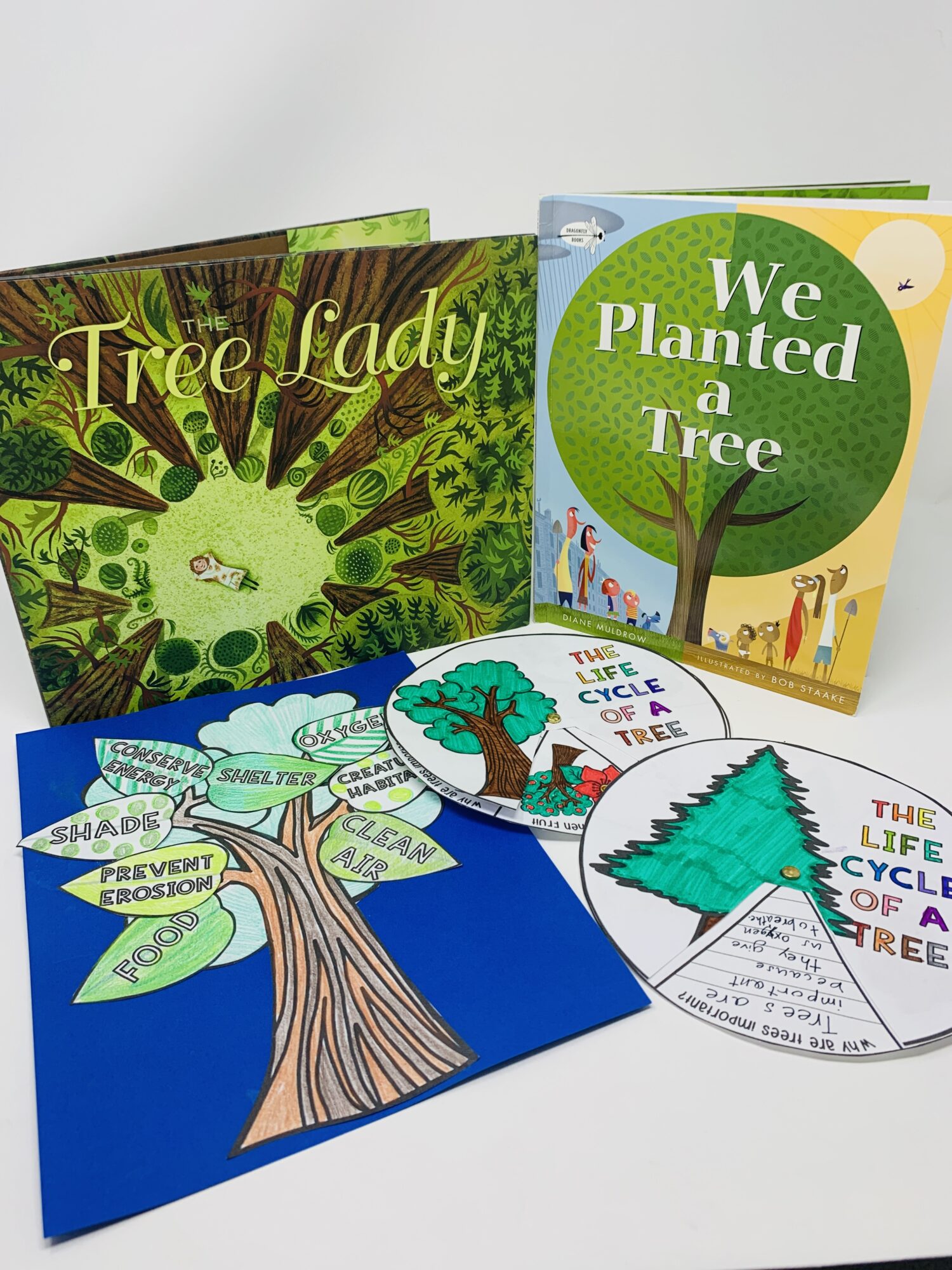 Each of these books is accompanied by a variety of comprehension extensions, writing prompts, and even a fun Earth Day craft! You can click on the links above to view these books in my Amazon store. (As an Amazon Associate, I earn from qualifying purchases.)
Earth Day Literacy Activities: Reading Passages
Looking for more literacy-rich opportunities? Then you can use one of my leveled reading comprehension passages "Planet Earth" or "Earth Day". I made sure to provide 3 levels of each passage so you can accommodate many levels of readers.
I also made sure to include Earth Day activities for literacy centers, morning work, fast finishers, or use as fun Earth Day-themed homework options.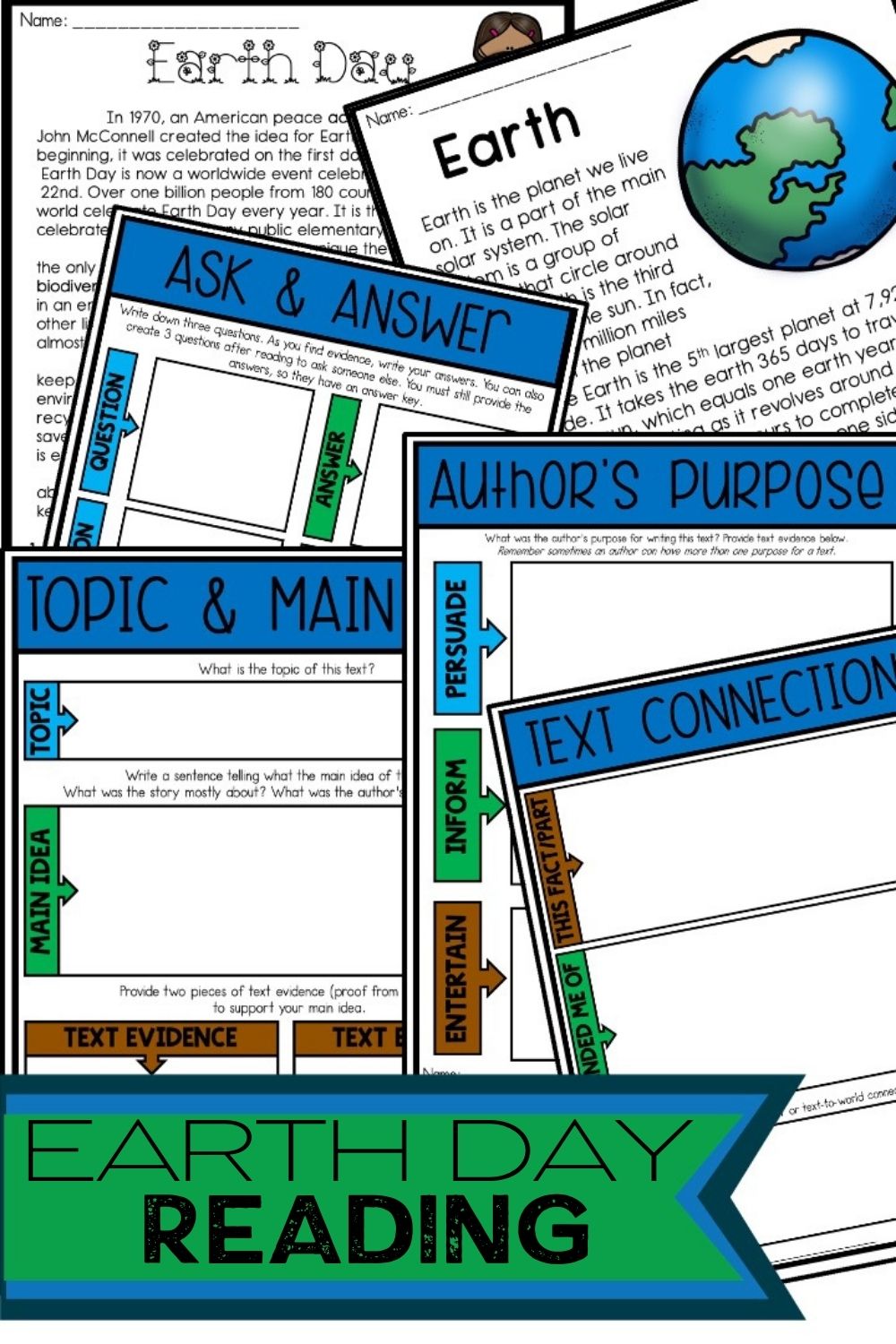 Earth Day Literacy Activies: Writing
If you're looking for writing activities for your young learners, don't worry I have you covered. I created options for poetry with a read-aloud poem and two blank acrostic poetry forms. "How Can I Help Take Care of The Earth?" and "How to Plant a Seed" are two prompts also included along with a variety of graphic organizers to support your young authors. One of my students' favorite writing activities has always been my report wheels. There is something about creating something unique and the fun spinning motion that keeps them engaged in the writing process. The two report wheel topics featured are about the life cycle of the tree, both deciduous and evergreen.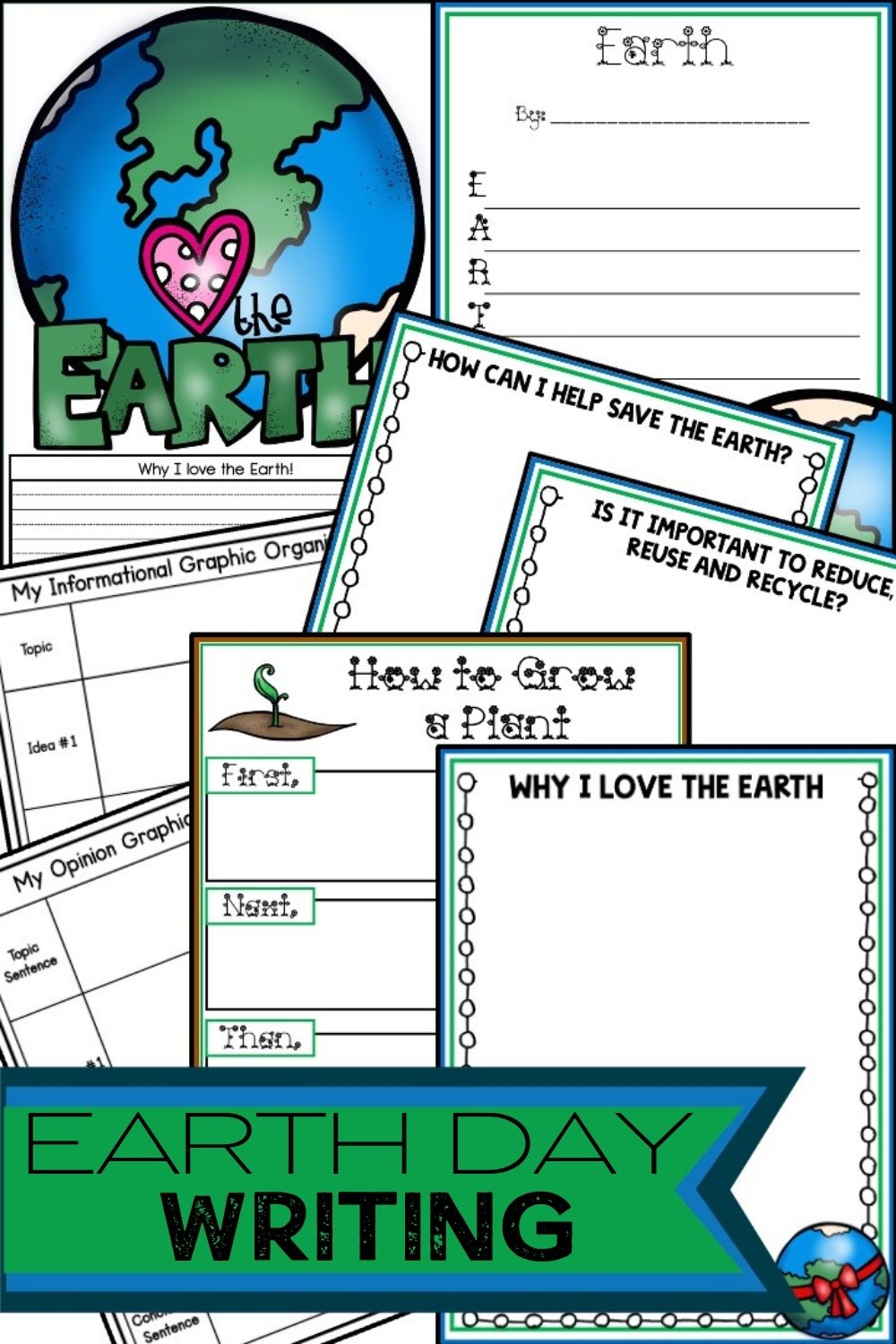 Earth Day Science and STEM
If you follow me or have scrolled through my blog, then you know that I love incorporating STEM activities when I can. This activity is very open-ended and allows for a lot of student creativity. In other words, no prep is needed from you other than printing the home connect letter.
The Reuse, Reduce, Repurpose Project is as simple as it sounds. Students are asked to find anything around their home that they can reuse or repurpose in a new way to show how we can reduce waste. It was a blast to see what students bring in. I have done this both as optional homework and an assigned project with participation merit only. You could always choose to have students bring their materials in and build in class if you wanted.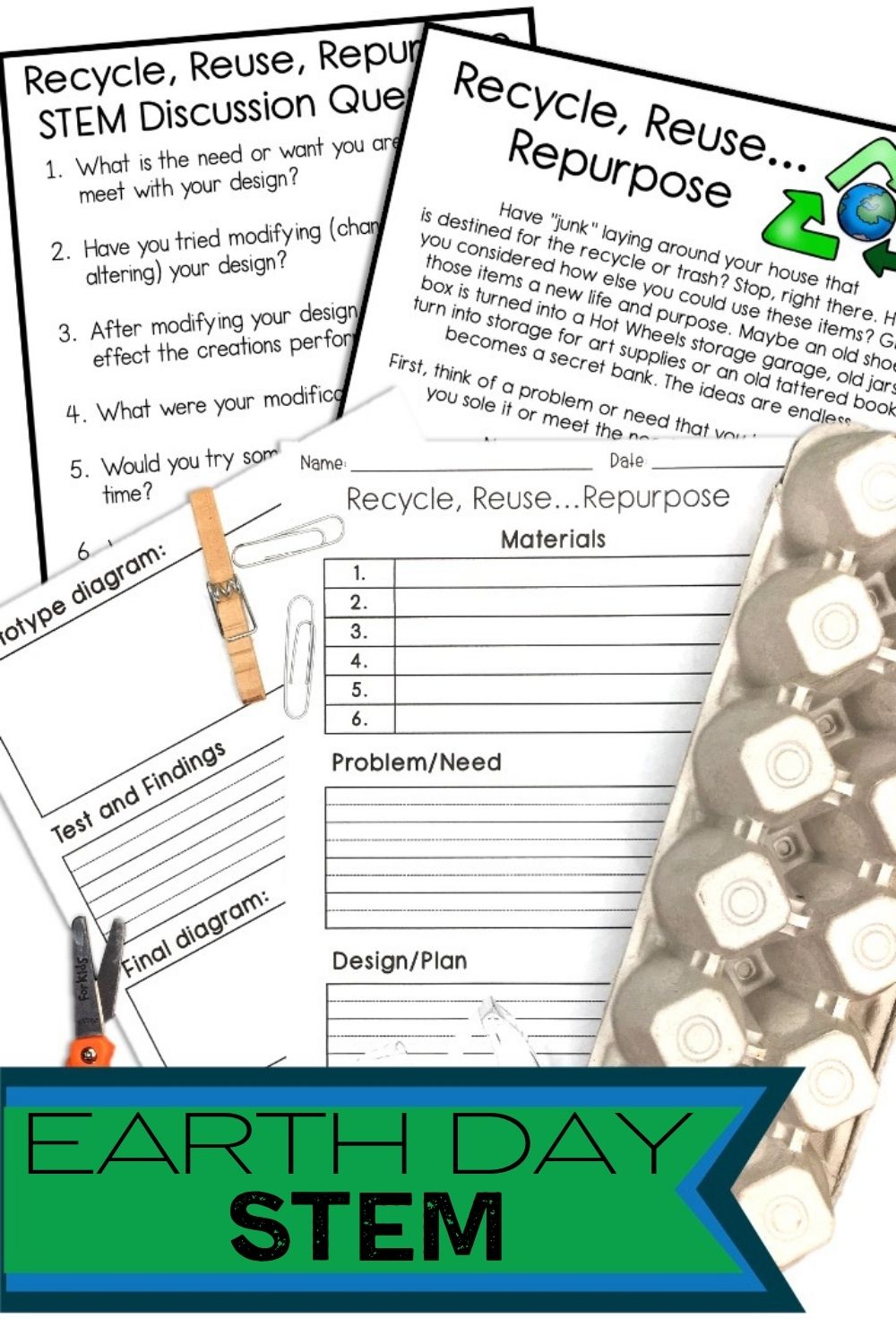 And if you are unfamiliar with doing STEM activities in your classroom be sure to check out my blog post, "Simple Steps on How to Implement STEM in your Classroom."
Earth Day Math Activities
These Earth Day math activities include open-ended story problems that allow for differentiation, time-telling activities, as well as a variety of other number sense activities. These resources are perfect for math centers, morning work, fast finishers or can also be used as another fun Earth Day-themed homework option.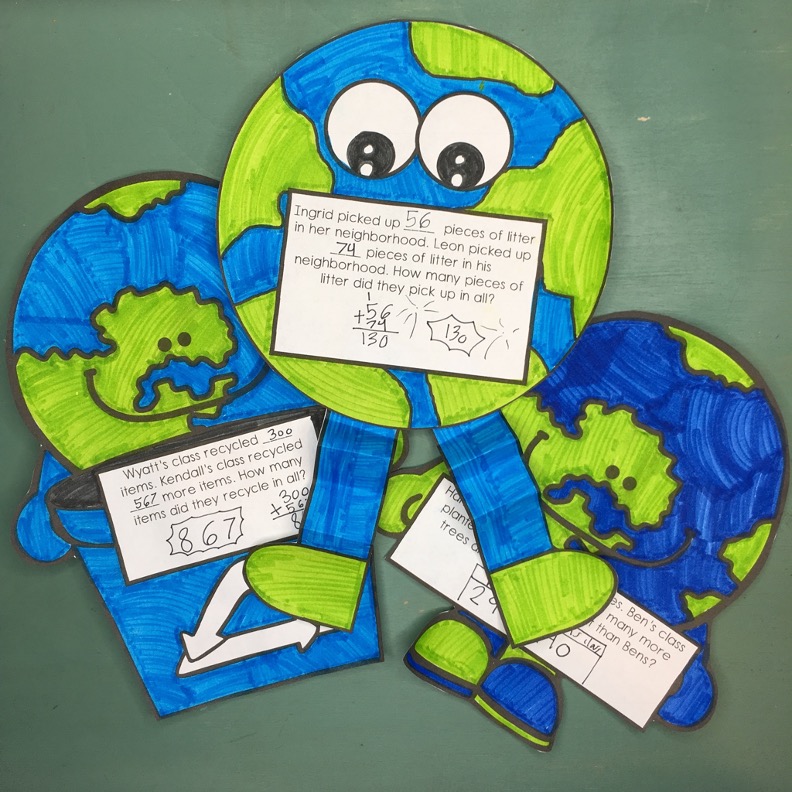 Earth Day Crafts and Bulletin Board Displays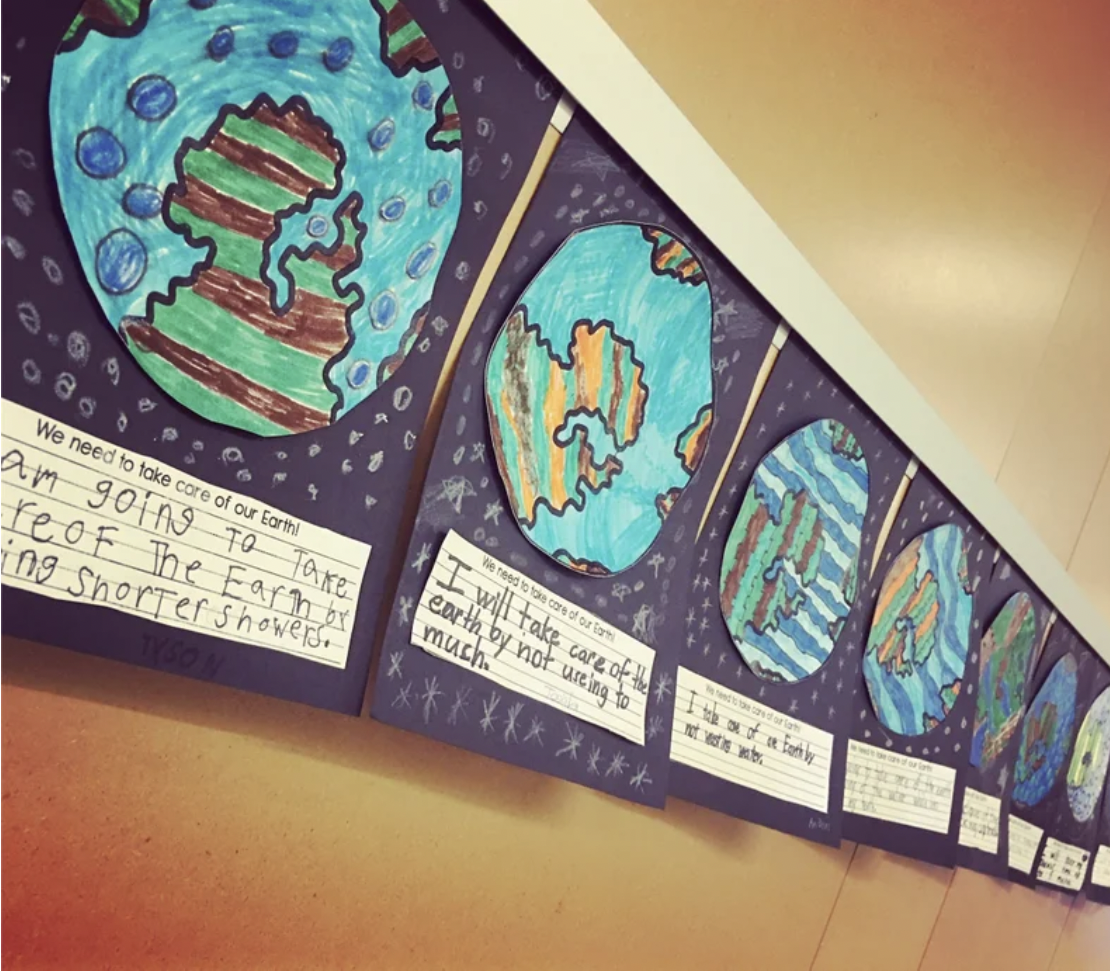 In the Earth Day literacy activities listed above, I included five different mentor texts that revolve around the Earth Day theme. Each of those stories has a craft that accompanies them and can be used to decorate the hallways, bulletin board, or simply send home for families to enjoy. You can also challenge students to make an Earth Day Pledge which can be displayed with the included Earth Day Pennant art and writing activity.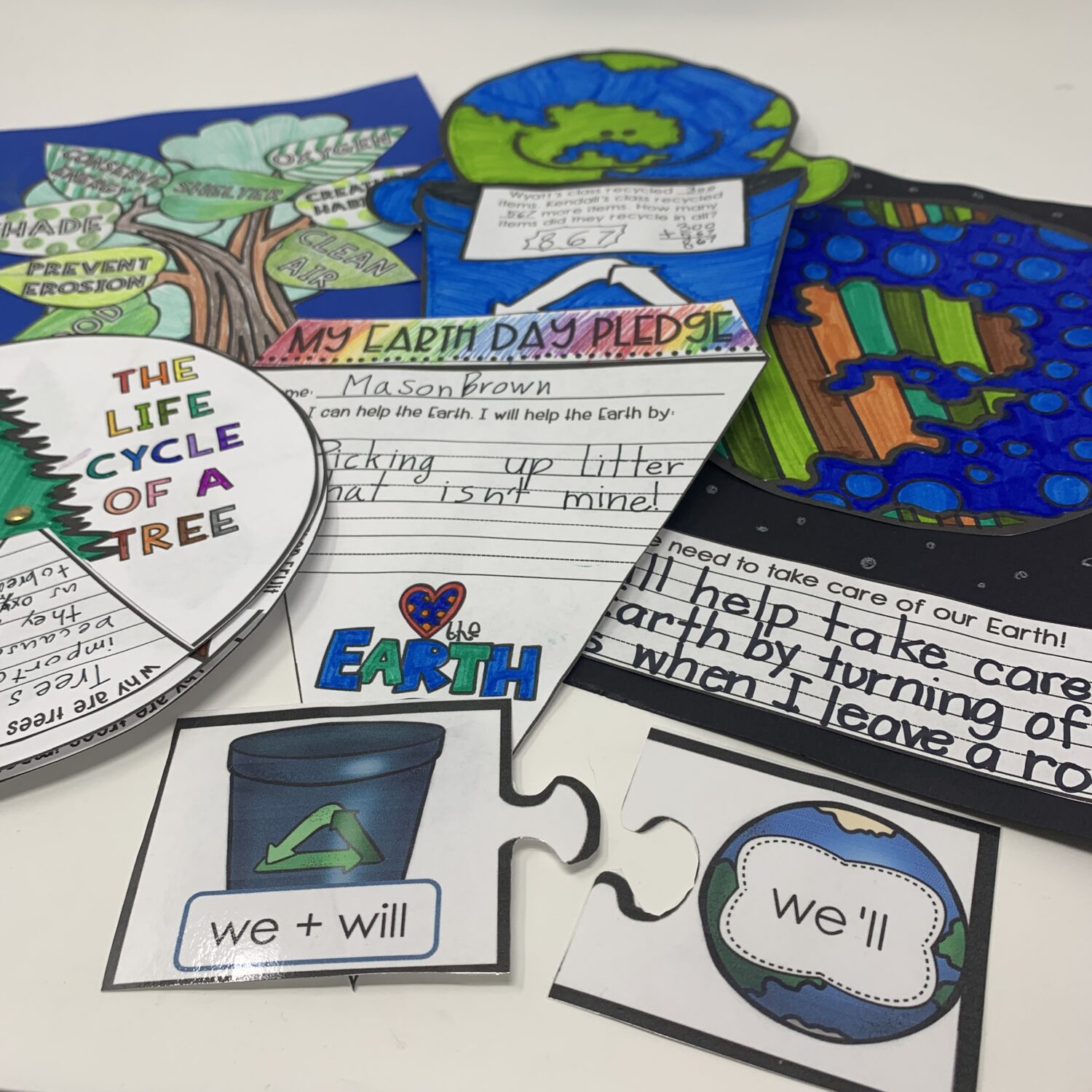 Virtual Earth Day Activities
When the pandemic hit, I made sure to create virtual earth day activities for the ideas that could be transformed … hey… it's less wasteful too! Many of the activities seen above are included Digital Earth Day Activities Unit or can be purchased together with the Digital or Print Earth Day Bundle.
In both my virtual and print Earth Day resources I included a list of great online extension activities and websites.
Check out the virtual sources I've included in this unit below:
This site goes over the key concepts of global warming presented in a very kid-friendly way.
This is a great site full of interactive virtual activities and extensions. It helps explore how a city's community can improve the environment through reducing waste, recycling, and more.
This is a fun game where kids are challenged to recycle a variety of materials into the correct bins.
This site teaches all about different elements of our planet Earth.
Quick and Easy Earth Day Activities
Everything you do doesn't have to be detailed and planned. Remember Earth day is also simply a great time to just be outside enjoying the Earth.
Here are a few suggestions for low key activities that celebrate the beautiful outdoors:
Read outside with my favorite Earth Day Read Alouds
Grab clipboards and complete a lesson outdoors.
Grab clipboards and blank paper to sketch plants or other pieces of nature for a fun art project. We would do our sketches outside and finish up with watercolors or coloring inside.
Just go for a walk and listen, look, smell and feel the nature around you.
These activities might sound simple, but you would be surprised at what a little fresh air and something out of routine can inspire your students and hey… even you too.
No matter how you celebrate Earth Day with your nuggets, I know they will have fun.
Remember, I love being inspired by your ideas. So please feel free to share your favorite Earth Day activities, too.
I hope you have a great week!