The First Weeks of School
Hey friends,
As teachers, we all know the first few weeks of school will always be filled with learning and relearning classroom expectations and routines.  Many of us have a few classics we like to read to model the behaviors we are looking for in our classroom communities. I noticed, just reading the text and simple conversations wasn't helping students make those real-life connections that I hoped for.  I knew I needed to do more to help my students understand our classroom expectations.
5 Books that Teach Classroom Procedures
This week in my Guided Reading with a Purpose curriculum I chose 5 mentor texts that focused on classroom routines, as well as real-life problem and solution connections.
After digging through my classroom collections and collaborating with other teacher friends, I selected 5 books for guided reading that will help teach classroom procedures and expectations: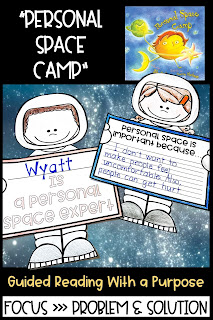 This book addresses personal space, understanding what our bodies need, and how to calm our bodies so they are ready to learn and others can too!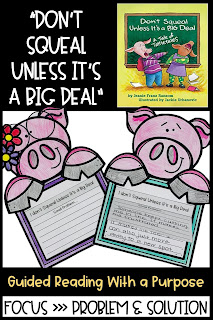 This book address the difference between a tell and a tattle, a big deal vs. small deal and when is it right to get an adult and when I, the student can solve it myself.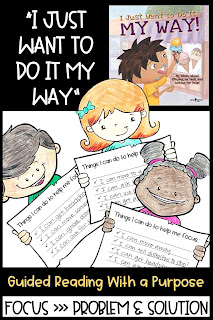 This book addresses knowing that it's ok to ask for help, when to ask for help, the positive effects of asking and the negative of when you don't.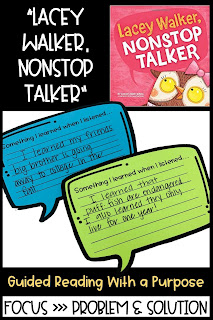 This book addresses how to be a good listener, how to wait our turn to talk and the positive effects of listening and negative effects tuning out.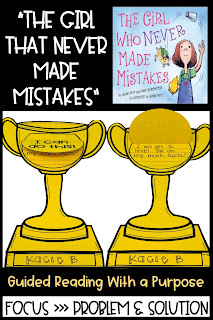 This book addresses the anxiety that some students face as they work at school and the worry they feel over making a mistake. It talks about how mistakes are ok , and are actually important.
Click the images above to check out these resources in my TpT store or click the book titles to view these books in my Amazon store along with all my other favorite teaching tools.  (As an Amazon Associate I earn from qualifying purchases.)
More About Using These 5 Guided Reading with a Purpose Resources
Throughout the week students will have the opportunity to extend their learning of the theme by trying to solve similar problems that we encounter within these stories that we read.  Each guided reading resource listed above has a plethora of included comprehension activities, writing prompts, a unique craft, conversation cards, home connection materials and more that will help students as they predict, analyze and reflect on our comprehension strategy of problem and solution while that oh, so important classroom routines and expectations theme stays strong.
This
free problem and solution bookmark
is a small component that is always included in my Guided Reading with a Purpose units and is perfect as a take-home token for school-guardian connections or a reminder in small group instruction.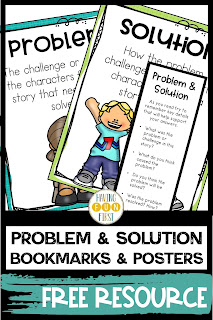 I absolutely love how this Guided Reading with a Purpose week focused on classroom routines and expectations meets more than the typical "rules" we like to teach. The lessons have positive approaches and require self-reflection and application. I hope you find it as helpful and rewarding as I have.
Click on the image below to take a closer look at this week's Guided Reading with a Purpose resource. Want to learn more about Guided Reading with a Purpose curriculum?  Read about it in
this previous blog post
.
I wish you the best of luck this school year as you meet your new students and work together through classroom routines and expectations creating that just right classroom community. I know this resource will support you on that journey!