As July comes to an end, those back to school routines and thoughts of setting up a solid classroom foundation start drifting into my head. I reflect on the year before, what worked and what didn't, and think about what tidbits have I picked up from summer reading, colleagues, conferences, etc. One thing I started years ago that has been tried and true is morning meetings. So I'm sharing with you my favorite morning meeting activities for the classroom and a freebie for back to school.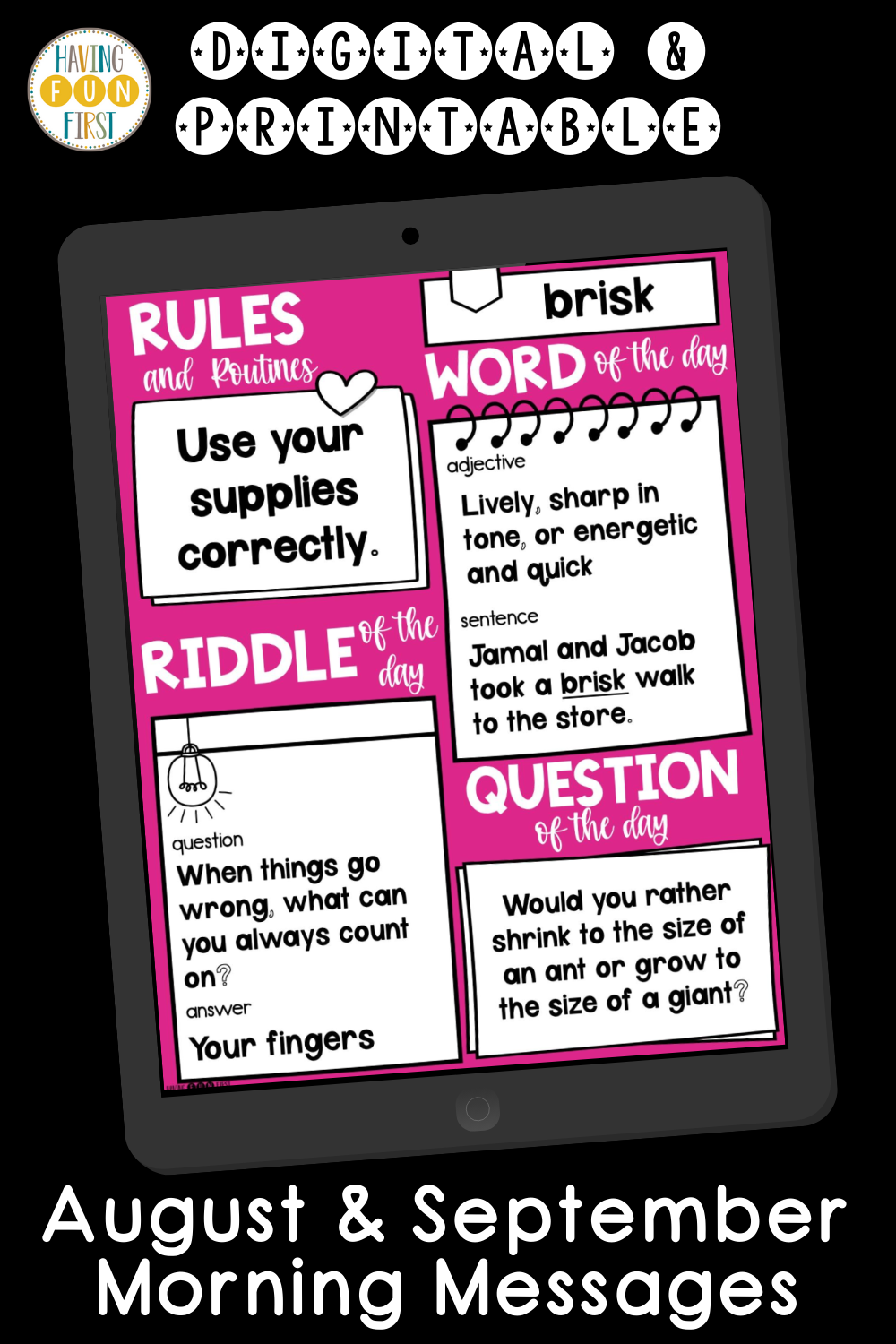 6 Activities I Include in my Morning Meetings:
1. Question or Thought of the Day
Posting a question or thought for the day eases kids into "school mode" getting their brains warmed up for the day. Keep questions simple and fun, but enough to invoke thought and imagination. Sometimes I have had kids write their answers or thoughts in their journals to share with a partner or we have also come to the carpet and everyone gets to share with one another.
2. Simple Conversations
In my morning meetings, I love to greet my kiddos and allow for a few minutes of random questions, stories and comments before we get down to business. These conversations are valuable because they help support building relationships, increase trust, and often give you a laugh.
3. Sharing Plans for The Day
I like to go over our plans for the day. I find that when kids aren't worried about what lies ahead they can focus on the learning at hand. That's a win for everyone. While discussing our plans, I keep it like a discussion. On occasion, I might be on the fence about an approach, and discussing this with my students makes them feel significant and respected.
4. Word of the Day
Each element of the morning meeting leads to something learned of course, but I also like to include a word of the day. The word of the day helps increase vocabulary as well as review parts of speech. The words I choose may not be new to all students but may increase understanding of the word which encourages use in their writing as well as boosts confidence in our English language learners.
5. Fun!
I love having a joke or riddle posted for kids on the board. Humor is a big part of my teaching and even if it isn't a huge part of yours, a small dose of humor can go a long way in easing that transition to trust and in turn creating a classroom community that supports social and emotional learning.
6. Social-Emotional Learning
This changes each day and sometimes doesn't make an appearance directly. What I mean is, when we have an event or challenge approaching I might talk about growth mindset, grit, or feeling worried. Also, social-emotional learning might come in directly when my kiddos are struggling with recess issues or teamwork, etc. I like to be proactive and incorporate the entire class vs. just those directly involved. We can all use review and or new strategies from time to time.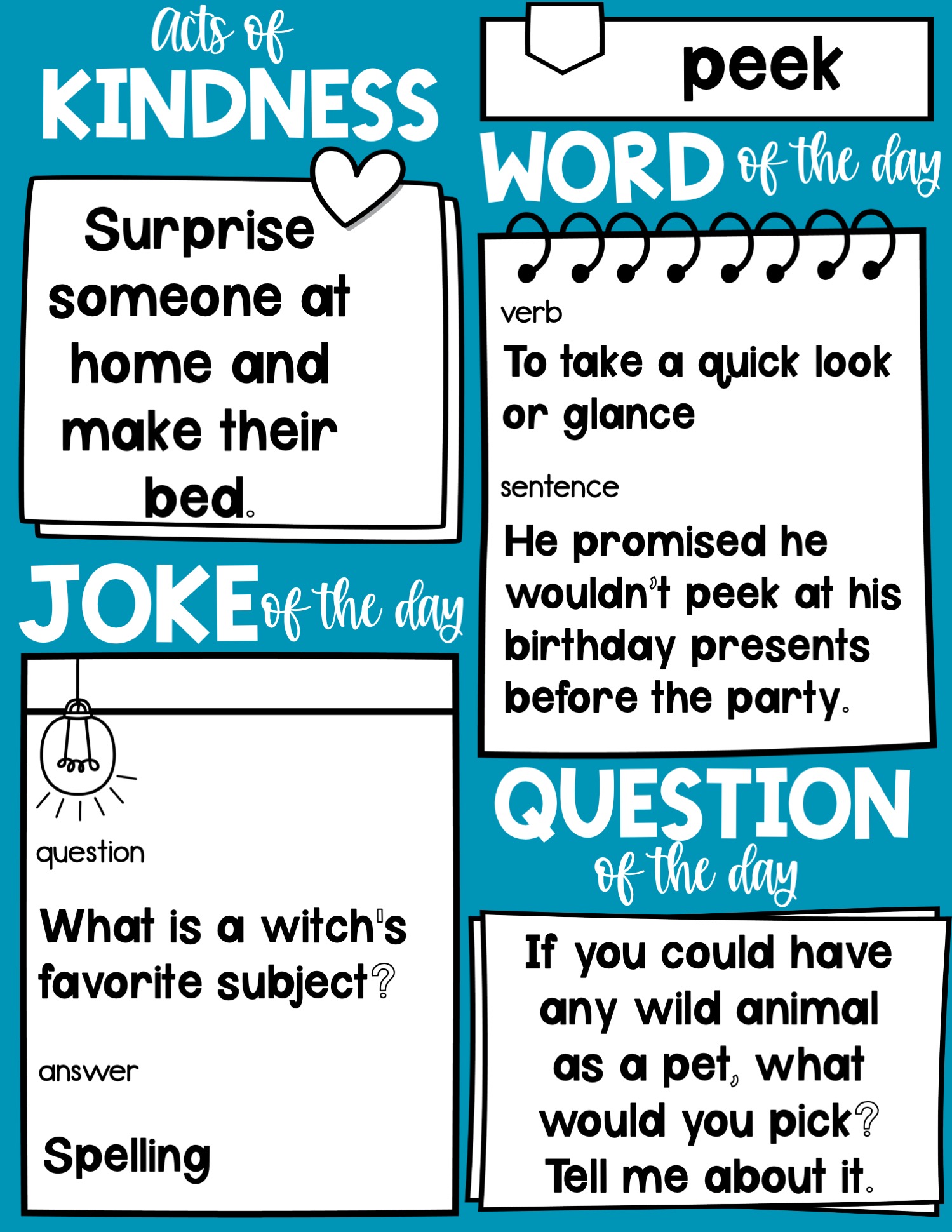 Positive Impacts of Morning Meetings
If you aren't sure if morning meetings are for you, check out many of the positive impacts of conducting them in the classroom:
provide positive and predictable routines which lead to trust
allows all students to feel important and heard
encourages respectful relationships
helps regulate emotions and anxieties
supports social-emotional needs
boosts empathy and teamwork
supports positive classroom management
boosts confidence socially and academically
provides clear transitions into your day
These are some of the many reasons why I take the first few minutes of my day to conduct these powerful morning meeting activities with my students. You owe it to yourself and your students to try them yourself. Remember to be flexible, have fun and give yourself grace in its success. The important thing to remember is not to give up too quickly. Consistency leads to predictability which leads to trust.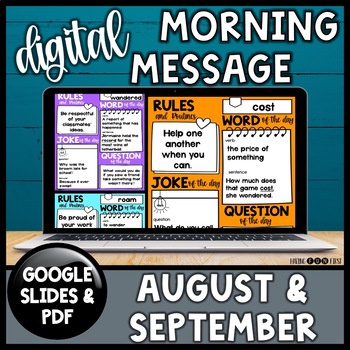 If you're inspired, but don't know where to start you can check out my morning meeting activities for second and third grade as well as morning meeting activities for fourth and fifth grade available for every month of the year. These slides help provide structure for the foundation of your meetings.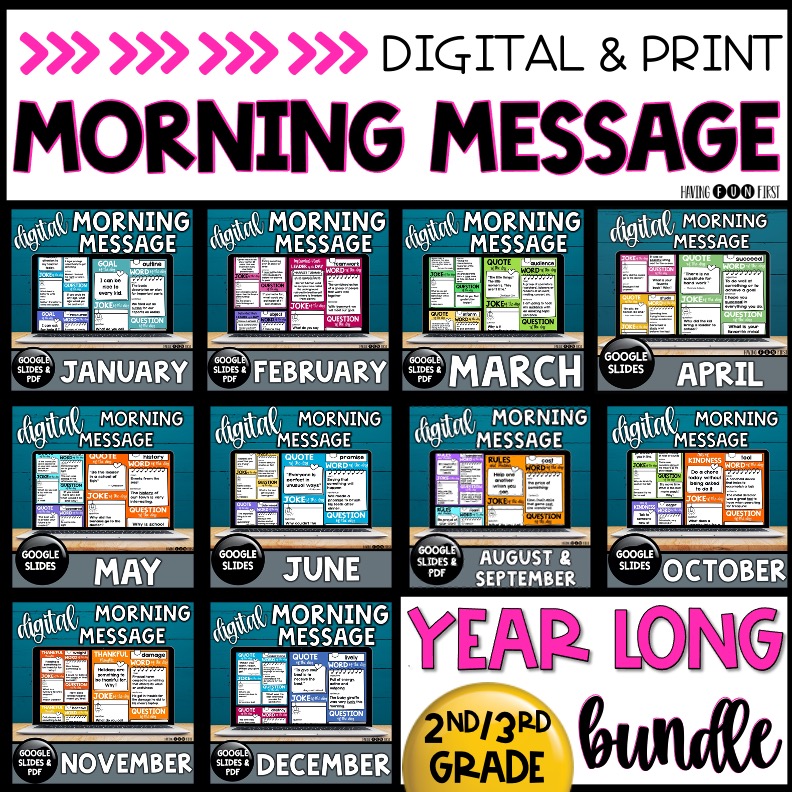 Here's what people are saying about my morning meeting slides…
"My students loved using this resource every morning. They truly love how it changes every morning and offers things from interesting facts to funny jokes."

"We started the year with these fun morning messages, and my kids eagerly wait for the joke of the day and the questions of the day. It was easy to use and simple. No prep. I did print out all of the morning message packet and put it in a binder, so that anytime that I am absent, my sub can easily access it and we don't have to skip a day. We can stay on track."

"I started using this when I was fully online as a way to engage my students and allow time for each student to share and have their voice be heard. As I took roll each morning, students would share their answers to the question of the day. Now I am teaching with most of my students in person and after they wash their hands and wait for the bell to ring and online students to join us, they start writing their answers and share in online break-out groups to maintain the connection with all students. I also tell the joke at the end of a session and share the answer at the beginning of the next session to encourage students online to return on time. Great tool! This bundle was my best purchase this school year!"

"My students LOVE these morning meeting slides. They especially look forward to the jokes. I love that each month has a different theme and allows for student thinking and conversation. I have been purchasing each set since September."

"We use these everyday! I love starting our day off with the joke and question of the day. By using these each morning, my students have a better understanding of the parts of speech."
Want to learn more about morning meetings and how they can positively impact your classroom? Check out this article on the impact of morning meetings from Edutopia.
I promise if you give these morning meeting activities a solid chance you won't regret it. That's why I'm sharing with you a freebie to try in your classroom!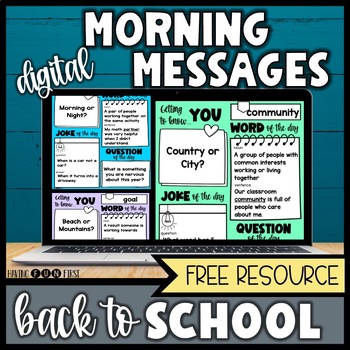 The small amount of time it takes to gather with your students each day will lead to kids who feel confident socially, emotionally, and as a result academically, which is priceless.
Looking for more ways to get your school year off to a great start? Check out my favorite guided reading activities for back to school to help you teach classroom expectations, build a strong classroom community, and more!