Hey there friends,
I hope February is going well for you so far. Here in Washington, we had a few days of amazing spring weather, and it has us all excited for more! Washington weather can always be a tease.
Luckily for my family, we are heading into midwinter break, and our good friends asked to join an amazing road trip to hit 5 National Parks! We will be traveling through Oregon, California, Nevada, Arizona, and Utah. It is going to be amazing and much needed for our active family. In order to hit all those places, we will have to miss a few days of school the week before break.
A Vacation Journal for Students
Planning for this trip and having to miss a few days of school made me think of one of the most popular resources that I created for this very reason. I would always have students who traveled in my classroom – some with family trips planned and others were impromptu. One thing all these student trips had in common was asking for work to be completed while gone.
I appreciated parents wanting to stay on top of student learning while gone, but…
That's a lot of work for us teachers to know exactly what we will accomplish in a week and to prepare all those materials.
Did I want parents teaching students new concepts that I want to deliver myself?
Will they have time to accomplish these tasks?
Hey! It's vacation…. Enjoy it.
So, what I decided to do was make a travel vacation journal for students that showcased multiple fundamental skills that could easily be applied to anyone's travels, would need little to no guardian support, and of course, was fun. I also liked that this journal provided a great tool for students to share about their trip in an organized way upon return to school.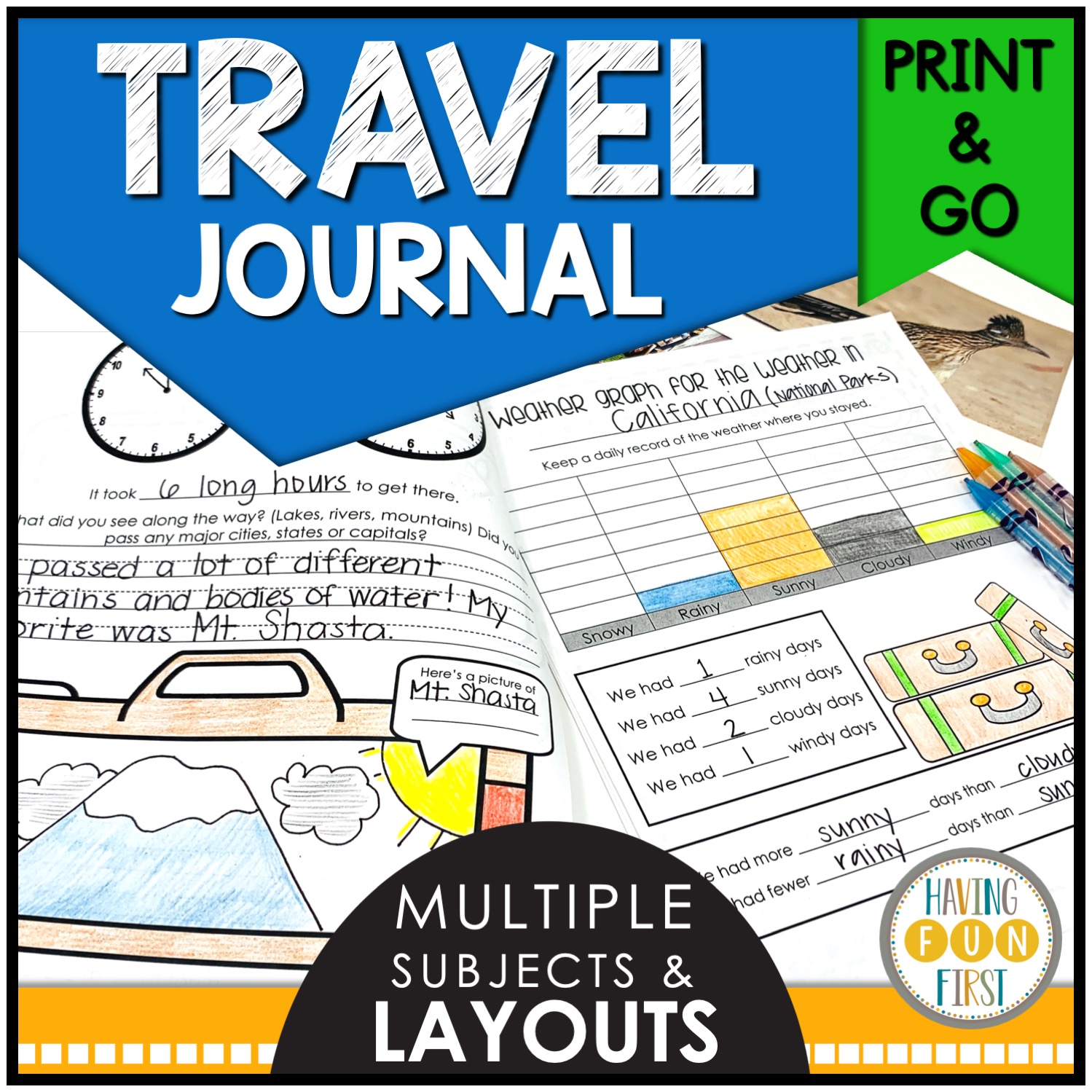 Materials I Included in the Journal:
✈️ Vacation information recording sheets
✈️ Journal entry forms- recall, informative and creative
✈️ Weather and landmark graphing
✈️ Time practice
✈️ Illustrating
✈️ Souvenir collecting pages
✈️ Compare and contrast home-town vs. destination
✈️ Travel games: license plate game with picture key and landmark tally
This travel journal includes plenty to keep your students engaged on their trip, but not overwhelmed. I made sure that the activities were applicable for a wide range of student ages and abilities.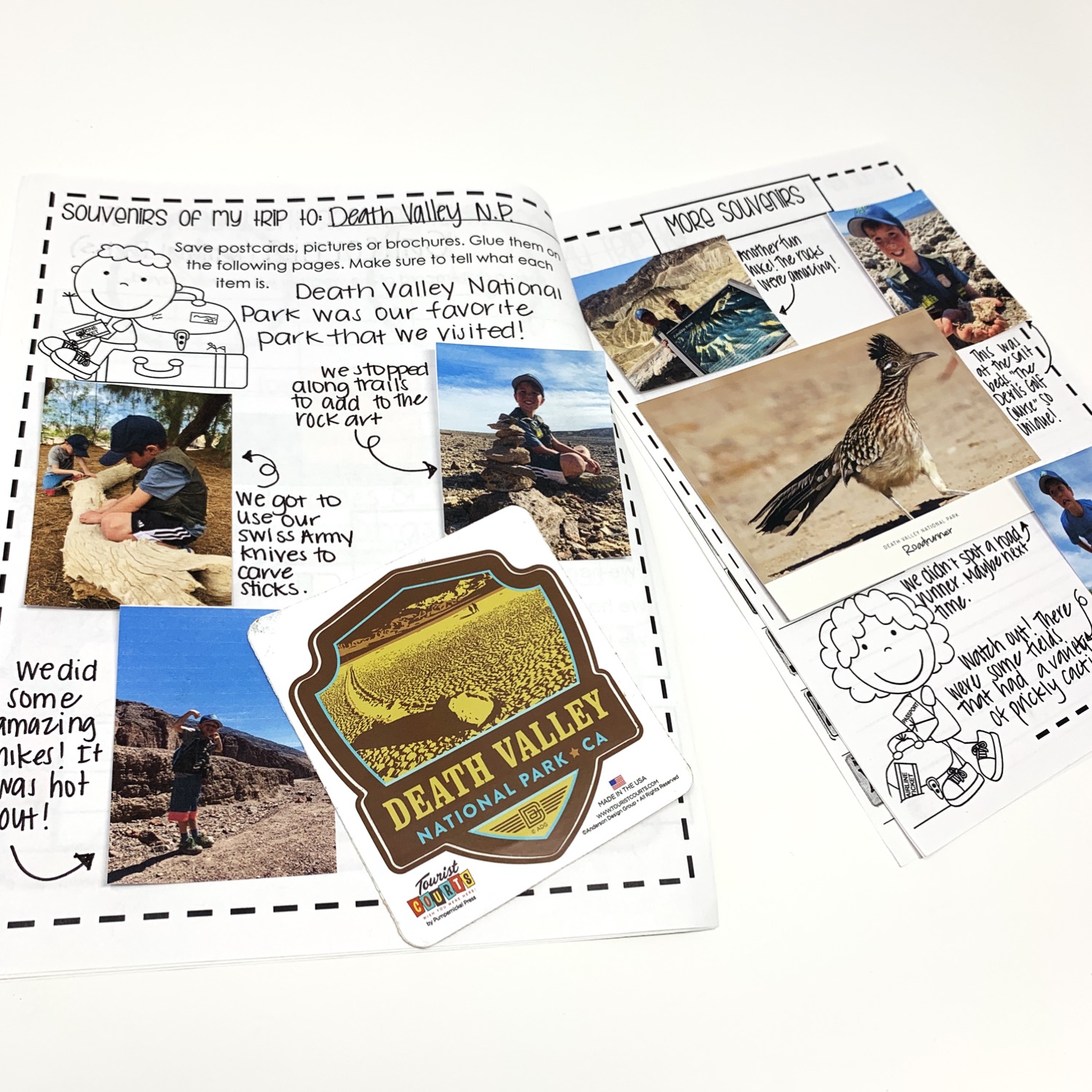 A huge bonus to this journal is that you can simply print and send it with your student or email it to parents in the case of the impromptu traveler. No need to plan and print tons of work for students while they are gone! My trick… is that I always have about 5 of these journals printed in my file cabinet to keep my life simple.
Here is what teachers and homeschooling guardians are saying…
Extremely satisfied
I loved the layout of the book; it was the perfect amount of work for my student, and it could be used at any level. Thanks for this great resource.
Extremely satisfied
This gave my students the ability to record information from their trip and include information that they might also want to share with the class when they return. It provided me a fun way to still have my students doing some "non-classroom" work yet still engaging while on vacation.
Extremely satisfied
I used this for a kindergartner and second-grader that are homeschooled. It was an awesome resource for a family trip! I highly recommend it.
Extremely satisfied
My students are not huge fans of writing, but this was a very helpful resource for them. It allowed them to share about their experiences on vacation in a non-overwhelming way.
Extremely satisfied
The children love taking this with them on trips and then sharing with the class. Thanks!
We have used the journals multiple times on our family travels. In fact, I already have my own kids printed for our trip this week. We usually journal at the end of the day before bed. We also love getting to look through the fun postcards, tickets, or stickers from different activities to include in the artifact's section.
I know you will love the ease of this journal and the comfort of knowing that students are engaged while away. Your students will enjoy it too, especially with the opportunity to share about their travels when they return.
Looking for a journal to send with your students over winter break? Check out my blog post, "Engaging Winter Activities for the Classroom."
I hope you have a great week and if you have a mid-winter break where you live, that it is full of relaxation or adventure whichever suits you!