Hey there friends,
If you've been counting down to the Final Four then you know that this was a huge weekend for basketball. I was even able to watch a few games myself over the last couple of weeks! (crazy for me because I rarely sit-down ha!) But even if you aren't that into sports, watching these athletes work so hard, the emotions, the pep band, the supportive fans, it is all so amazing to watch.
So, with March Madness in mind, I created a week all about basketball, growth mindset, and the impact these athletes have had on their greater community. I have spent a lot of time immersed in basketball as I researched and wrote five nonfiction readers based on four different professional athletes as well as the game of basketball itself. These printable books also have so many nonfiction text features for your students to explore.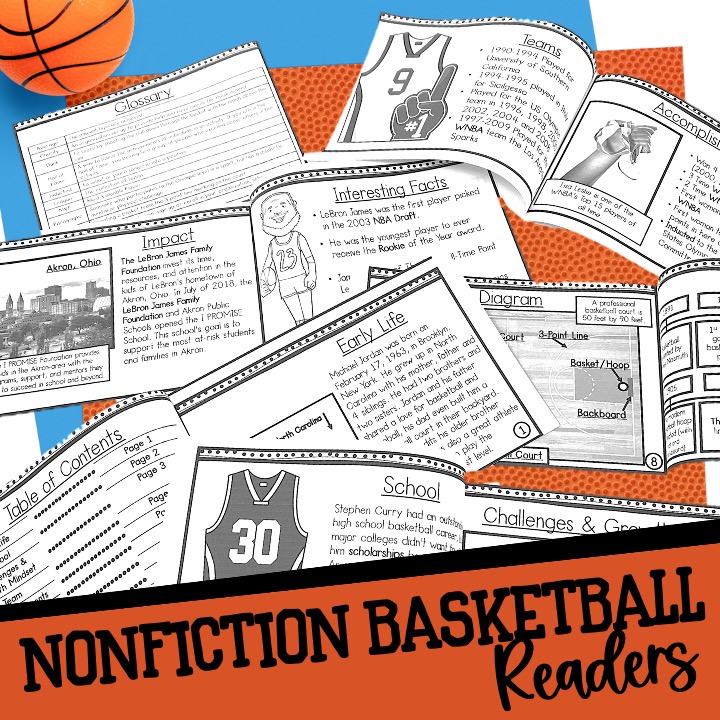 Basketball Nonfiction Reading Passages
I chose to write about Lisa Leslie, Lebron James, Stephen Curry, and Michael Jordan. Within these nonfiction biography books, the titles are early life, school, challenges & growth mindset, teams, diagrams, accomplishments, interesting facts, impact as well as timeline. I have also included an "All About Basketball" reader that features the history of the sport, basketball rules, basketball basics, gear and equipment, teams, diagrams, positions, interesting facts, and a timeline.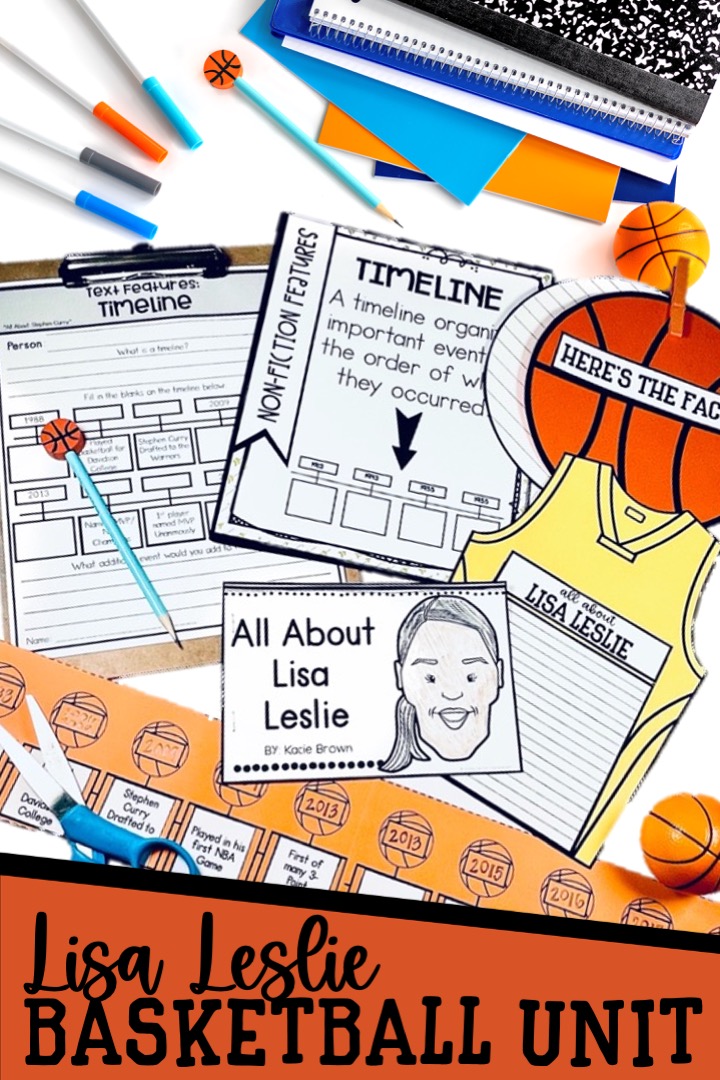 Each of these units is available separately by clicking the images above or can be purchased together with the Basketball Nonfiction Bundle. The 5 printable, nonfiction basketball readers are also available separately.
Finding the Right Nonfiction Text
The initial reason that I wrote the nonfiction small readers was that even though it seems that nonfiction text is becoming more easily accessible I can never seem to find books that are grade-level appropriate with the nonfiction text features I want to work on. Not only that but there are also not many series that feature topics beyond animals. So, I did the research and wrote my own nonfiction texts featuring table of contents, diagrams, labels, captions, bold words, and glossaries based on the fun theme of basketball.
Why I Teach Nonfiction Text Features
I have repeatedly witnessed the excitement that kids get when learning something new, and something ignites in them to share everything they have learned. I LOVE IT! If I want my students immersed in nonfiction more often I want to make sure I aid them with the right tools and approaches to be successful as they explore the genre.
Nonfiction text features are valuable because they help students understand the organization of a text. They can provide them with clues to the genre, the author's purpose, and help them to approach the information in a successful way.
When students understand where to find and how to use nonfiction text features it builds their confidence. When students are confronted with unfamiliar vocabulary they can head to the glossary, when seeing an interesting picture, they can read captions or look for a diagram for more information.
Ideas for Teaching Nonfiction Text Features
I am a huge visual learner myself and I try to translate that into my teaching whenever possible and teaching the text features is no different. Here are my favorite ideas for teaching nonfiction text features.
#1 Take a Book Walk
I like to start off by introducing each of the text features on a book walk, showing my students where they can find each feature. Often, kids recognize the feature, but simply don't know their name or their use. This is a great rough start.
A fun way to show the features is to display a nonfiction book up on your interactive whiteboard. If you don't have an interactive whiteboard you can use a poster!) I like to make giant labels with each of the nonfiction text features such as (bold words, captions, and diagrams) which I have kids go up and label.
#2 Use Visuals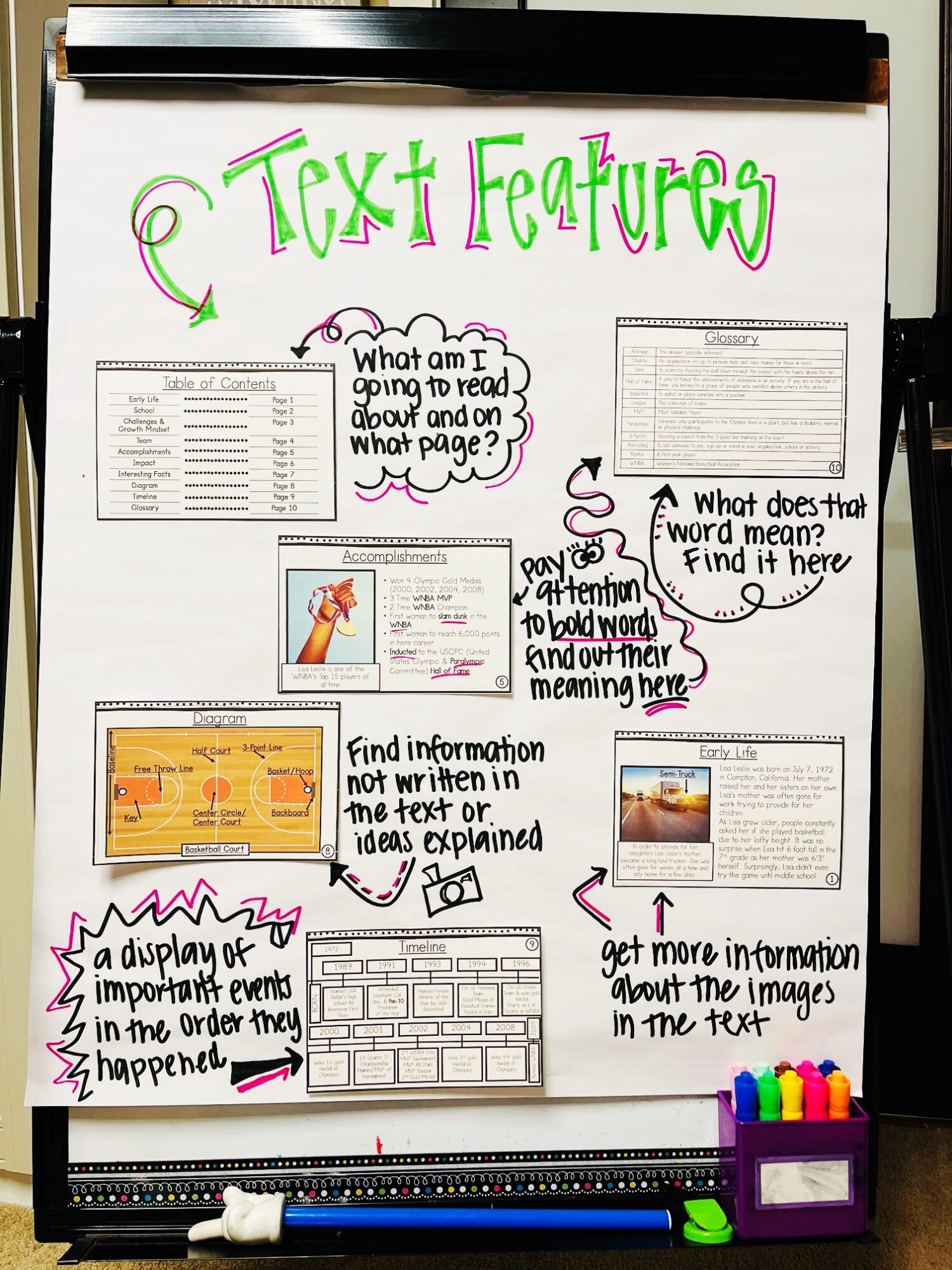 Making visuals that stay up throughout the unit is also impactful. I only have academic posters and mentor materials up when they apply to what we are working on in that unit. I want kids to know that if it is up, it is useful and encouraged to use as a learning tool. I love the classic anchor chart. On occasion, I have created an anchor chart ahead of time, but I prefer to have some components in place and fill in the rest with student support.
For my text features anchor chart, I simply took pieces of one of my nonfiction readers and placed them on the paper. I made sure that all the nonfiction text features I wanted to address were featured. I left space surrounding each page to write notes of the text features used, not simply a definition. Explanations in kid-friendly language or in question form are the most impactful.
#3 Text Feature Scavenger Hunt
One more approach I use to teaching nonfiction text features is going on a feature hunt. I have created a simple nonfiction text feature hunt where students select any nonfiction book. Once they have selected a book they begin the hunt by locating, exploring, and applying the features found. You can grab the nonfiction text feature hunt right here for free!
If you're looking for more resources for teaching nonfiction text features be sure to check out these other blog posts:
"Nocturnal Animals & Nonfiction Text Features"
"Polar Animals Nonfiction Text Feature Freebie"
I'd love to hear about your favorite ways to teach nonfiction text features so be sure to leave a comment below and, as always, feel free to reach out with questions, suggestions or just to connect!