As a teacher, you may find that some of your students struggle with reading comprehension. One way to help these students is by using questioning strategies to guide their reading and deepen their understanding of the material. By using appropriate questioning techniques, you can help your students improve their reading comprehension and become more engaged with the text they're reading.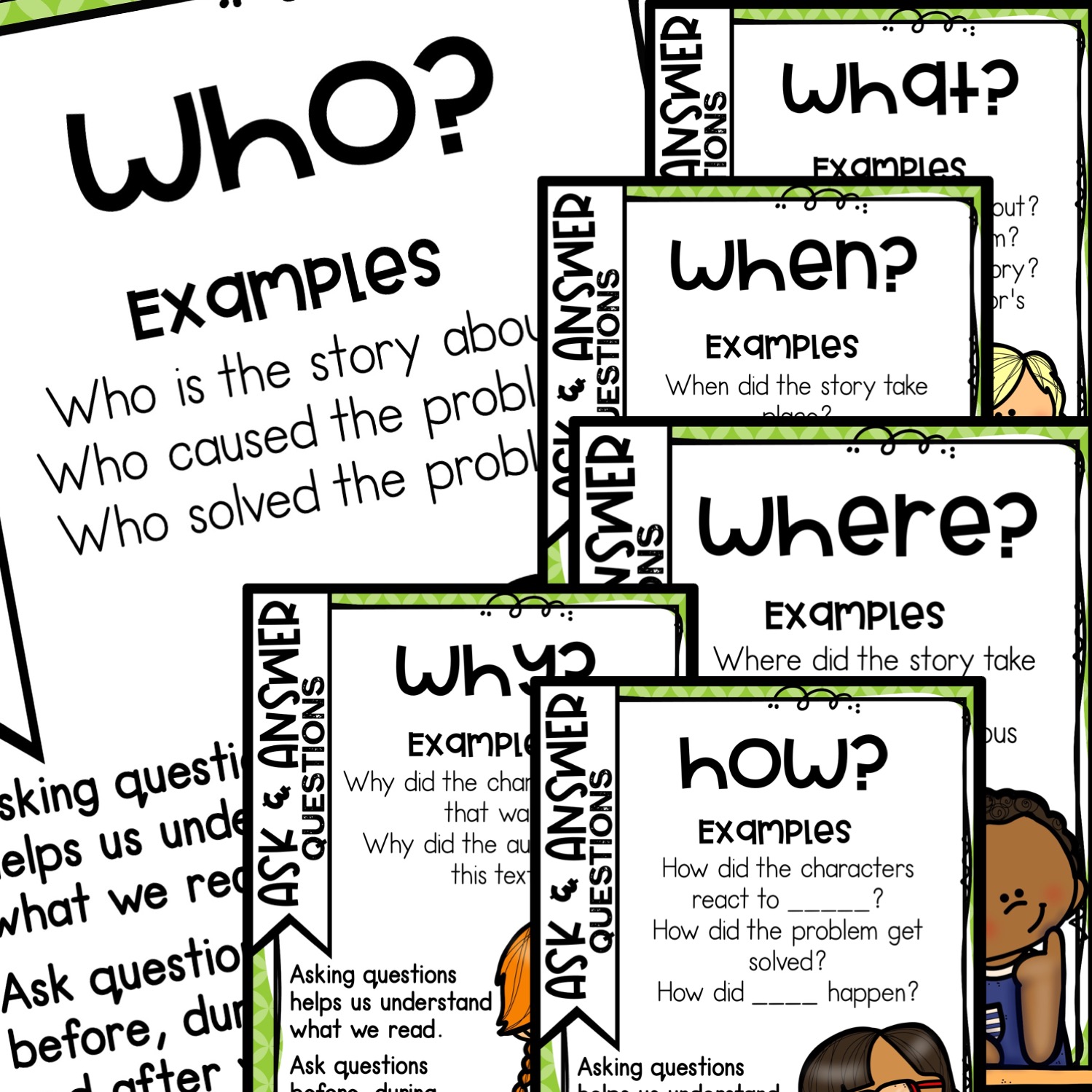 Sometimes we overthink asking questions when reading when it can be as simple as asking, "Who?" "What?" "When?" "Where?" and "Why?" Another common mistake is that we ask questions that are set up to receive quick one-word "yes" or "no" answers. Here are a few questioning strategies to help increase reading comprehension with your students.
Questioning Strategies for Reading Comprehension
Ask the Right Questions
First, it's important to ask open-ended questions that require more than a simple yes or no answer. For example, you might ask, "What do you think the author meant by this?" or "How do you think the character is feeling in this section or after this happened?" I sometimes even throw in a twist "How would (other character) act if put in this same situation?"
Differentiating
A few suggestions for differentiating when asking and answering questions before, during, and after the text is breaking down the who, what, when, where, why, and how. Breaking down each segment is vital helping students to effectively summarize what they know.
I would have students work on one or two of the question elements in depth before moving on to summarizing the text in its entirety.
Summarizing is a great extension or challenge for students who can fluently ask and answer the questions you put forward. This can help ensure that they have a solid understanding of the material and can articulate it clearly in their own words.
Another impactful extension of questioning is to ask students to make predictions about what might happen in the next section, chapter, or book in the series. These predictions can help students stay engaged with the material and anticipate what might come next.
Practice, Practice, Practice
Another strategy is to practice until it becomes a habit. You can signal students to pause during partner or group reading to go over their questions, predictions, or summaries of what was read. Provide students with sentence prompts or guiding questions as seen on my Book Talk Bookmarks, to help guide them in their discussions.
Take Your Time
In the end, we want students to know that our experience with a text is a mixture of both reading and thinking. We don't need to rush through our reading, in fact, I don't encourage that.
Ask and Answer Questions Activities
These reading comprehension units are set up to help you and your students participate in in-depth conversations and hopefully create routines for questioning as you read. These 3 bundles are a part of my Guided Reading with a Purpose Curriculum, with each weekly bundle including materials for 5 different books with resources for focusing on asking and answering questions plus crafts, home connection materials, and so much more.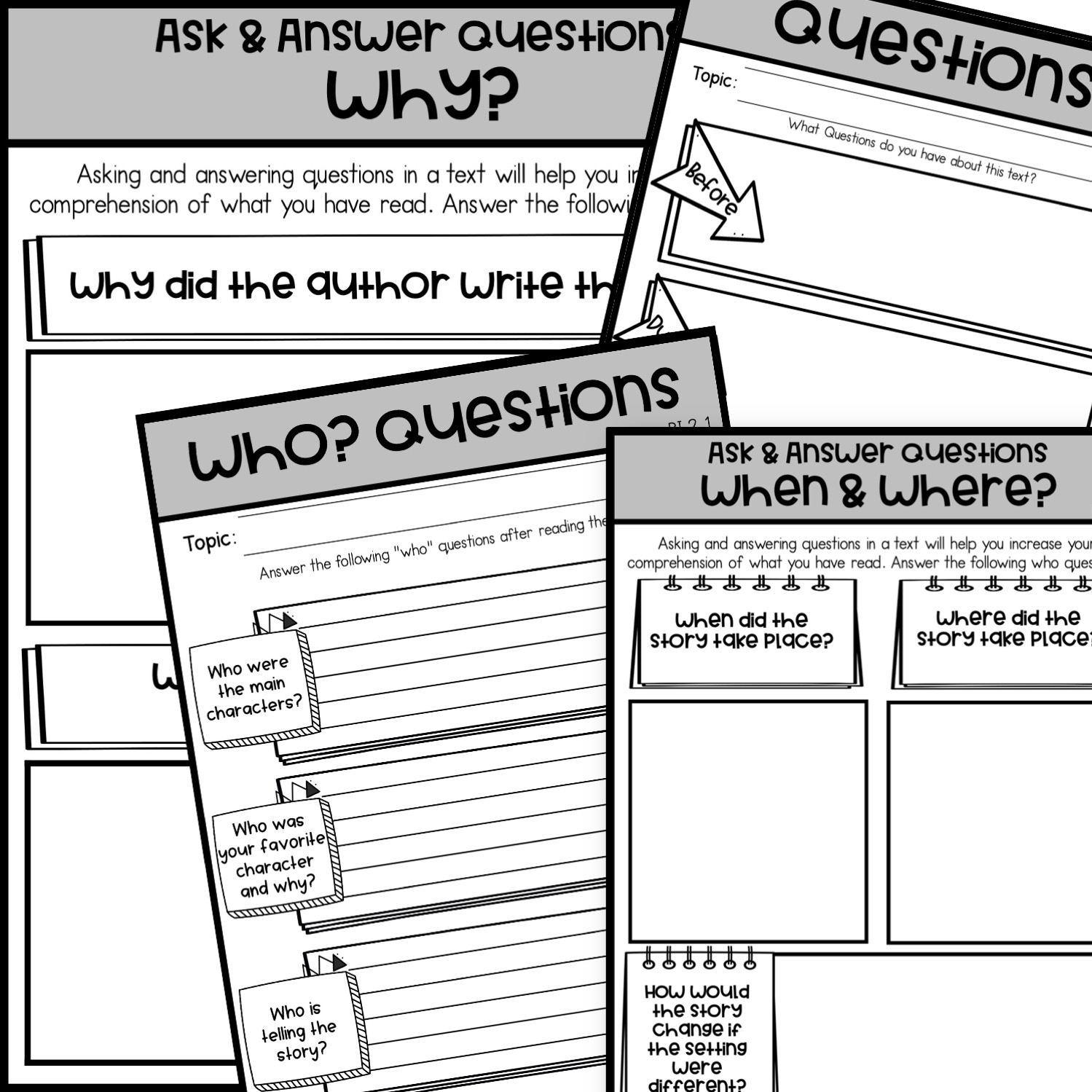 Click the images below to take a closer look at these questioning-focused bundles: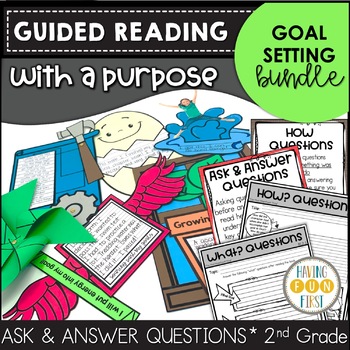 You can also read more about these resources in my previous blog posts, "Encouraging a Growth Mindset for Kids" and "Activities for Autism Awareness Month."
If you want to learn more about Guided Reading with a Purpose you can check out this previous blog post all about the curriculum to help make your guided reading time focused, intentional, and packed full of comprehension skills.
What questioning strategies do you use in your classroom? I would love for you to share! As always, feel free to reach out with questions, suggestions or just to connect!