Hey there friends,
I am excited to share with you some books and activities for autism awareness month and resources for teaching special needs acceptance in the classroom, but first a quick pause for a happy, sappy story…
I had one of the best days ever a week ago.
My oldest son Mason is autistic and has had his share of success and struggles over the years. This year he started playing the saxophone and it has been a huge comfort to him. He is also incredibly good at it.
So… On Friday as I pulled up for car pick-up, I heard a 🎷 saxophone in the distance. I drove up and Mason was playing "Careless Whisper" by George Michael for the crowd. The vice-principal came over and opened his case so kids could give him tips 😆 Kids were donating "swag bucks", snacks, and trinkets. He was beaming. Seeing him confidently pull out his instrument to perform in front of his classmates with such a kind response makes us beyond happy and proud of his growth. My bucket was beyond full. ❤️
My Experience
As a parent of children with Autism, ADHD, anxiety, and a sensory processing disorder, I feel like I have had my fair share of social, emotional, and educational experiences that sometimes accompany the life of a person with special needs. With this plethora of experiences, at the end of the day, my goal for my children will always be to feel accepted, appreciated, understood, and proud of who they are. Isn't that every parent's wish for their children? Unfortunately, more times than not, kids with special needs have extra obstacles than their "typical" peers.
I knew as a teacher I wanted to make sure that my students always felt like they belonged. That will always be my number one priority beyond anything else. Then, having children that weren't "typical" further solidified my need to encourage celebrating diversity in all areas of our lives. I try to not only be an open book about my family's experiences, but I try to encourage open and honest conversations with my students, friends, and family.
I have been known to stop all scheduled learning to sit and reflect on a social matter or to answer questions about behaviors. Do you know why? It matters more than any academic skill our children will ever learn. If our kids don't feel accepted, safe, encouraged, and confident then we can forget about them fully accessing the academics.
After conducting these impromptu lessons on understanding, celebrating diversity, and seeing the positive outcomes I knew I wanted to be more intentional in my lessons, as well as share them with others. If I could aid and encourage fellow educators, homeschool families, counselors, etc. to have these same conversations with their kids why wouldn't I?
Resources & Books About Special Needs for Kids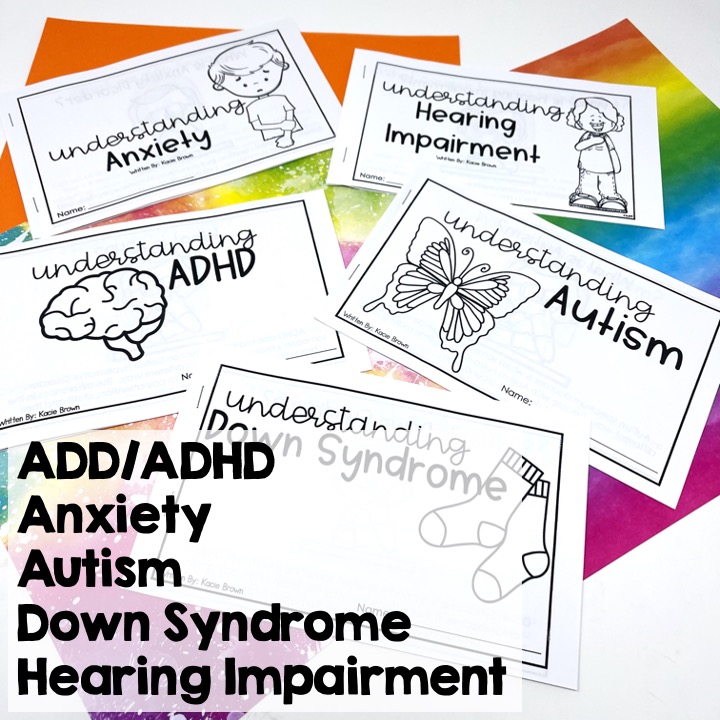 As a result, I created the following resources on a variety of special needs. The purpose of these units is to raise awareness and acceptance of a variety of disabilities or disorders. Many people have misconceptions about those who are different from themselves. By teaching our young community of students we can create a more understanding and accepting population of our diverse world.
I wrote a nonfiction reader and paired it with a fictional or realistic fiction book based on the need. Each of the resources below includes a craft, writing prompts, graphic organizers, story element posters, anchor chart headers, focused worksheets using mentor text to deepen understanding of the story elements, book talk questions, parent connect, lesson plans, and more! Each of my resources is designed to help you make the most of your guided reading time with your students.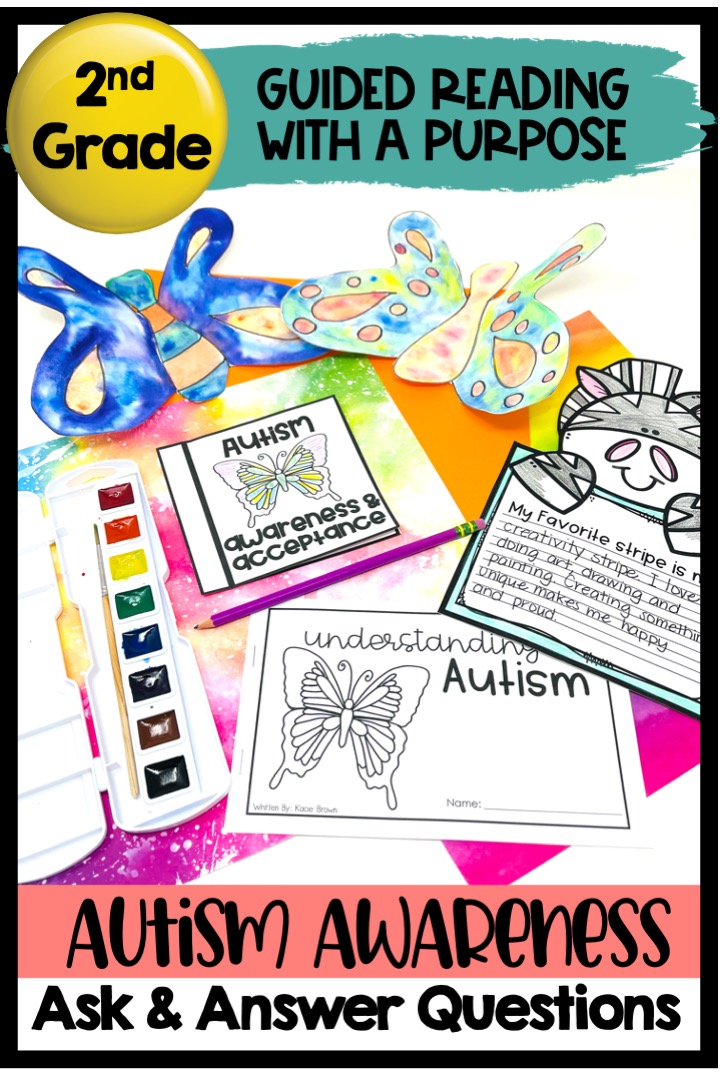 Autism Awareness Activities
I paired my printable nonfiction reader on Autism with the book "All My Stripes." In the book "All My Stripes" a zebra named Zane is autistic and he worries about how different he is until he learns autism is only one of many qualities that make him special. These books and accompanying resources are the perfect activities for autism awareness month!
Understanding Down Syndrome and "I'm Not Just a Scribble"
I paired my printable nonfiction reader on Down Syndrome with the book "I'm Not Just a Scribble". The book "I'm Not Just a Scribble" is about kindness and inclusion. After the scribble is left out because it looks different, it teaches the others a valuable lesson to accept each other for who you are.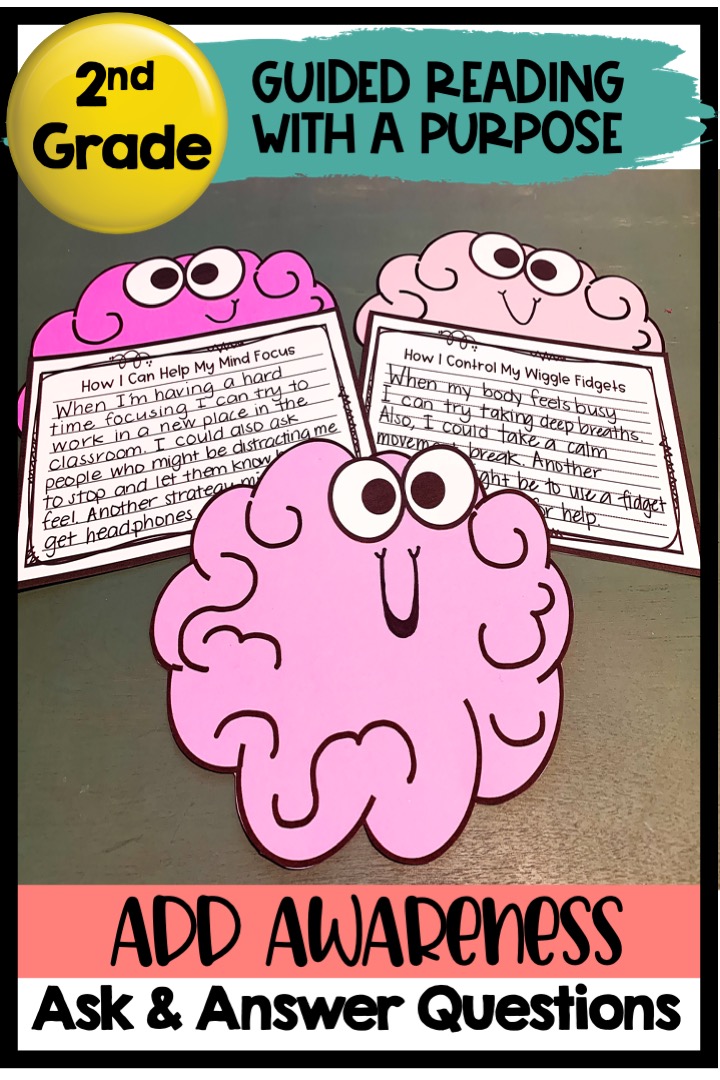 Understanding ADHD and "Mrs. Gorski, I think I have the Wiggle Fidgets"
I paired my printable nonfiction reader "Understanding ADD" with the book "Mrs. Gorski I Think I Have the Wiggle Fidgets". This read-aloud is a very powerful introduction to the obstacles people face with ADD or ADHD. It follows a boy as he goes through his daily struggles and how he overcomes this. Please read this even for yourself as an educator, parent, or human in general. Ha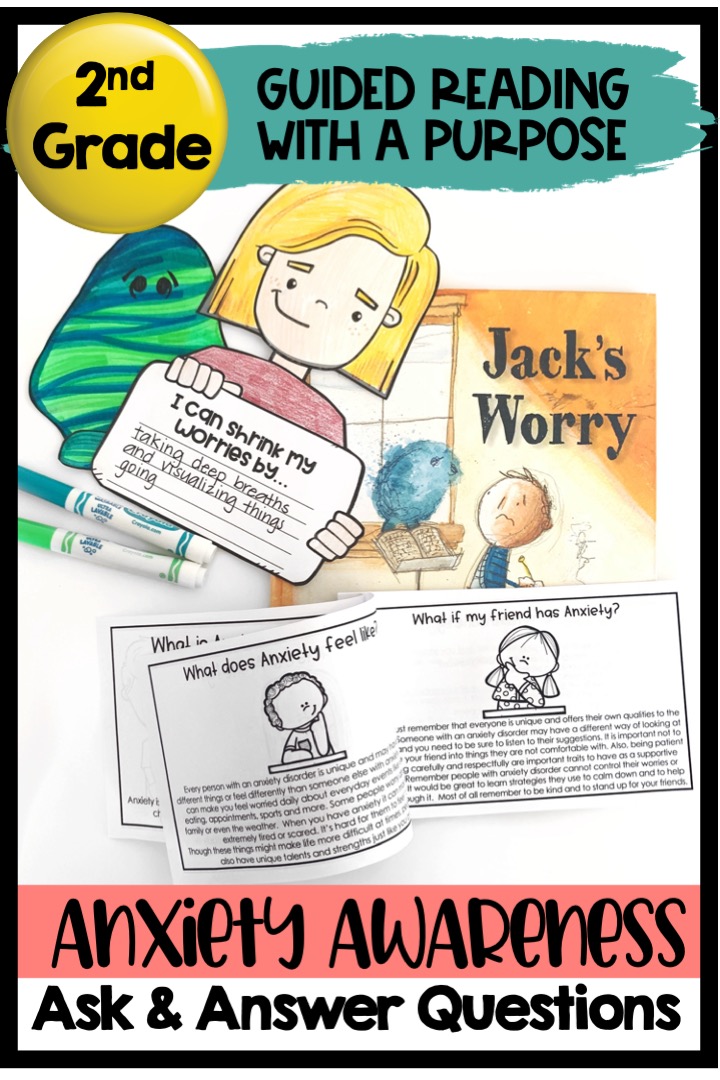 Understanding Anxiety and "Jack's Worry"
I paired my printable nonfiction reader "Understanding Anxiety" with the book "Jack's Worry." This mentor reader is a great introduction to social anxiety and the worry involved with firsts or failing. It talks about identifying that worry and how to help shrink it down to manageable sizes.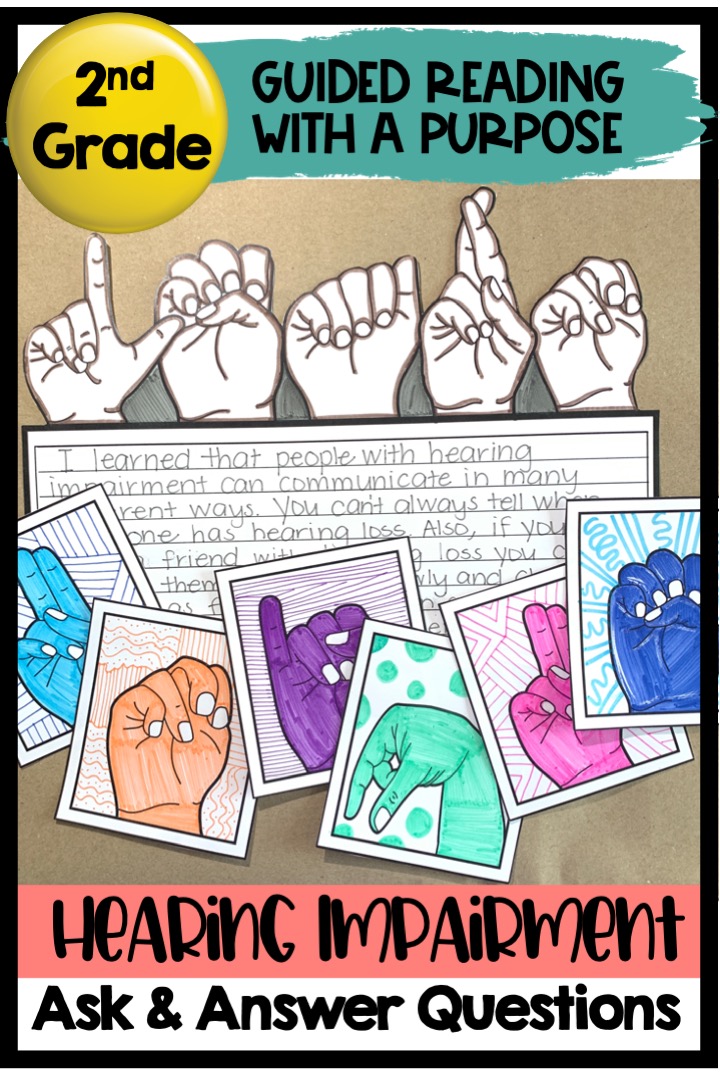 Understanding Hearing Impairment and "Moses Goes to a Concert"
I paired my printable nonfiction reader "Understanding Hearing Impairment" with the book "Moses Goes to a Concert." In the book, Moses' teacher takes him and his classmates to a musical performance where a highly successful percussionist is also deaf. It talks about her experiences and growth mindset to pursue a musical career.
Each of these printable nonfiction readers includes headers such as: what the special need is, what causes it, what if your friend has this special need, typical characteristics, unique qualities to acknowledge and celebrate, what does it feel like, helpful strategies (anxiety), and vocabulary.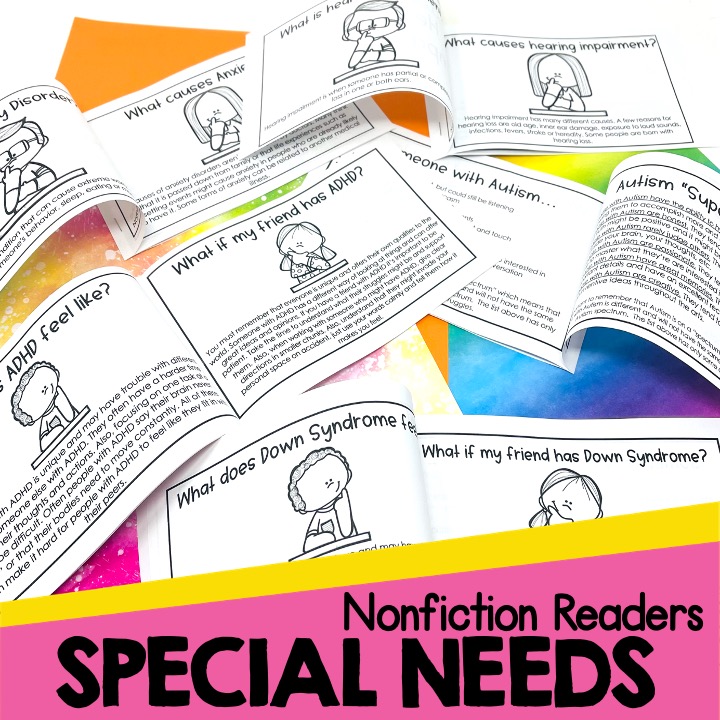 I do plan to create more and loved getting requests as I went through the creating process. You can purchase these resources by clicking the images/links above, or all together with my Special Needs Awareness Bundle.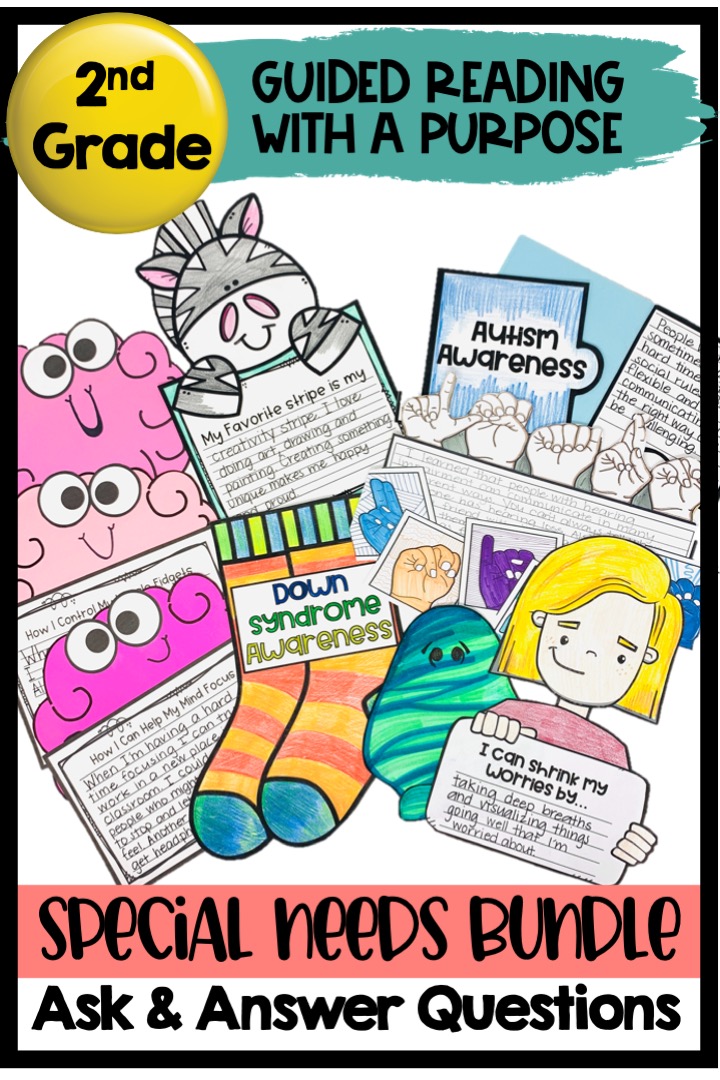 The printable nonfiction readers are also available separately. The mentor texts are available in my Amazon store by clicking on the title links above. (As an Amazon Associate, I earn from qualifying purchases.)
Simple Activities for Autism Awareness Month
Here are some simple yet impactful ways to raise awareness and acceptance during Autism Awareness Month (and always):
Wear blue
Make class posters about Autism Awareness and Acceptance
Read about famous and impactful people with Autism

A few examples: Albert Einstein, Thomas Jefferson, Andy Warhol, Temple Grandin, Greta Thunberg, Satoshi Tajiri, Bill Gates, Steve Jobs, Sir Isaac Newton, Hans Christian Anderson, Jerry Seinfeld, Tim Burton

Watch, use, or listen to something created by someone with Autism
Check out books about Autism for kids:
Be a good friend and show kindness to those who are Autistic
Remember that everyone has something to offer even if they are different from you. Try to see things from their perspective and find a compromise, not conformity.
I just want to say thank you for reading this post and wish you the best as you try to raise awareness and acceptance for all the unique people in our diverse world. If you're looking for more resources to celebrate diversity with your students, be sure to check out my post, "5 Guided Reading Activities that Celebrate Diversity in the Classroom."
Please never hesitate to reach out with questions or ideas on how to continue the journey.