Hey there friends,
Man, there went February. Our road trip made it fly by so quickly and I will tell you after visiting some of the southern states I am ready for spring and some much-needed sunshine. It is raining like crazy here in Washington state, I am afraid Noah's Ark might float by soon.
Typically when I am planning my Guided Reading with a Purpose resources, I look at the reading comprehension skills and find books that showcase those strategies. Well… this week I fell in love with these books and knew I had to find an appropriate comprehension strategy to apply to these mentor texts. This week is all about summarizing and mythical creatures. Yep.. bigfoot, gnomes, unicorns, yetis, and monsters oh my!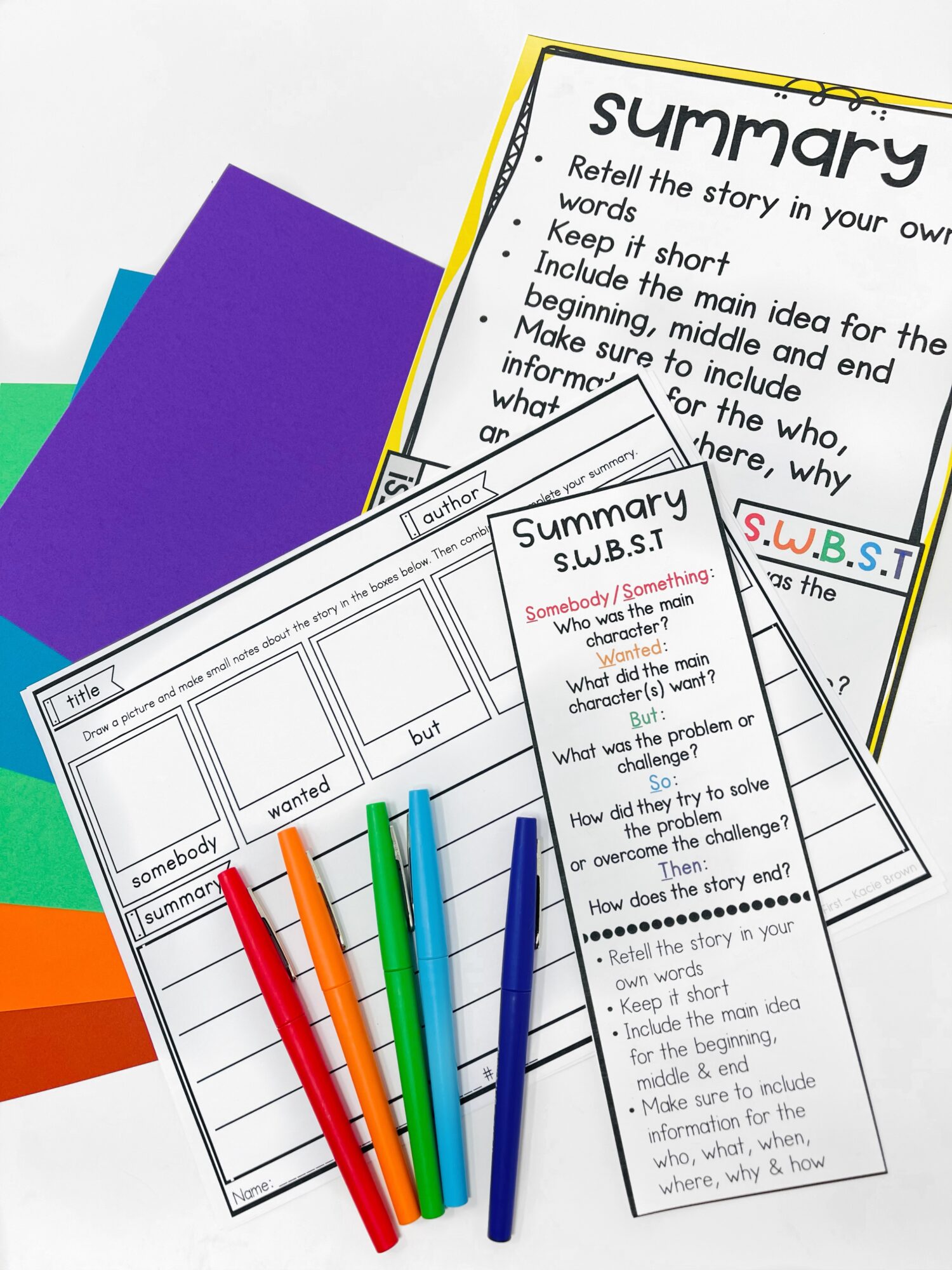 Why is Learning to Summarize Important?
Before we meet these mythical characters, it's important to review why we teach summarizing. Learning to summarize helps our students identify the important key details in a text and it also helps them to understand the underlying plot in a story. Summarizing is a skill that is used in almost every subject area. It's an important skill that our students will use for the rest of their lives – whether it's note-taking in class, or the workplace, explaining a project, or sharing an idea or plan, confidence in this skill is not underrated.
5 Summarizing Lessons for Guided Reading
These books and resources are excellent for practicing summarizing as well as lend to some great social skills and kindness conversations in the classroom! (If you're looking for more kindness resources you can read about "3 Ways to Teach Kindness in the Classroom" here.)
This book is a sweet book about a gnome who is given a seed that will bring him happiness. Unfortunately, he runs into frustration when it isn't growing. With a little work from his friends and some magic of course he discovers he was just missing love.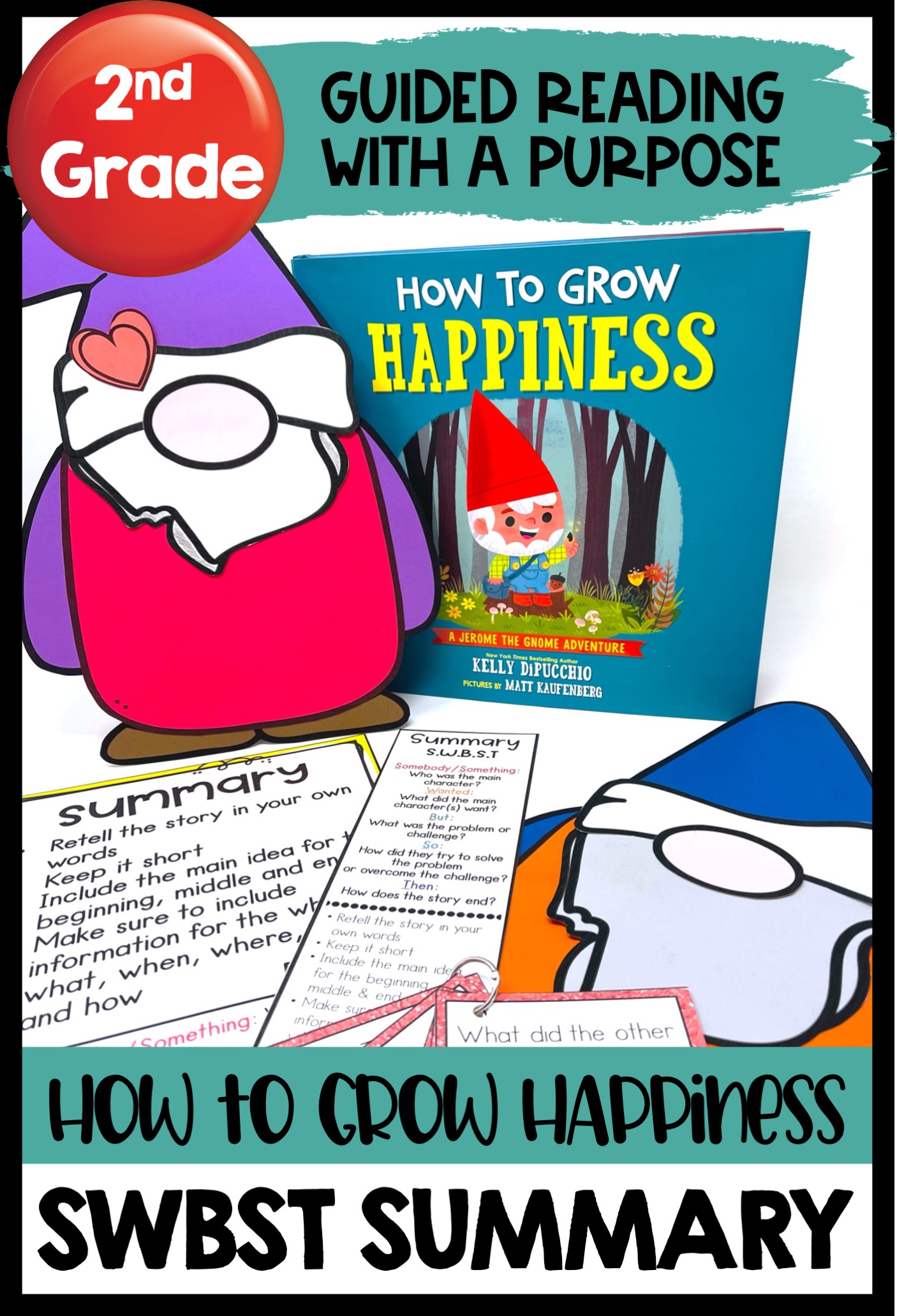 This book is a great story that speaks to being yourself and rediscovering what makes you who you are – especially that who you are isn't about superficial things. A sweet monster loses his "M" and is left being nice, which he discovers isn't so bad after all. He even realizes what real friends look like in the process.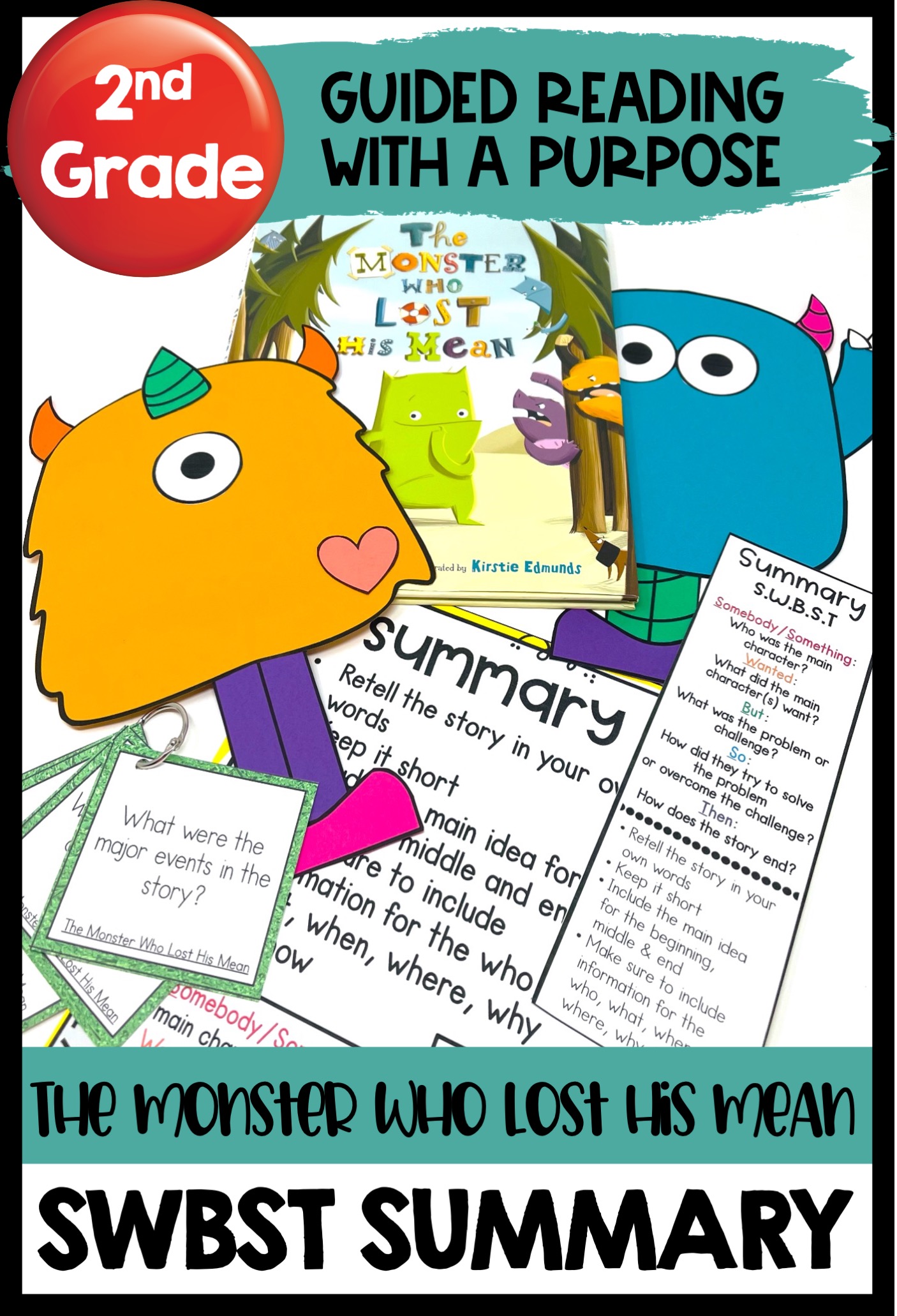 Ok, another great story about a mythical creature – the yeti. All the animals in the forest avoid Yeti because they assume he is big and mean. Luckily, an unexpected visitor crosses his path and helps the others to see he is just a kind, gentle giant worthy of friendship.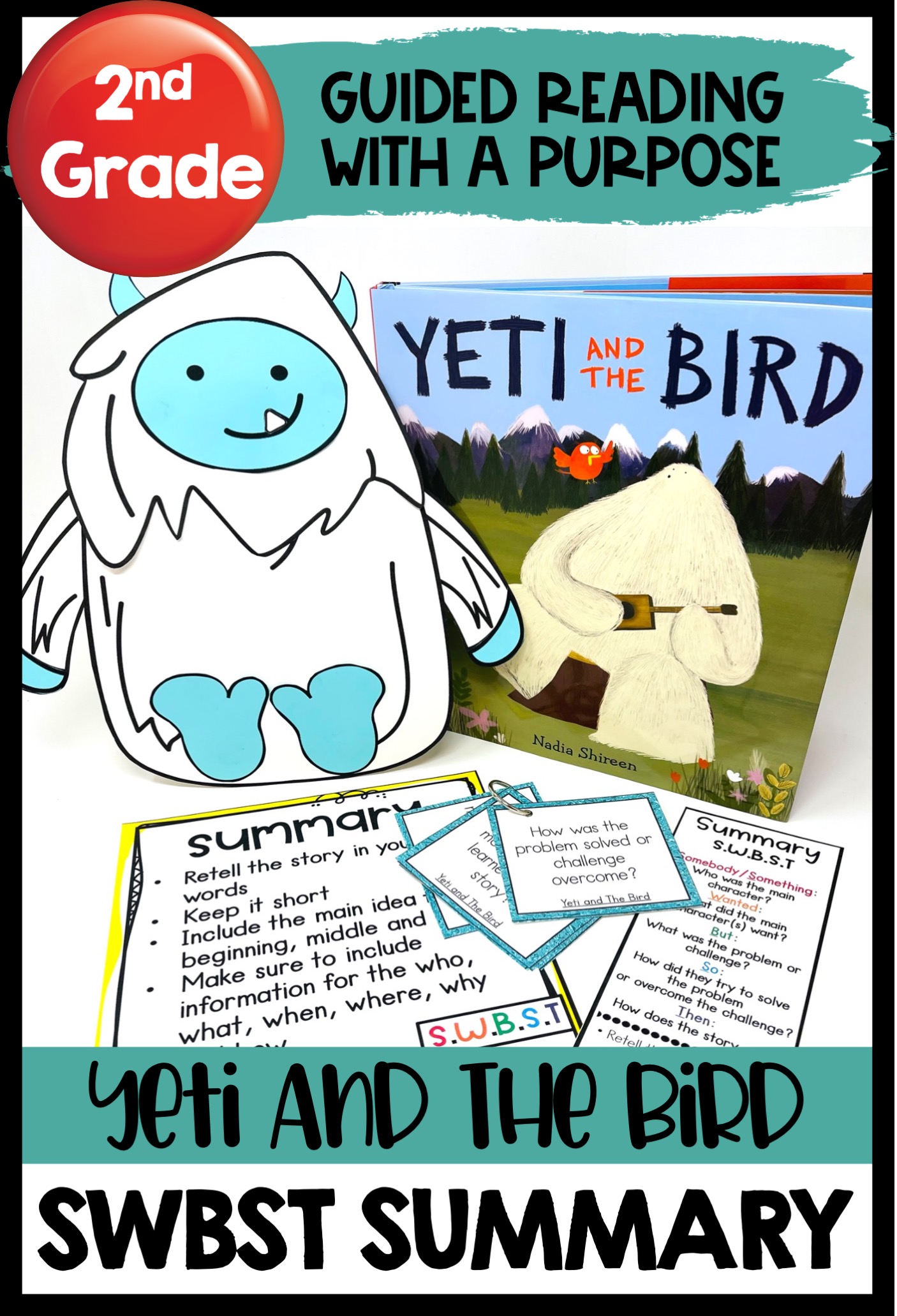 This is a funny story told by a goblin about why unicorns are the worst. This story also lends to a great lesson about why we shouldn't judge others. Goblin may end up liking the unicorns after all.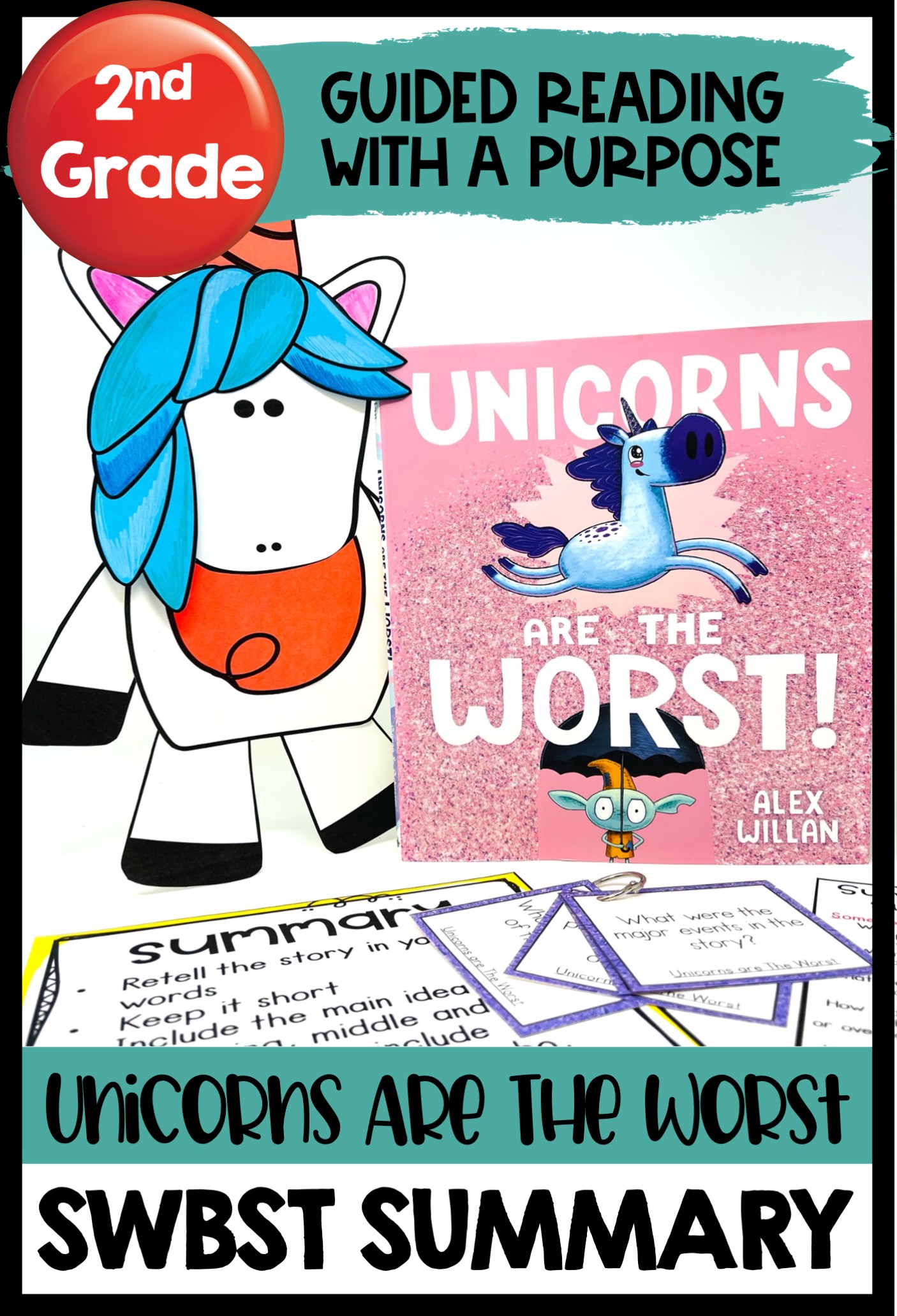 I just love this book. Larf is a bigfoot who lives alone in the woods with his pet bunny. When Larf finds out there may be another bigfoot out in the world, he starts to analyze if he likes being alone. He takes a big step of bravery and ventures out to find if being alone is really what he wants.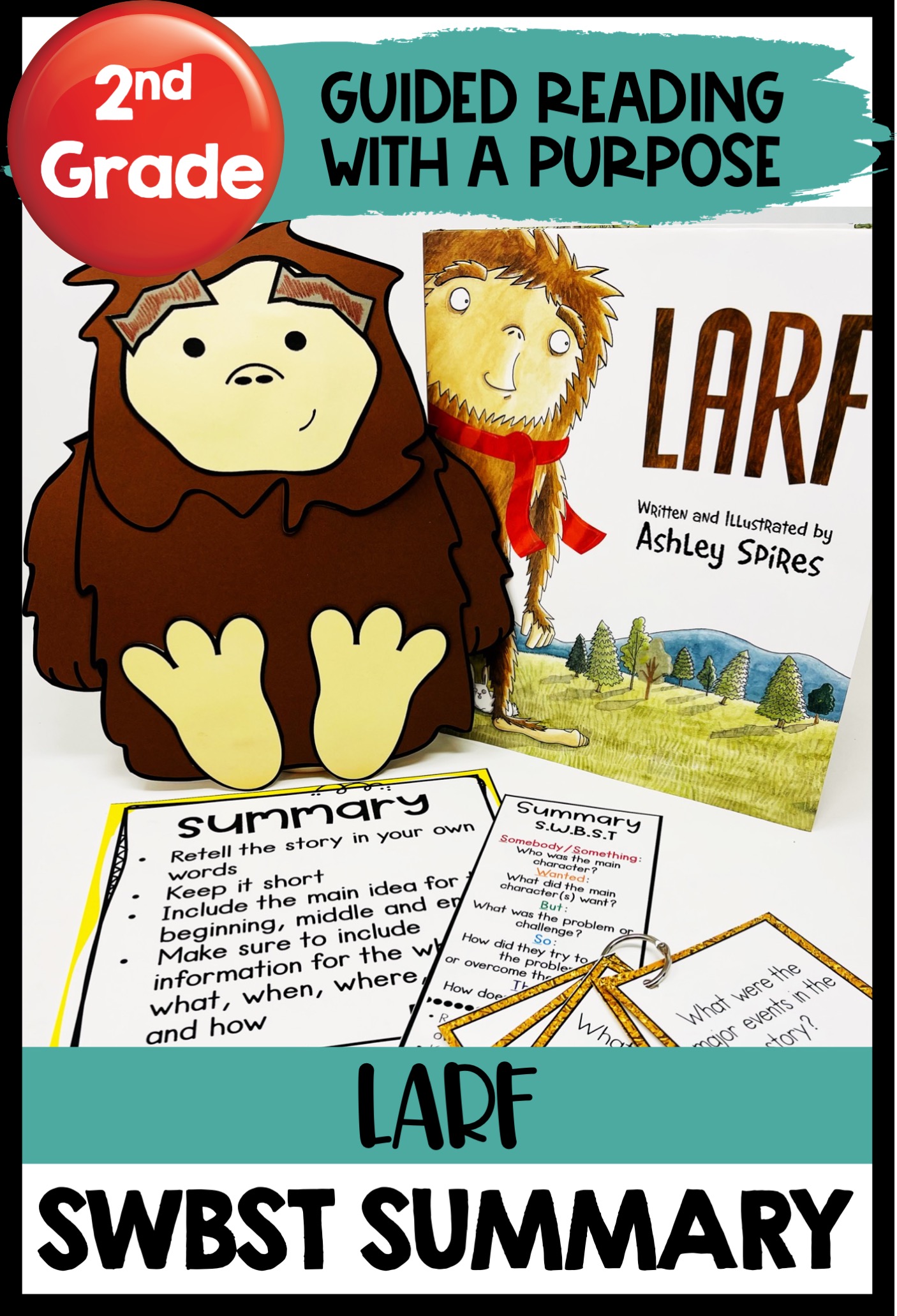 Click on the images above to check out the resources I've created to go along with each book, or purchase all 5 together in my Guided Reading with a Purpose Summary Bundle. If you don't already have access to a copy of these texts, you can click on the book title links above to view them in my Amazon store. (As an Amazon Associate, I earn from qualifying purchases.)
How to Teach Summarizing
In the above lessons, I focused on helping my students summarize using the SWBST strategy. The SWBST strategy stands for "Somebody Wanted But So Then."
Why SWBST when teaching summarizing?
Somebody Wanted But So Then offers an organizational framework to use when summarizing what we have read. I find that when I provide explicit organizational tools this allows for my students to access their creative thoughts. Once the format becomes routine, they become more flexible, and even better they can work in their speech and summarize in conversations.
Tips for Teaching Students to Summarize
Make sure your students know the difference between a key detail and a supporting detail.
Make sure your students can identify story elements: setting, character, problem, and solution.
Keep mentor posters with prompts displayed to support all learners.
Provide clear graphic organizers to support summarizing.
Model summarizing in your teaching, for example, do "think-a-louds" so your students hear your thought process
Let them practice, practice, practice.
FREE Resources for Teaching Summarzing
This week's resources are full to the brim with summarizing materials, graphic organizers, lesson ideas, and more. If you want to take a glimpse at some of the materials I have used and that are included in this bundle click here to download your free resources for teaching summarizing.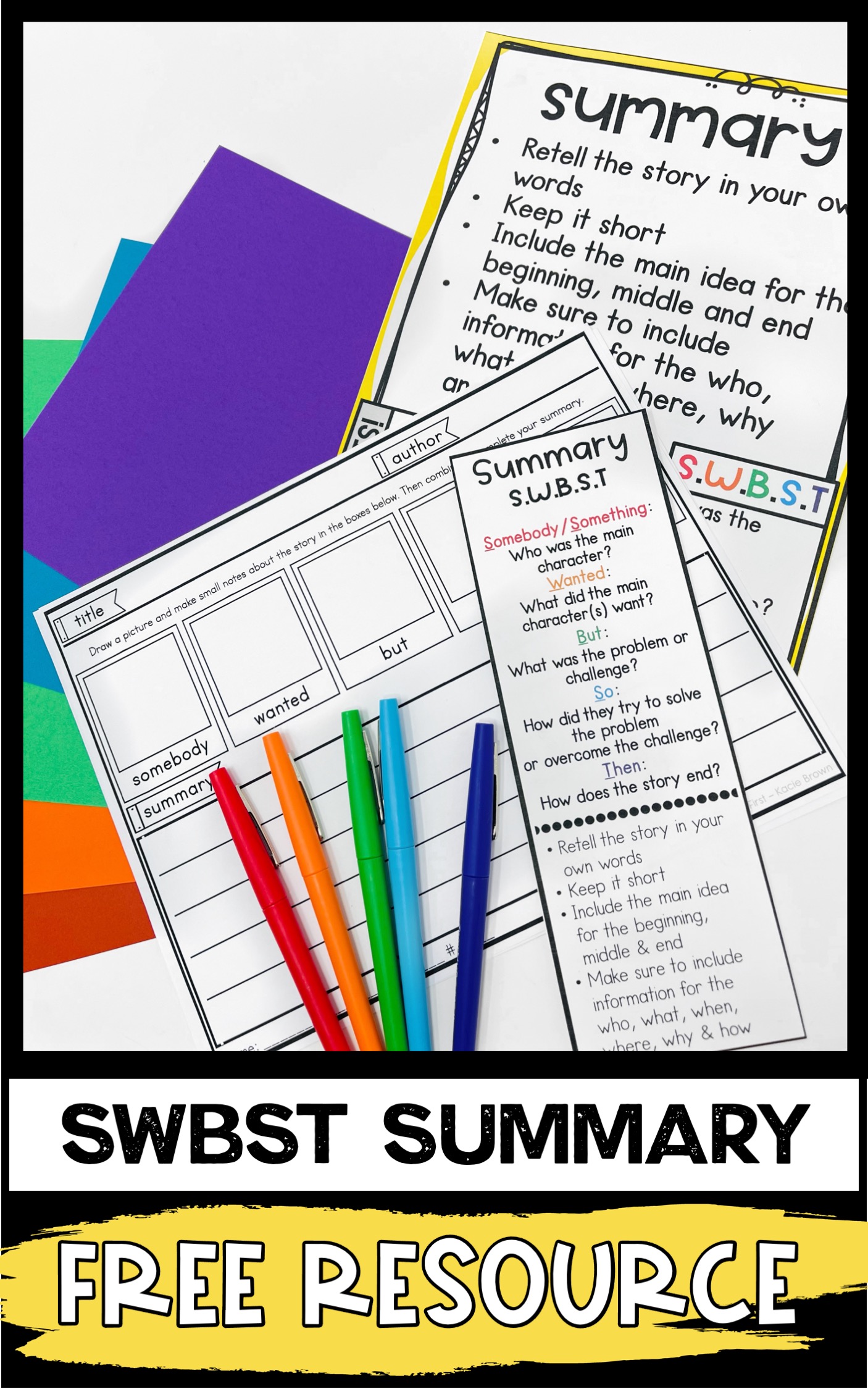 I hope you have a wonderful week and as always reach out with questions or our own tips to help us reach our nuggets better!