Hey there friends!
It's almost that time of year when we get to meet lots of new faces. For students, the start-up of school is always fun, a little crazy for some, and it can bring about the butterflies. When I discovered the book "Butterflies on The First Day of School" I knew it would be the perfect addition to my guided reading activities for back to school to help students overcome their worries. I loved how the book not only showcased relatable experiences for students but also showed how the main character worked through her worries. I decided this text was an ideal fit for guided reading activities focusing on problem and solution. 
We have all had the butterflies before something big or exciting.  Going back to school, meeting a new teacher, being around new classmates brings, learning new routines, etc… can bring the butterflies into our students' tummies for sure. Help them release their butterflies with these fun and FREE guided reading activities for the book "Butterflies on the First Day of School".
Take a glimpse into my Guided Reading with a Purpose Curriculum with a fun craft, writing activity, and comprehension extensions with this free guided reading activity for back to school.  My goal with this curriculum is to help you teach your kiddos the standards in an effective and engaging way at a "just right" pace. I hope you enjoy this free resource to help you get a small peek at what is included in my Guided Reading with Purpose units. Be sure to take a look at my other guided reading activities for setting up classroom expectations, building classroom community, and more with my Guided Reading with a Purpose Back to School Month 1 Bundle.
Check out this book on Amazon and snag this free guided reading activity for back to school! (As an Amazon Associate, I earn from qualifying purchases.)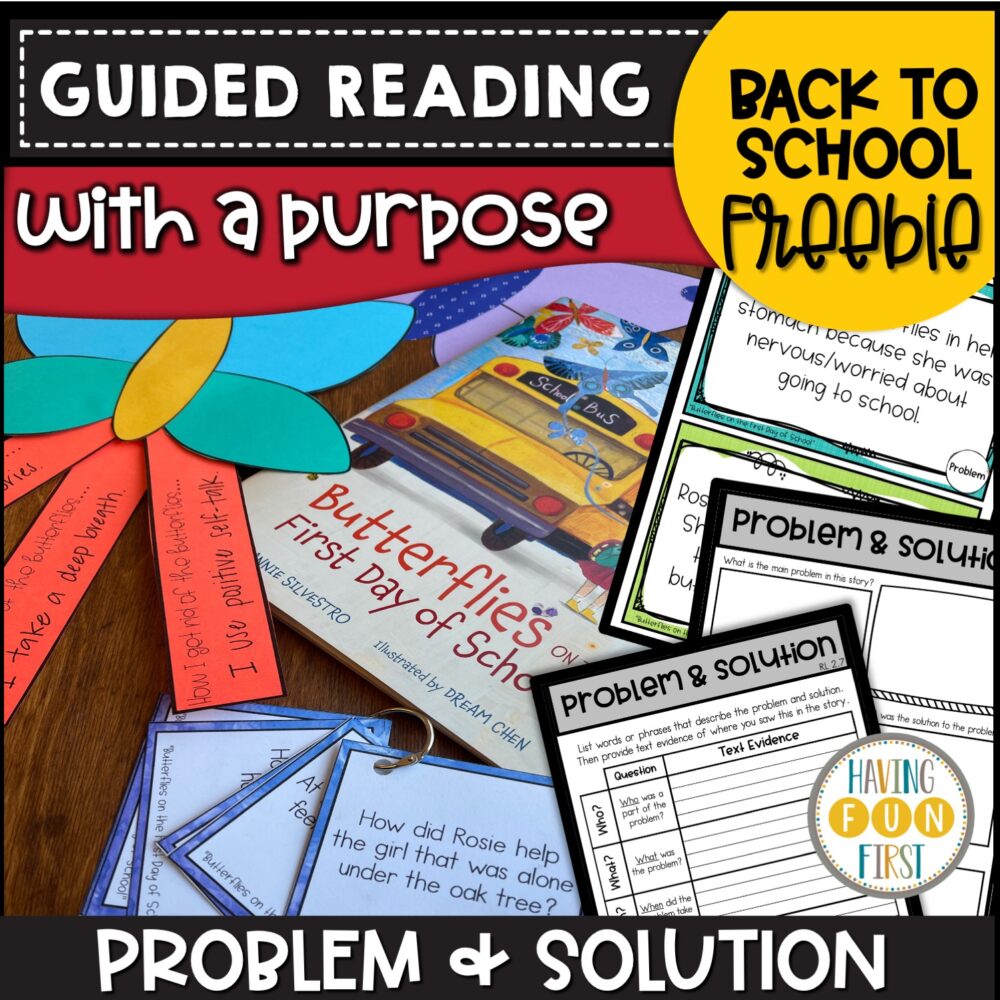 Guided Reading Activities for the Year
My weekly guided reading bundles keep students excited with five unique stories featuring a variety of activities that explore the focused comprehension skill as well as review previous strategies when applicable. Writing prompts inspired by the topic and theme and graphic organizers are also included to help support your young learners.  Mini-lessons, support materials, and parent letters also help support you as the teacher in your planning and lesson execution. I guarantee you will be pleased with the many applications you will find in these resources, whether it is for differentiation, homework, whole group review, sub plans, or to mix it up from year to year – you will find it here. 
The goal is that your students walk away from the activity or week of activities feeling confident in the targeted skill. Each activity has a variety of layouts to accommodate your learners. I like to also offer a craft that typically has writing extension involved to continue the learning in a disguised way! Each week I offer a spiraling review of the previous week's targets to keep broadening and refreshing their skill base.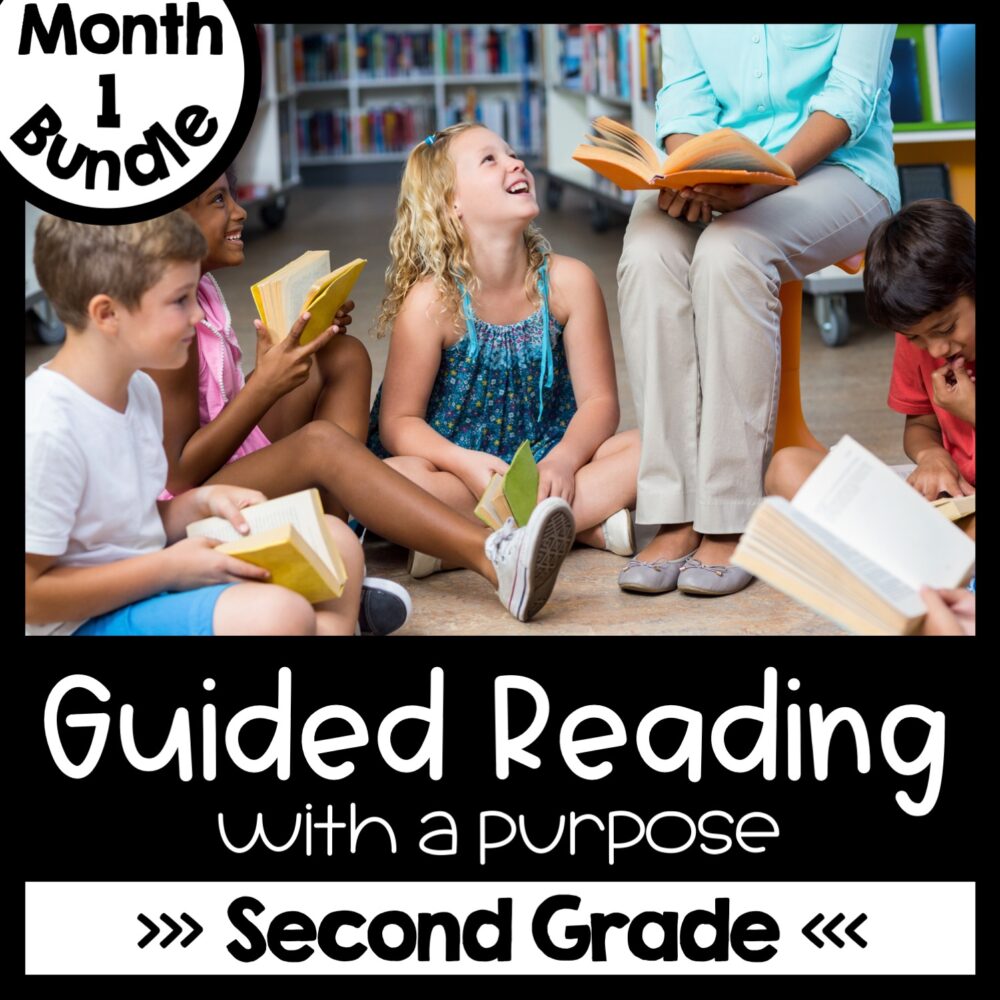 My Guided Reading with a Purpose Back to School Month 1 Bundle focuses on all those back to school themes you want to hit such as classroom expectations, all about me & my family, friendships, and goal setting/growth mindset. 
To read more about my Guided Reading with a Purpose Curriculum click here. 
Oh hey check this out >>> I have gotten together with some of my great teacher friends and put together an amazing back to school resource e-book! Take advantage of this priceless resource by clicking below to download your copy!
One last thing before you leave make sure to enter this awesome giveaway! The giveaway will run 7/30/21 at 12:00 AM until 8/2/21 at 12:00 AM. We'll give away a copy of each resource featured. To make things easy, I set up the Rafflecopter to follow each TPT store. It opens at 12:00 AM on 7/30/21 and will close at 12:00 AM on 8/2/21. We'll announce the winner on Tuesday morning, August 2nd, 2021.

I wish you the best of luck this back to school season! Enjoy all these great resources and good luck with the raffle!
You are invited to the Inlinkz link party!