Hey there,
As we get ready to head back to school I of course start thinking about that first week. What can I do differently, what worked last year, how can I spice it up, etc. One activity that always makes the schedule of course is to create our classroom rules or expectations. I typically read aloud a story all about rules like "No David" or "Officer Buckle and Gloria" they all focus on the no. So our great list making conversations always end up with a lot of "Don'ts."
Over the years I have not only shortened up our list, but tried to make a point of positivity in our rules. I just got tired of listing all the things that they couldn't do, I am so tired of "no" ha.. maybe I say it too much at home I guess. LOL
So. this year I decided to give my kiddos some more in-depth work on rephrasing our statements from negative to positive. We will be focusing on what we can do while implying the can't do.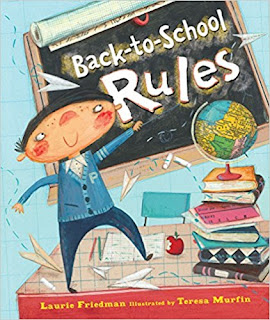 I discovered a fun book at my last library visit with the boys. It was called "Back-to School Rules" by Laurie Friedman. If you have read it you are probably thinking, well it is FULL of don'ts. Well you are right it is… the perfect book to practice on. I also LOVE that is it full of silly don'ts, for example, "don't slither on the floor" or "don't whistle, burp or bite." You and I both know those do come up at the carpet and we have to pause and "mini lesson it up" on what common sense means. This books helps to get some of those silly, crazy rules out of their system at the appropriate time and helps to not detour the good conversation following the story.
I chose a handful of negatively toned rules from the story and made "I can" rules that featured the same outcome, but in a more positive light. I then created mini posters for sorting whole group or in small group. I also created a few activities that allows them to practice rephrasing, making up their own "I cans" and then a fun craft to present them. I also made a few comprehension activities to introduce author's purpose and review main idea, setting and supporting details.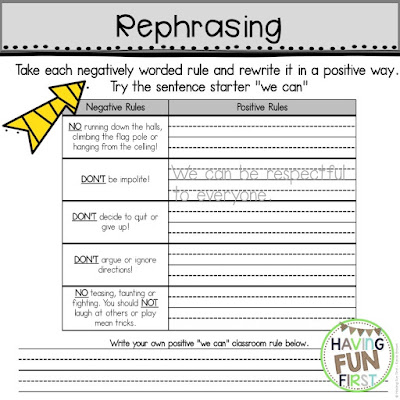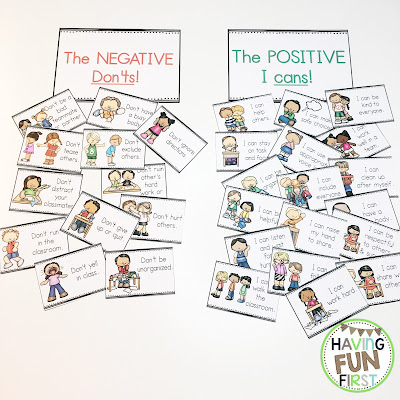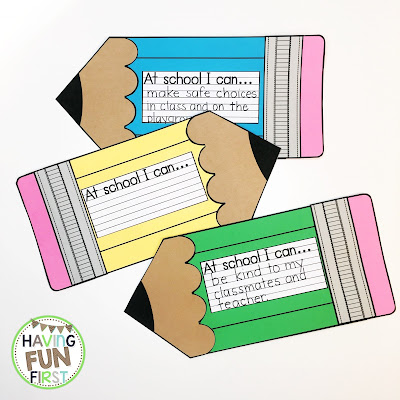 I really love creating my classroom expectations with my students. If you haven't already started doing that, I would definitely recommend trying. There is so much more buy in and they truly do have great ideas, even if the occasional "don't cut your hair" or "swing from the lights" does come up as suggestions. Ha!
Typically my list ends up something like this:
We can try our best and work hard.
We can be kind to others.
We can be good listeners to others.
We can make safe choices.
We can have fun.
Of course each year has variations, but usually very similar. If my kids keep coming up with lists like this it feels like a win to me. Cheers to another great upcoming year!