Hey there Friends!
My school community has always done a good job of promoting outreach projects, but to ensure that kids are really taking away all that they can we need to provide more deliberate instruction on what it means to be compassionate and the impact that just one person can have.
I have always loved doing community service projects within my room such as food drives, various clothing drives and a favorite of mine, the craft kits for our local children hospital. Many of these units in my room have been inspired by school fundraisers, but not until I took the time to deepen my student's understanding did they feel compelled to fully participate.
When children realize that you believe that they can make a difference, their ideas are so priceless and incredibly kind. They just want to do it all. There is nothing like the innocent, raw compassion of a child. We all know that.
I decided to take my compassion projects to another level by finding literature to better provide my students with an understanding of the issue/problem we were focusing on. I also created shared reading activities and fun extensions with science, art and when applicable math. In the unit there are additional resources to extend learning and fundraising ideas as well.
My first unit is focused on water conservation inspired by the book "The Water Princess" by Susan Verde. The story is about a young child in Africa, who walks for miles each day to retrieve water alongside the other girls and women of her village. After I initially read the story I found out that it was inspired by the childhood of super model Georgie Badiel. Georgie partnered with the author Susan Verde to bring awareness to this struggle and inspire people to contribute to her foundation that helps to provide access to clean drinking water and sanitation for the people of Burkina Faso.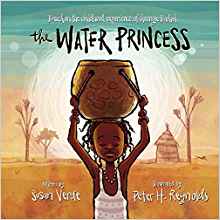 I was so inspired by this that I decided to donate 50% off all sales of this unit to her foundation.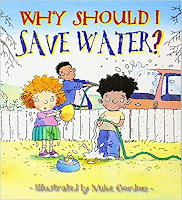 I also added the realistic fiction story "Why Should I save Water" by Jen Green. This story shows kids real life changes that they can make in their everyday lives to help conserve water. Through small actions they can make big impacts.
After each of the read aloud books I created different comprehension activities to work through with my kiddos. Author's purpose, schema, sorting and text evidence are a few of the highlighted skills. Once kids have a deeper understanding of the text we explore further with the water cycle showing how long it takes for wasted water to make it back through the cycle into a useable resource. My favorite part of this unit is the extensions into our greater community such as fundraising to help build wells in less fortunate areas of the world or walking a mile or two to help my kids take a glimpse into what some women and children do each day to find water.
Check out this unit in my store by clicking on any of the images below.
I hope this inspires you and your kiddos!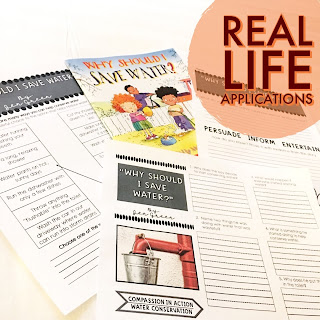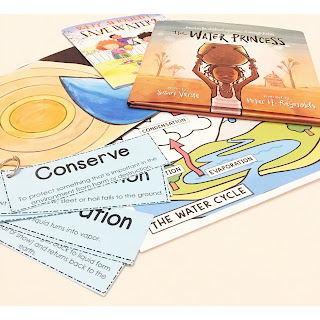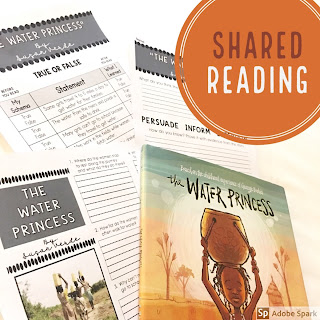 kina Fas