Hi there friends,
This week I want to share the positive impact supporting your students' sensory needs can have on your classroom. I am going to answer some of the frequently asked questions I receive in reference to the how and why of creating an effective sensory friendly classroom.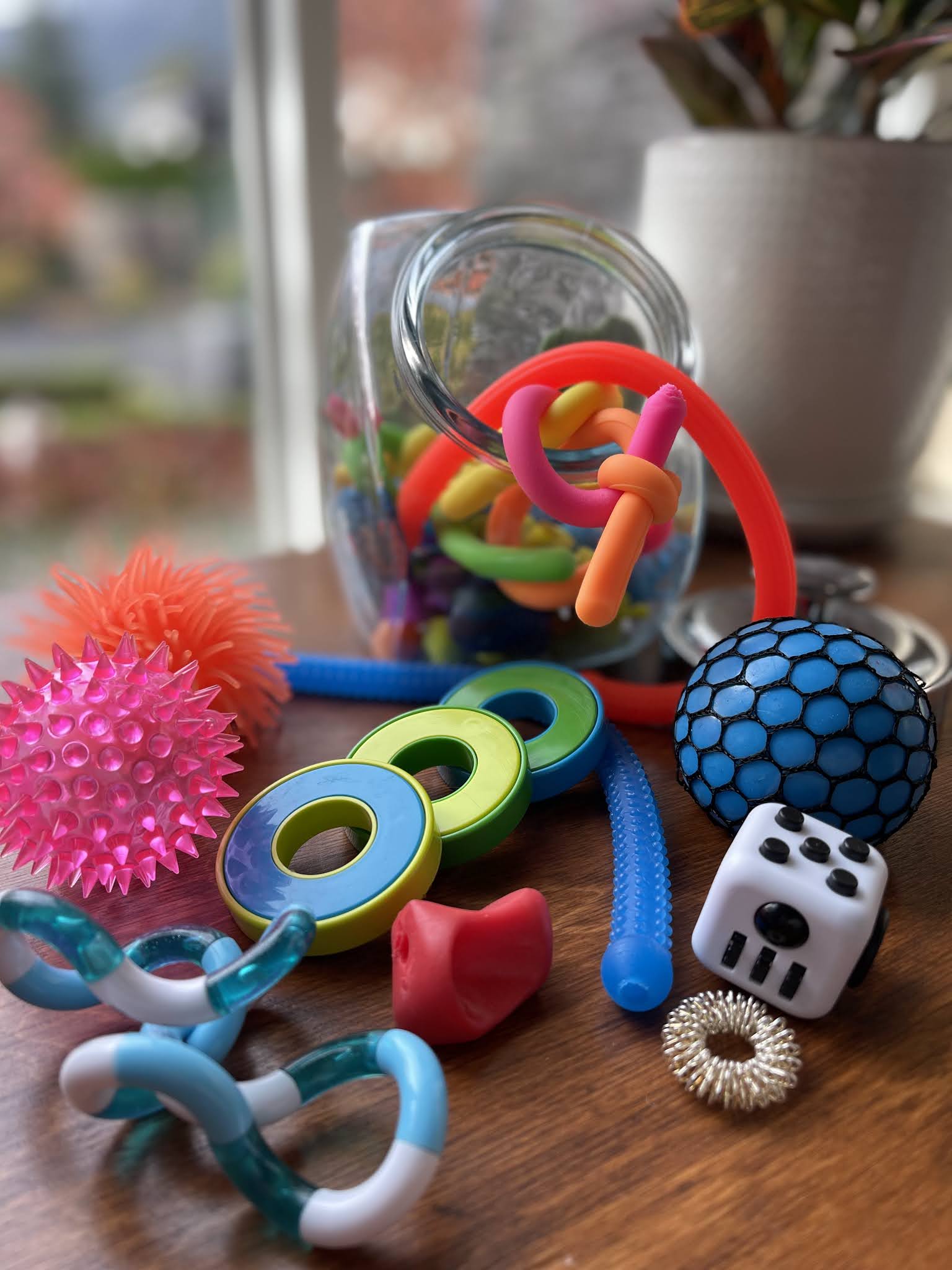 Every student is unique. They have distinctive personalities, learning styles, preferences, and obstacles that they face. In order to reach ALL of our students and truly expose them to the curriculum, we must take into account each student's individual needs. Many of those students sitting in our classrooms right now (with or WITHOUT IEPs or 504s) could benefit from sensory tools.
My Personal Experience
Several years ago, the word "sensory" never made me think of the classroom or my students. Then, when I learned more about my special needs community, I realized sensory materials could be very beneficial to their success. Fast forward a few years, when I had two children with ADHD, one on the spectrum with sensory needs and one specifically diagnosed with a sensory processing disorder, did I realize just how much the right tools and approaches could completely change their day.
As I started exploring the world of sensory support, I was beyond excited, and yes overwhelmed by the number of materials and strategies that were out there to take advantage of. If you know me on a personal or professional level, I am a bit of a go-getter. I started reading books about sensory support and buying different tools to try with my own kids and then my students.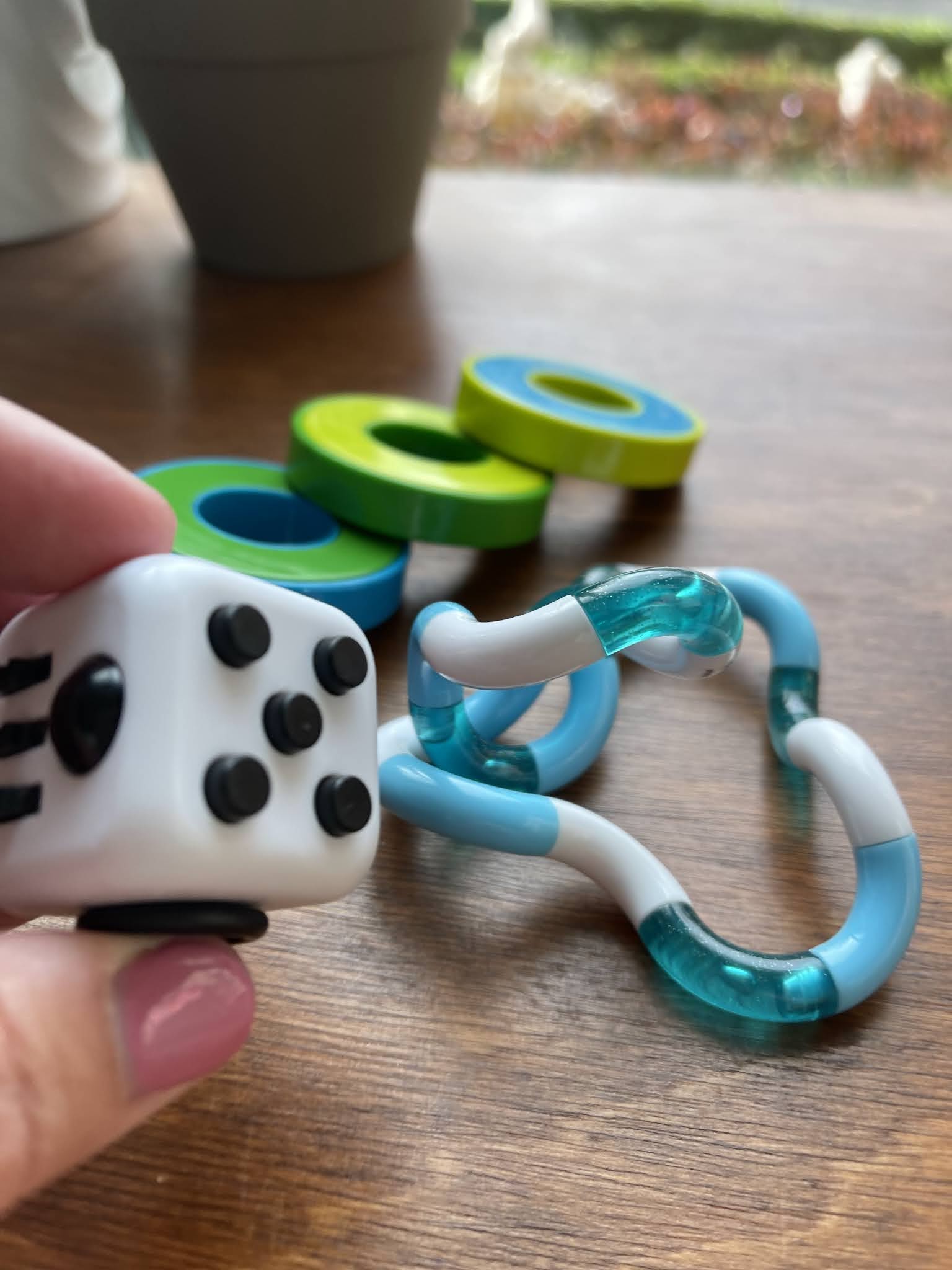 Every time I think of this journey, I get so inspired to share, so here I am sharing with you in hopes that I can inspire more educators. This is a huge passion of mine and I will break this down into a few blog posts, in hopes of inspiring and not overwhelming.  It's a process…so let's get started!
Frequently Asked Questions
I think the best way to help you support your journey of addressing your student's sensory needs is by answering some frequently asked questions I get when talking about offering sensory support in the classroom.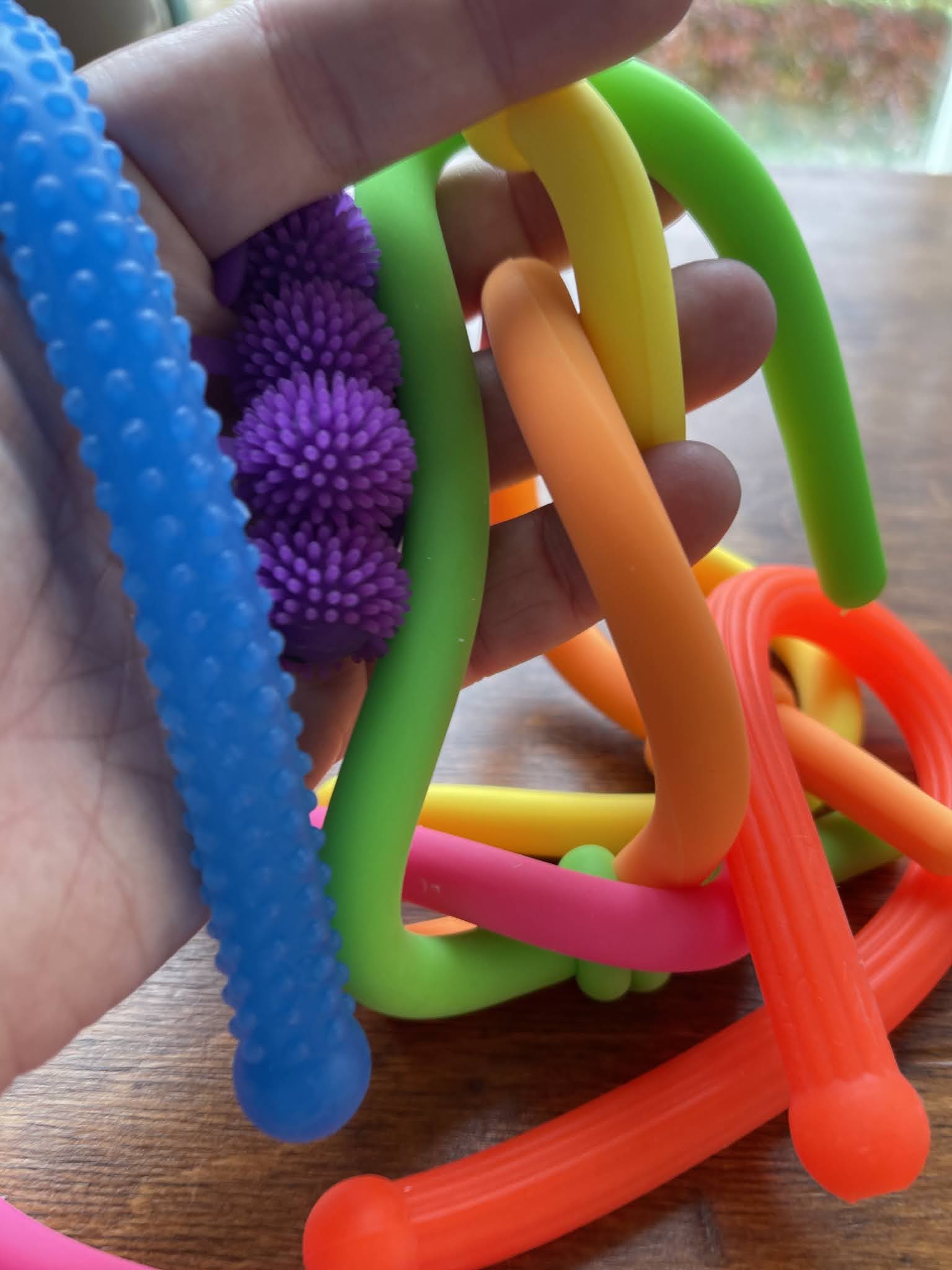 Don't fidgets distract other students?
Yes, they can distract others. So I recommend having a clear set of rules and expectations when using fidgets in the classroom. These rules are in print and repeated orally when I introduce the fidgets. If these expectations are in place and respected, then fidgets should bring down the level of distraction in the classroom because students who couldn't once focus and calm, are now able to. Which also means they aren't distracting others.
What are your expectations for students when using fidgets?
Each fidget might have a slightly different expectation. In general, my expectations are:
1. Check in with me before using for the first time so we can review expectations and so I can understand your needs
2. Be respectful to the materials (we go over what this means)
3. They stay in your own learning space, not others
4. Once they aren't helping, they are to be returned
5. Return them the way that you found them
How do you introduce sensory fidgets into the classroom?
I do this slowly and I use a checklist of student names to keep track of who has had a turn to try each fidget. Even if a student doesn't end up liking or needing the resource, they will all want to try them and I am ok with that if the expectations are followed. I introduce each tool on different days or weeks and go over its proper use/rules for use. This only takes a couple of minutes to do. I think an important part of the buy-in to take care of the materials is letting them know who invested in the materials and why they believed they were important for them to have. Making emotional connections is powerful for some kids.
How do you stock your sensory space or fidget library?
I have bought materials myself, written grants through my school district, and used websites like Donors Choose. Parents and businesses have donated materials for my classroom. I share the needs and the impact it has on our students. I have gotten many emails from parents not realizing that their child could benefit from these tools at school, but now they have them at home, too. That is the best feeling!  I was so inspired by the impact in my own classroom that I additionally wrote grants to create a Sensory Space Library in our school where teachers and support staff could access many tools to use with students in our building.
How do you know what tool is right for what kid?
This is all trial and error.  I recommend getting a small number of different tools, versus class sets. It's like finding the perfect jeans (or yoga pants ha) it can take a while. You may not find the perfect tool, but possibly something in the right family. THE MOST IMPORTANT piece to remember is you are helping your students realize when they do and don't need support. The act of seeking help is HUGE! Self-advocating is hard for many students (and adults for that matter!), and if we can teach that it's ok to need support you have made a BIG difference.
Who can use fidgets in your classroom?
Anyone who asks. If students can follow the expectations and express a desire to try, I will let them. The novelty does wear off and the kids who truly need the tool will be using them. Now… some kids that you know could benefit from using a tool might not realize they need it, or they feel nervous to try. Don't be afraid to approach them. THIS is another reason I love having it open to all students because it "normalizes" needing support from time to time.
How do you organize your sensory space or fidgets?
I recommend having designated places for each sensory support tool. For example, I would put privacy screens in several areas of learning for easy access. Furniture is located at desks and tables so it can be easily moved for use. The smaller tools should be kept near a space you can see or control for check out if you want (this helps monitor who is accessing tools and helps not to lose smaller fidgets). I don't recommend keeping them by your teaching table in order to limit distractions when working with small groups. Sensory support tools like headphones I keep in an easily accessible location.
What are some of my must-have sensory tools?
Now, this is a hard one. I will say that I have MANY sensory tools that have been successful throughout my experiences.  You can check out my
Sensory Space recommendations on Amazon
. 
(As an Amazon Associate I earn from qualifying purchases.)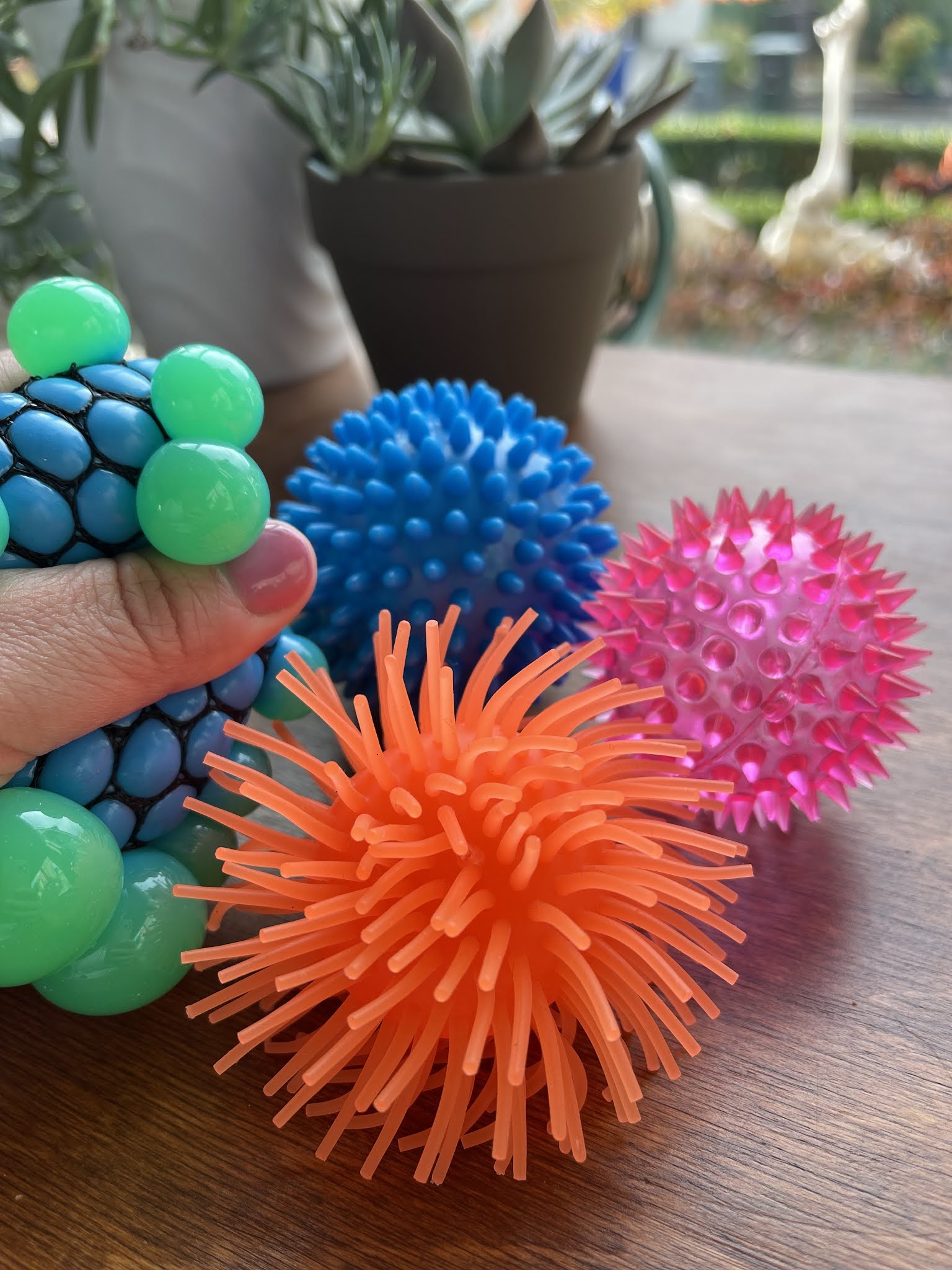 Don't Miss This!
Remember by giving students access to sensory supports in our classrooms we are:
providing them with the opportunity for fine motor practice
offering another avenue to access their creativity and logical thinking
supporting memory and focus
teaching self-monitoring skills
We are helping students to be present in our classrooms, and as a result, giving them the opportunity to fully take in our lessons and interactions with peers. Don't miss out on the chance to support your students in a highly impactful way.  The students will reap the benefits of your hard work and let's not forget to mention the positive impact it will have on your classroom management while simultaneously creating a positive learning environment.
Wait! Before you go, check out this week's
FREEBIE
which is from my "
Sarabella's Thinking Cap
" book companion unit. It is all about teaching kids to self-monitor and giving them the strategies to help themselves calm and focus so they can access the learning at hand. These "How Can I Focus?" posters and strategy list would be great visuals to add to your sensory toolbox and wonderful talking points when introducing self-monitoring strategies.
More to come on this topic soon!  As always, feel free to reach out with questions, suggestions or just to connect.