Hey there friends!
We know that Halloween is quickly approaching as if your students would let you forget!  I know I'm always looking for something fun that also keeps them engaged…not crazy! Ha.
Well, you are in luck because I have created
two Halloween STEM activities
ideal for the elementary classroom. I have a big love for Halloween-themed literature and when I found these two books I knew I wanted to create a STEM project and guided reading activities for them both.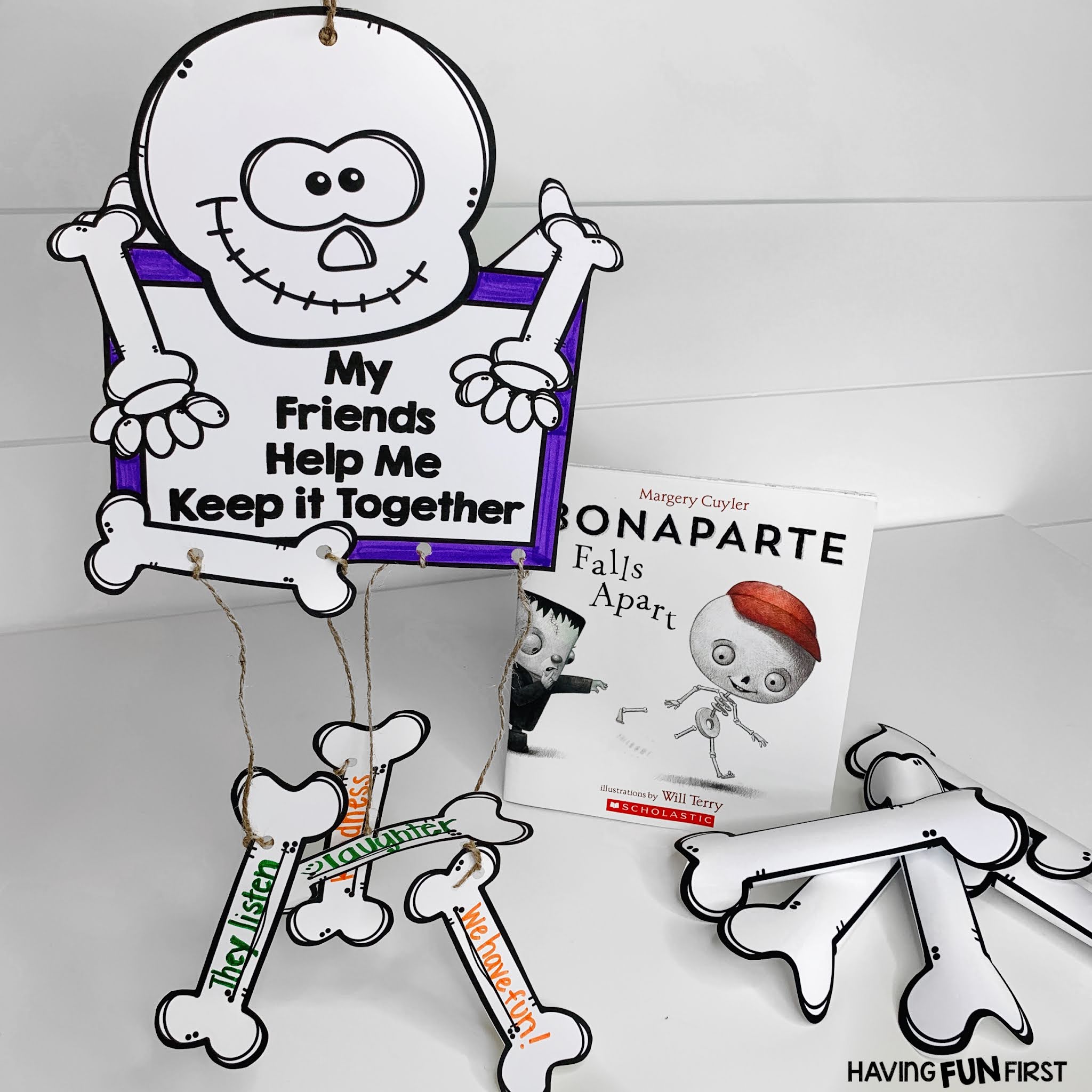 Halloween STEM Activity #1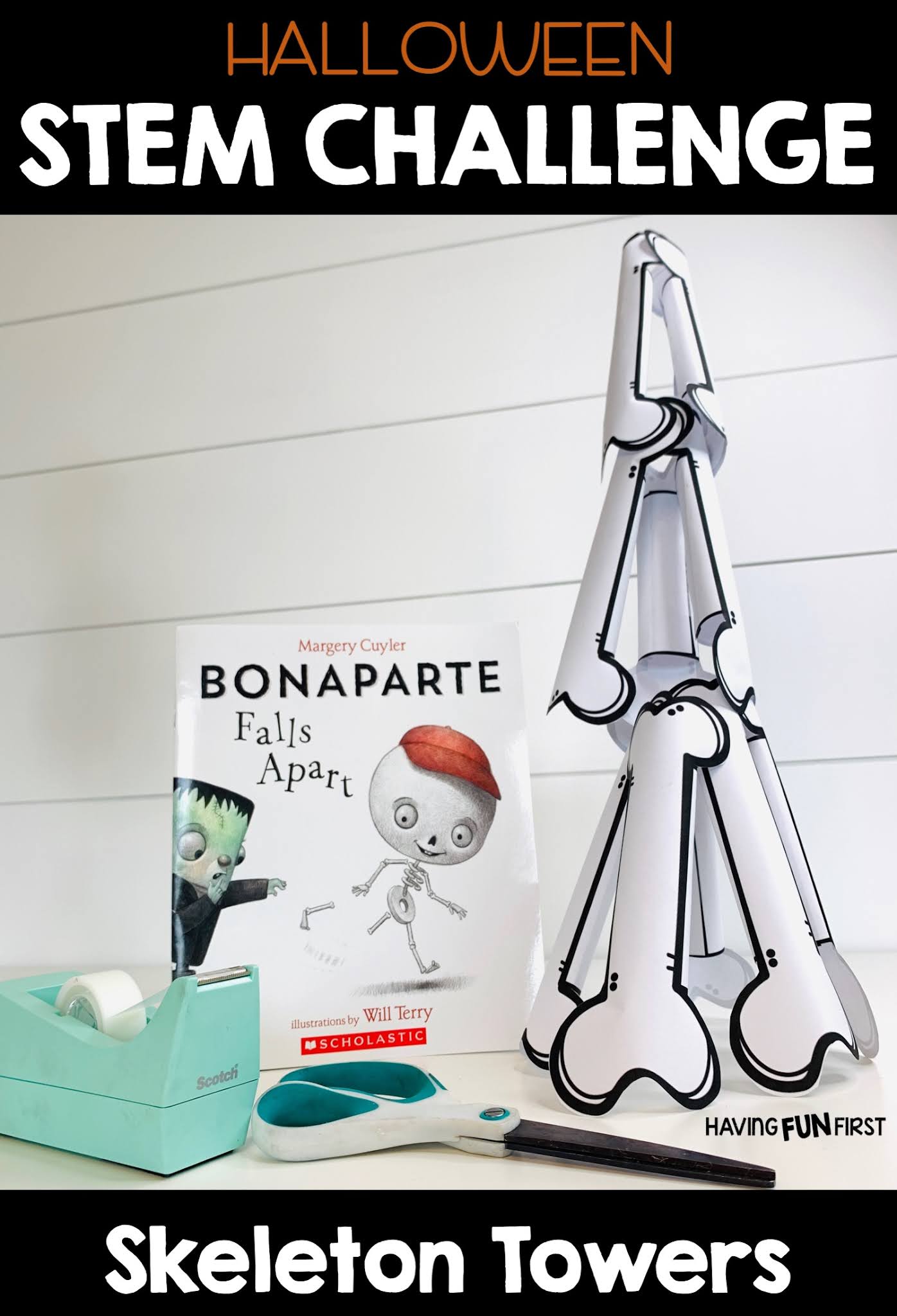 The first book is called, "Bonaparte Falls A Part" by Margery Cuyler. It is an adorable Halloween book about what it means to be a good friend. A young skeleton, Bonaparte and his friends work hard to keep him from falling apart into pieces. The different ideas his friends formulate are heartwarming and funny, sure to please your young readers.
In the Bonaparte Halloween STEM Unit students are instructed to build stable bone towers using included paper bones. Prepare to see a great collection of designs and ideas. There is also a friendship craft and multiple guided reading and writing extensions that go right along with the book and STEM challenge.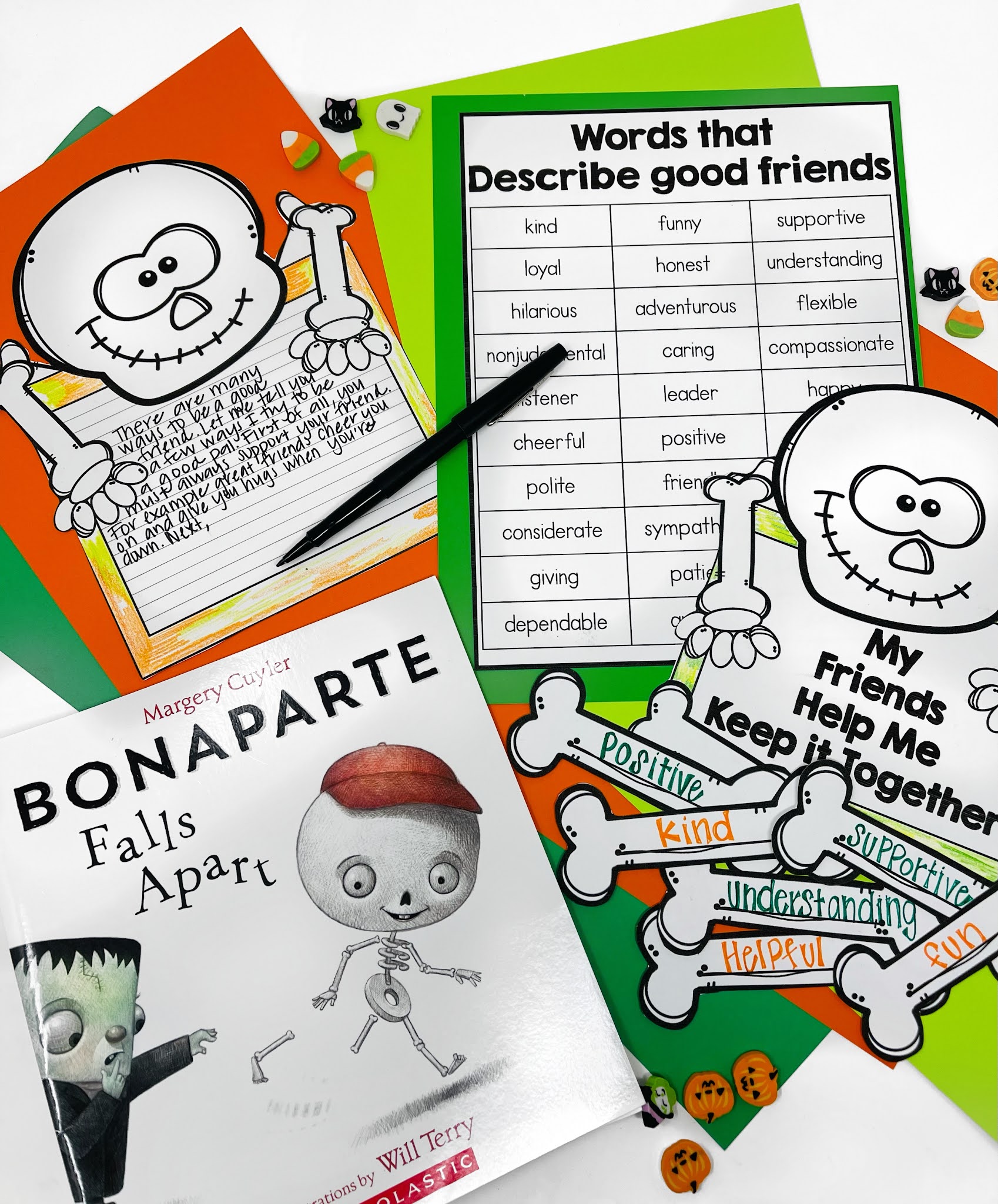 Halloween STEM Activity #2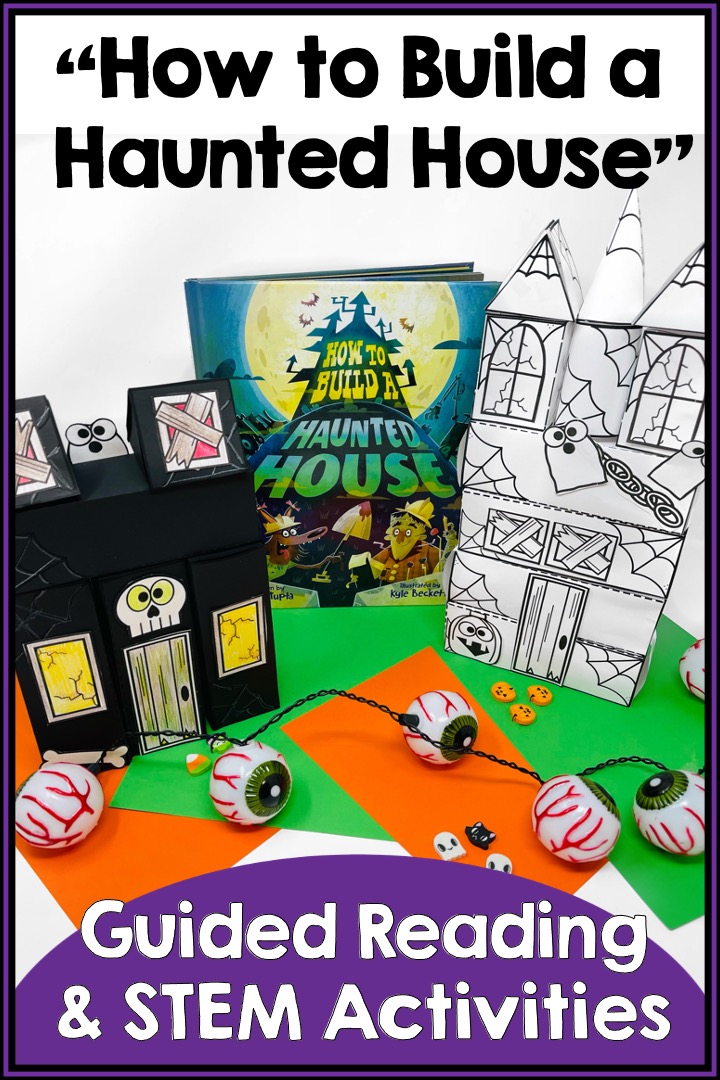 The second book I found was
"How to Build a Haunted House"
by Frank Tupta. This is a new book that I spotted while at the bookstore with my boys. My oldest said, "I knew you were going to buy that book as soon as I saw it." Ha, he sure knows me.
Anyway, this book incorporates so many fun Halloween characters and is based on kindness as they work together to build a home for a new family.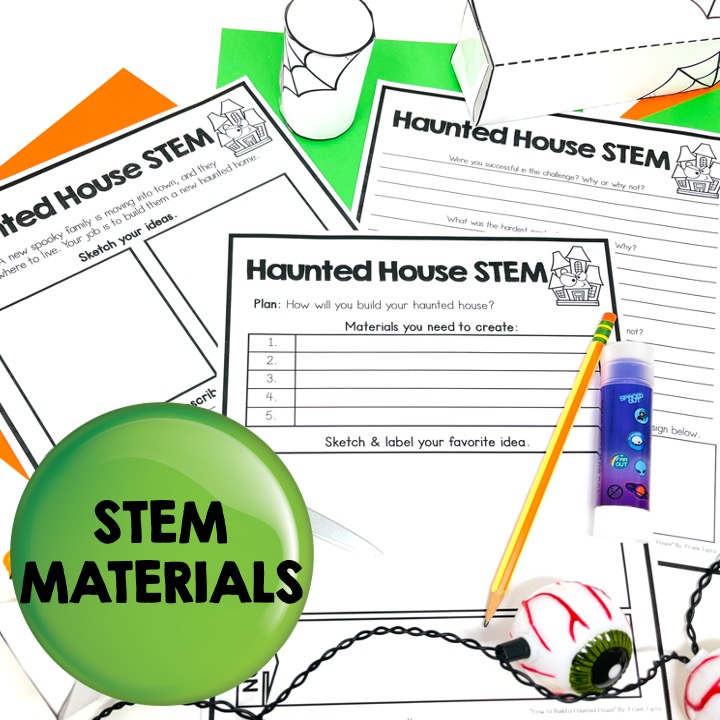 In my
How to Build a Haunted House STEM Unit
students are instructed to build stable haunted houses using included paper 3D shapes with optional printable decorations. This unit has many choices to bring up the STEM challenge level with a variety of 3D shapes to choose from. I was surprised at how different they can turn out. There is also a small craft beyond the haunted houses, as well as multiple guided reading and writing extensions to go along with the book.
I knew these books would be perfect Halloween STEM activities ideal for the elementary classroom. So, I got to work creating engineering projects that could be used at many levels of experience along with graphic organizers to help guide the engineering process. Of course, I also created a plethora of guided reading and writing extensions, as well as a fun craft! Click on any of the images to view these resources in my TpT store.  Both Halloween STEM activities are included in the Halloween STEM Activities Bundle.  You can also click the book titles above to check out these books in my Amazon store.  (As an Amazon Associate I earn from qualifying purchases.)
 New to STEM projects?
Now, if you haven't done a STEM project with your kids before, prepare to be amazed at
the engagement and pure excitement
that comes with it. I kicked myself for not incorporating them sooner when I did my
"How to Build a Snowman" Traps
, a few winters ago. I couldn't believe the different design ideas and the growth mindset the kids displayed throughout the designing and engineering process.
Before you get started with these units let me help to answer some questions you may have.
What does this involve?
Materials
When I'm planning a STEM unit, I always brainstorm all the materials that kiddos might need to create their ideal design. The materials don't need to be fancy. Look around your house and try to think outside the box. (I include suggested materials inside all my units.) I then make a list and ask parents to donate materials off the list if they can. I often get other things I hadn't thought of. Anything not sent in I can provide. As for leftovers, I keep them for future projects. BUT, these Halloween units, unlike some of my other STEM resources, come with everything you will need to build besides, tape and or glue.
Clear Expectations
Conversations about
growth mindset
are always important to have before starting a STEM project. We talk about mistakes meaning we are trying and that we are pushing ourselves and when we make mistakes, it creates an opportunity for different ideas to grow. We also talk about
teamwork
. Our expectations are that you let everyone have a chance to voice their opinions and share their ideas without negative feedback.  You may or may not have kids work in teams or with partners. Though if individual creation is what you are after, having kids explain their designs and reflect with peers is just as impactful and important in the engineering process. (Also, if you're looking for some great books on growth mindset check out my previous blog post
"Encouraging a Growth Mindset for Kids."
)
How long does this take?
This all depends on how you want to plan it, but here are some suggestions for doing these projects in one session or over many sessions. If you're doing the project over multiple days, one day can be about reading the book and completing a comprehension activity. On another day you can watch the engineering videos (I provide links in the unit) then, talk about how they might design their creations, as well as start the design process. On the last day, students can share their designs, make a design plan and start construction.
This can be done in one session as well. Read the book then tell students they are going to be stepping into the story to design bone towers or their very own haunted house. Their eyes light up!  You can watch the video on engineering, if there is time, and then get to designing and constructing.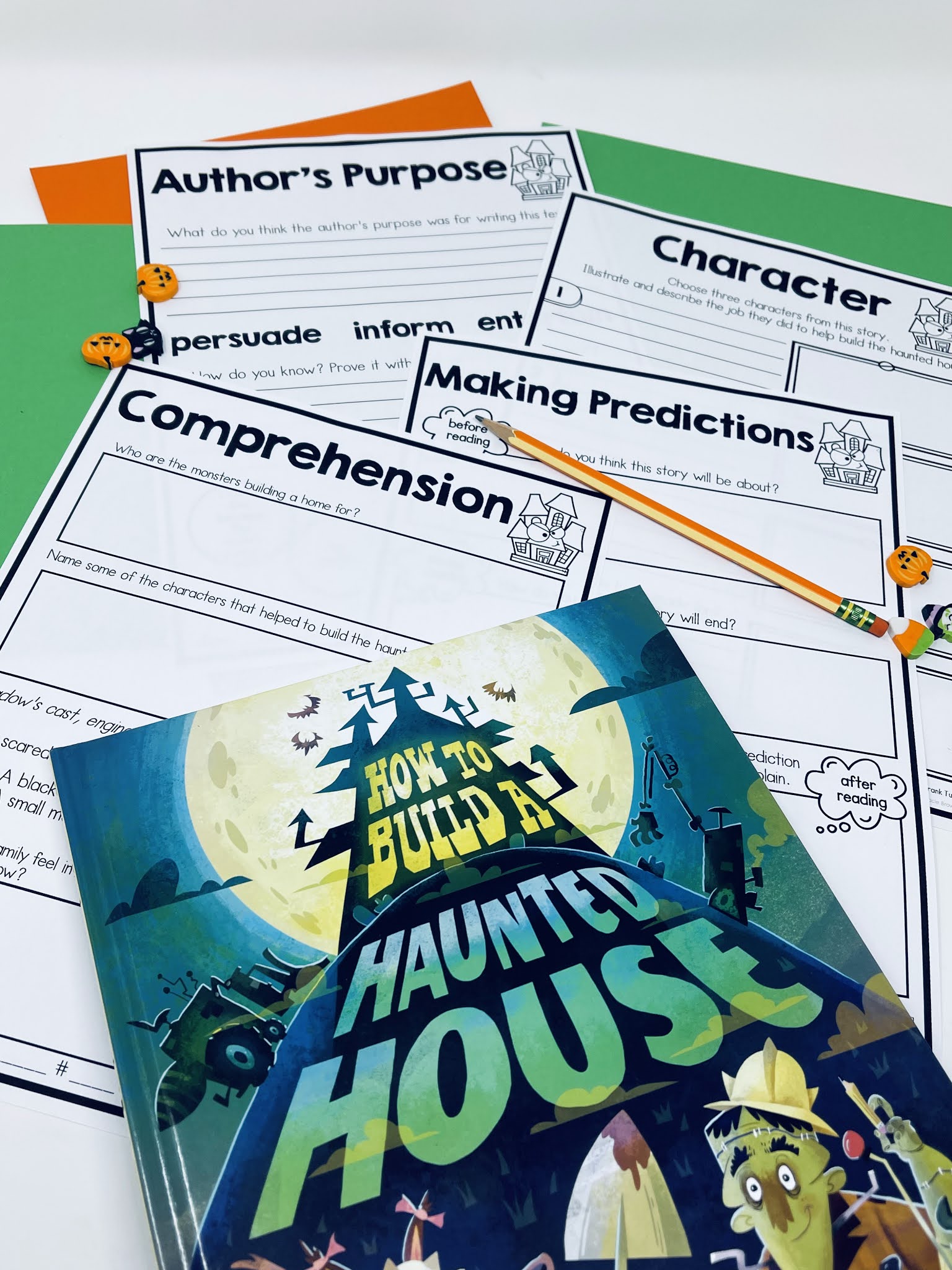 Get Started with a STEM Freebie!
I have said this before and will say it again, it is so rewarding to get to stand back and observe their minds at work. Kids going beyond where they thought they could, kids celebrating and laughing… ALL ON TASK! I am not trying to be cheesy, but I couldn't stop smiling. It is a whole new view of your kiddos and an experience I know they won't forget. I hope these two Halloween STEM activities ideal for the elementary classroom make it into the hands of your students this fall. I promise you won't regret it.
If you haven't taken advantage of downloading my FREE STEM POSTERS you can find those here.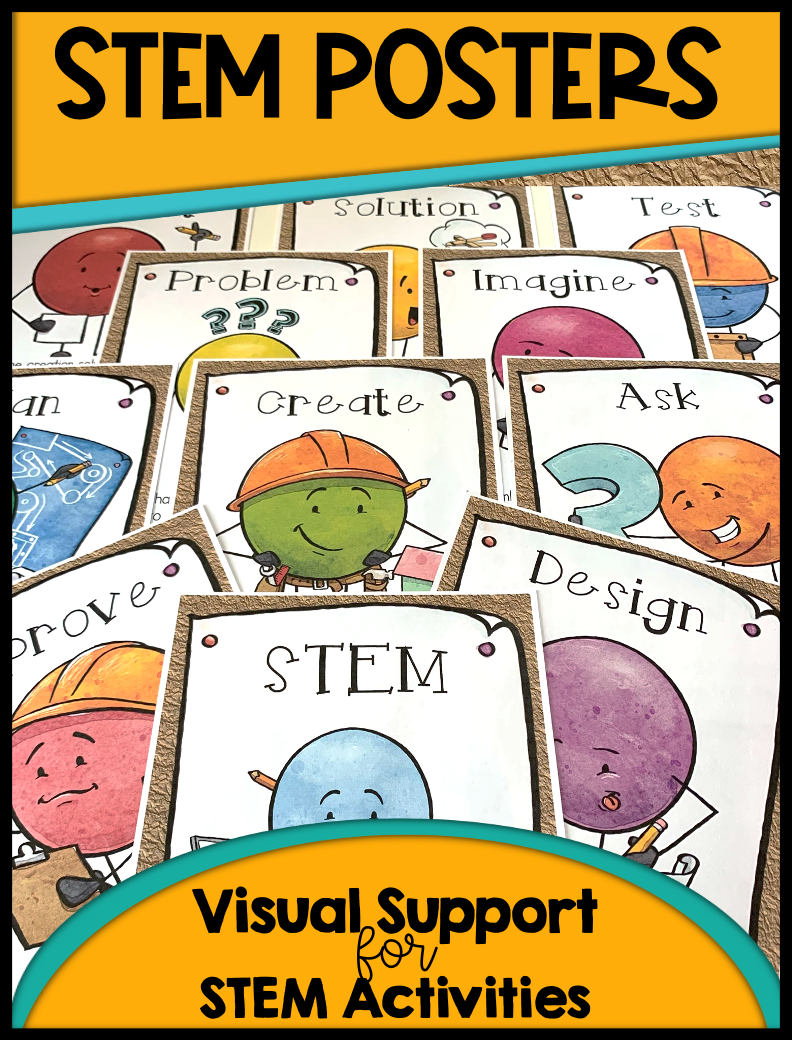 And as always, feel free to reach out with questions, suggestions or just to connect!