Hey there friends,
The weather here in Washington has me missing the sun so much that I would consider taking a trip to space just to spot the sunshine! So with escaping to outer space on my mind, I have some space reading comprehension activities to share including a free nonfiction reading passage.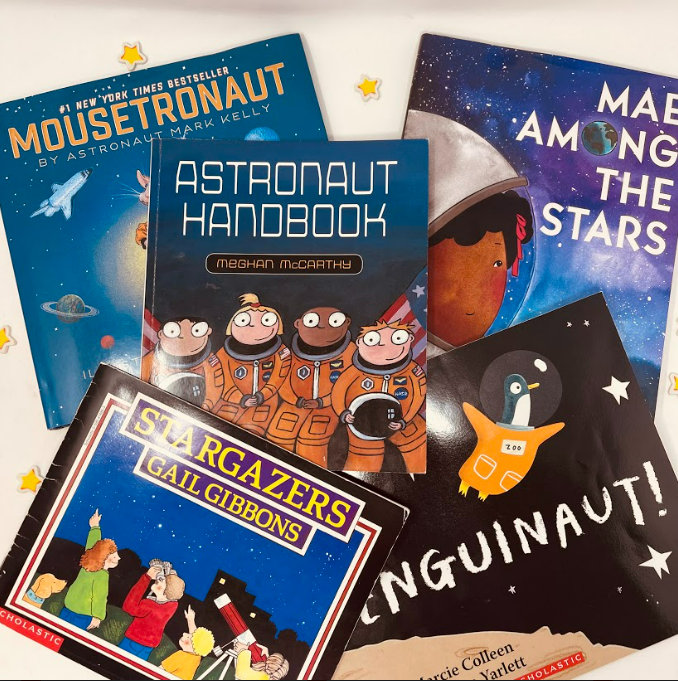 To get started with these space reading comprehension activities, I wanted to practice comparing nonfiction and fiction texts with my students. We know that most students have a basic understanding of what fiction and nonfiction are, but it is important for us to revisit these skills taking them to a deeper level. I also knew that these reading comprehension activities would be a great transition into our outer space nonfiction research unit where students explore texts to compose their own planet reports.
Nonfiction vs. Fiction Mini Lesson Idea
One of my favorite ways to explore and compare fiction and nonfiction is by getting books in the hands of our students. A simple mini lesson that is extremely impactful is a book bin sort.
I prepare book bins for groups that have both fiction and nonfiction books included. I suggest 2 to 3 of each per tub. Also set 1 of each aside for yourself to model/share with students. I tell students that we will be exploring nonfiction and fiction texts by looking through a variety of books and sorting them into two piles, fiction or nonfiction.
First, though, students must understand what the characteristics of each are. (Take the books you set aside and explore them with the class asking and pointing out different characteristics you all see. Record these on an anchor chart.)
Once students have an understanding of what characteristics fiction and nonfiction books have, let them explore the books that are in their tub. Let students know that after looking through them, they will sort the books based on similarities they might have. As the students are doing this walk around the room to ask about similarities and differences that they have. Possibly giving names to elements that they notice, for example, captions, table of contents, etc.
After the groups have had time to sort, call on groups to share how they sorted their books and what characteristics they had in common. Refer to the anchor chart as they share and add characteristics you might have missed. Make sure to keep the anchor chart on display as you work on the skill throughout the week.
Nonfiction Space Reading Comprehension & Literacy Unit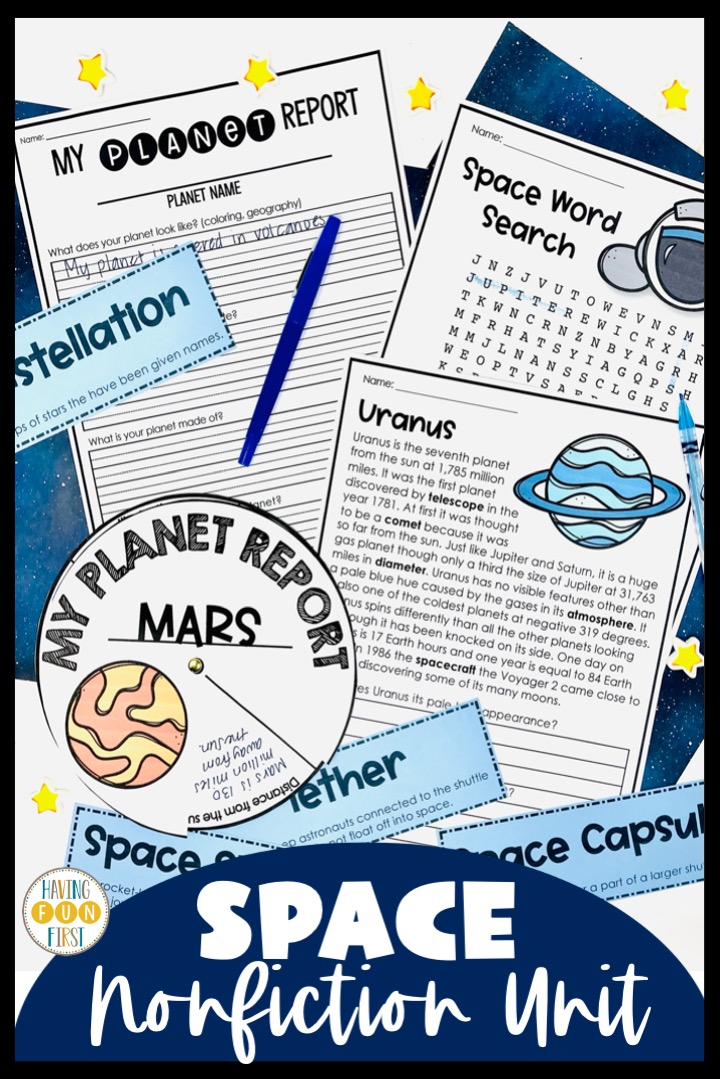 My teammates and I always collaborate on what research topics we will explore so we can share ideas, resources, and examples to help meet the needs of our diverse learners. A theme that we have visited for many years is space because it always excites our students. This is what inspired me to create my own original nonfiction outer space exploration unit.
Initially, I wrote 10 nonfiction reading passages on the planets and astronauts (which you can download here for free) to offer another resource for students to pull information from for their research. Well, I have a hard time stopping when I get creating. In the end, I had created report templates, research materials, graphic organizers, some fun morning work, and a fun science experiment extension about the craters on the moon.
It seemed that the excitement for space grew each year and in order to keep up with the student demand to keep the exploration going I wrote a grant to get additional resources in our classroom. You can check out the grant I wrote if you are also in need of additional resources.
My students always LOVE learning and showing what they know about their planets. Even after the unit has "ended" I continue to have space activities as a center choice. My students choose to keep researching more about space and love showing what they have learned and that is a win!
Looking for other nonfiction units like this one? Check out my previous blog post about my Tide Pool & Ocean Animal Nonfiction Unit which also includes a free nonfiction reading passage, or my Insects Reading Comprehension Activities.
Space Guided Reading Activities
After years of successful outer space exploration and wonderful open house events that allowed students to show off their completed space research, I knew I wanted to dive into reading deeper beyond reading for research. This is why I created my Guided Reading with a Purpose unit on space with a focus on fiction vs. nonfiction. By exploring and examining multiple fiction and nonfiction texts students will be able to determine what goes into these different genres and the reason why we read these different texts.
Here are my top 5 mentor texts and guided reading resources about outer space that can be used to teach and compare fiction and nonfiction:
"Mae Among The Stars" is an amazing realistic fiction book based on the life of Mae Jemison. This girl has big dreams and a big heart too. She faces naysayers with a growth mindset and determination to follow her dreams. Send your kids the message that when you set your mind to something, dream big, work hard and go conquer those goals!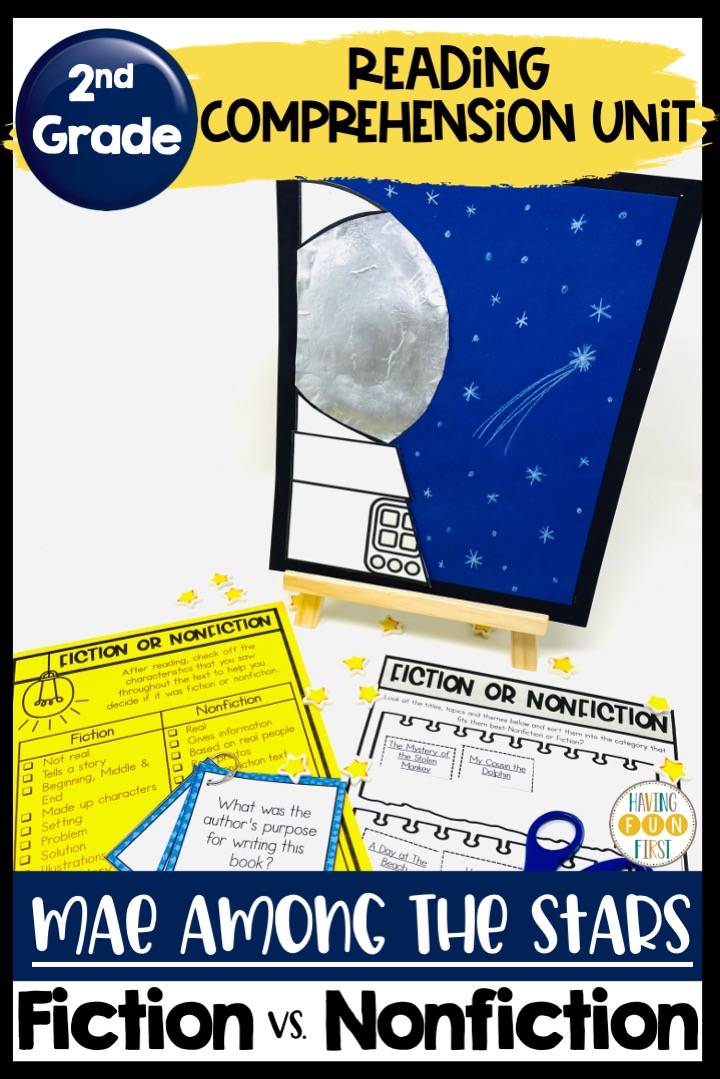 Gail Gibbons always delivers if you are looking for a book packed with nonfiction text features and detailed illustrations and diagrams. This book explores the stars and what we might see when we look up into the beautiful night sky.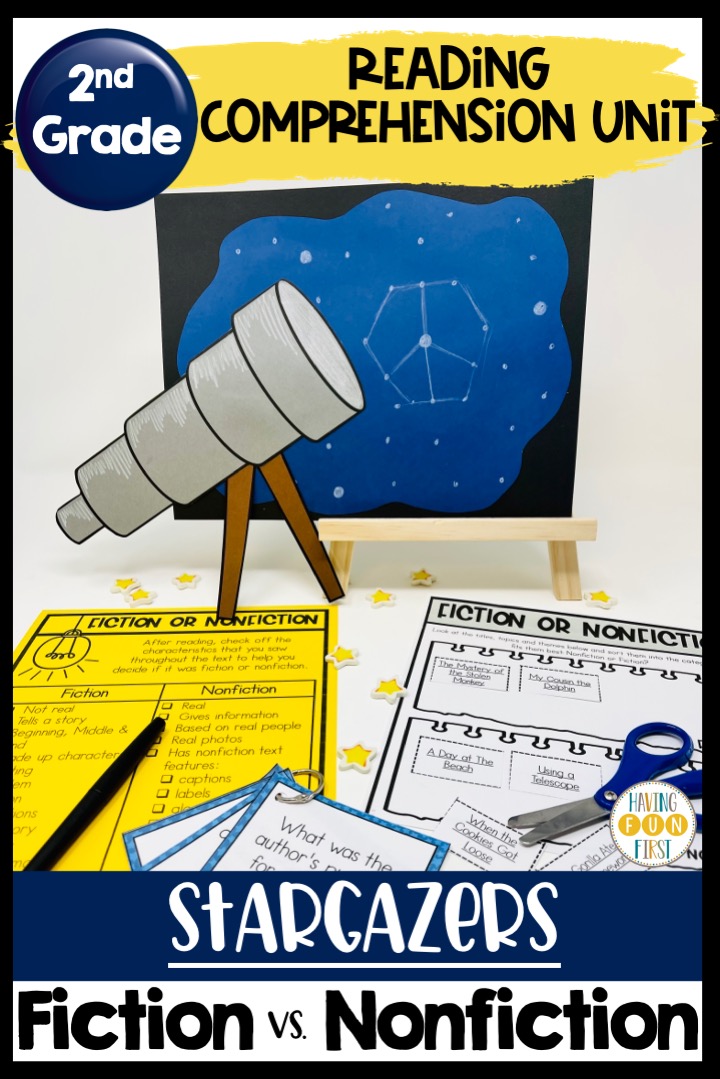 "Penguinaut" is a lighthearted, fictional text that follows a penguin that wants to do big things all on his own. He shows growth mindset and determination as he creates a rocket ship that takes him to space. But, is success perfect without friends to share it with?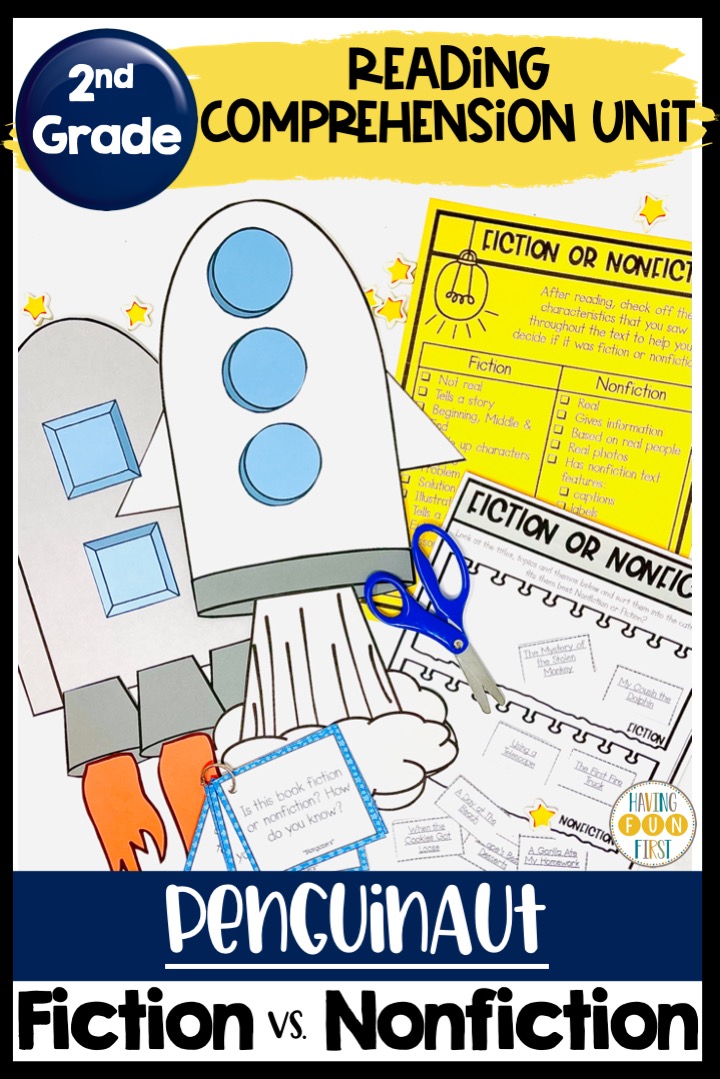 "Mousetronaut" is another sweet nonfiction book loosely inspired by the author's travels to space. Commander Mark Kelly tells a sweet tale of the power of the small and reminds readers that everyone has a purpose and can make an impact.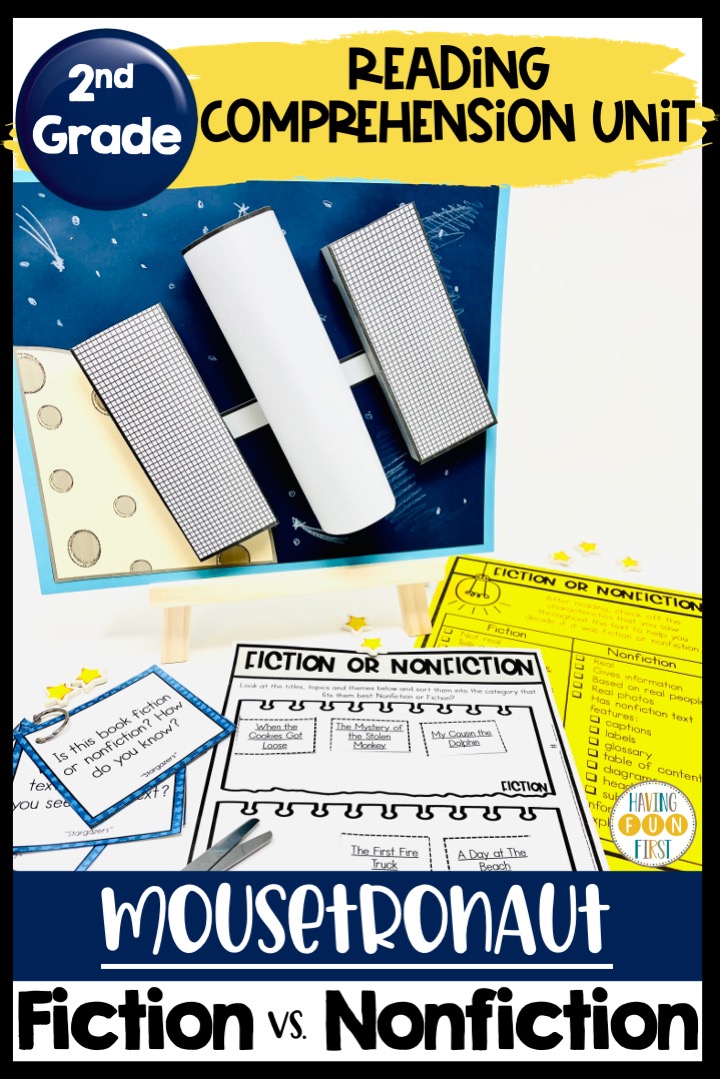 I chose this book because it offers a challenge to students when deciphering whether or not it is fiction or nonfiction. Often our students think that cartoon illustrations won't pair with facts. This book proves that thought wrong with fun illustrations accompanied by great nonfiction facts to excite and educate readers.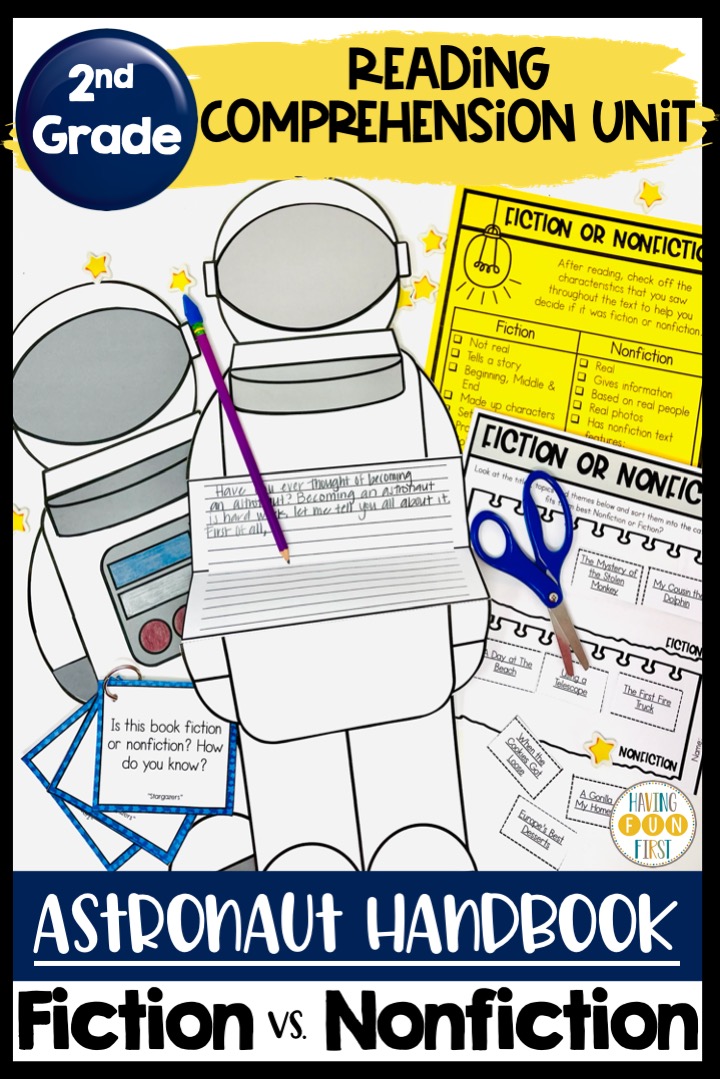 Click on the book title links above to check out these books in my Amazon store. (As an Amazon Associate, I earn from qualifying purchases.) Click on the images above to view my guided reading resources to go along with each text.
All 5 book companions listed above can be purchased together with my Guided Reading with a Purpose Space Bundle.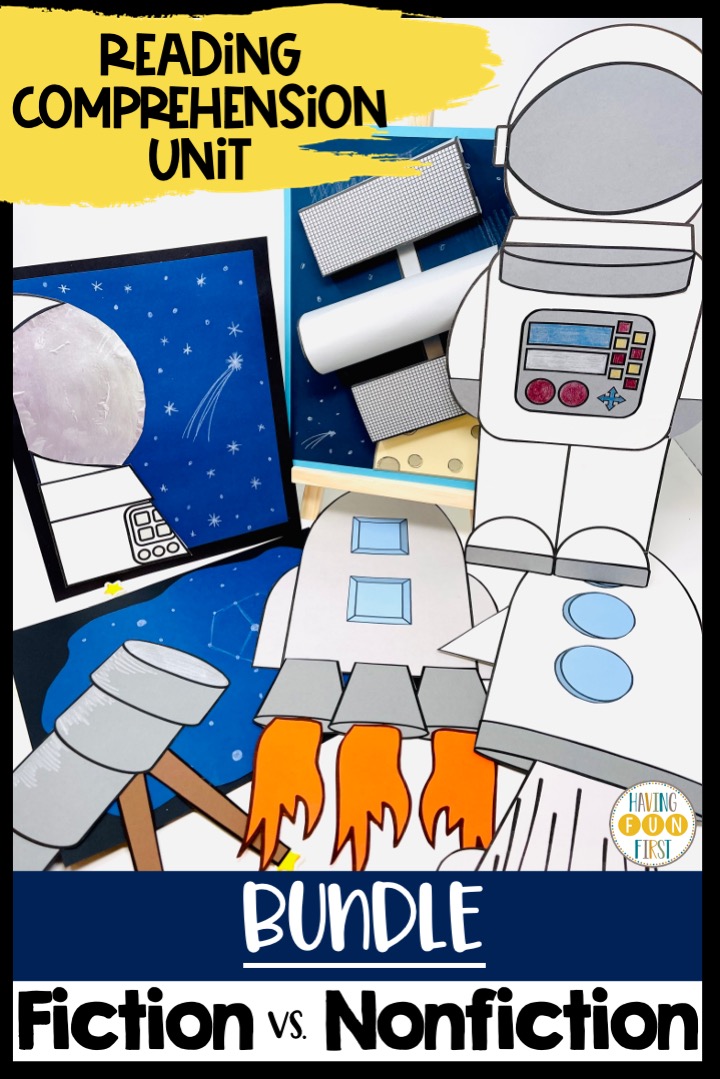 If you aren't already familiar with my curriculum resources, each of the Guided Reading with Purpose units include…
•Mini-lesson ideas to introduce the focus
•Comprehension cards to accompany the book to review throughout the book or for discussion after you read
•Parent communication: letter home going over the weekly focus with suggested conversation starters around literature
•Book talk bookmarks for guided reading groups, at-home support, or independent student use
•Posters supporting the target skills
•Bulletin board headers and posters
•Skill cards: character, setting, problem & solution, etc.
•Morning work or fast finisher activities
•Multiple worksheets covering current skills and previous week's skills
•Writing prompt(s)
•Graphic organizers & writing paper
•Craft
You can read more about my Guided Reading with a Purpose Curriculum here.
Don't forget to download your astronaut reading comprehension freebie!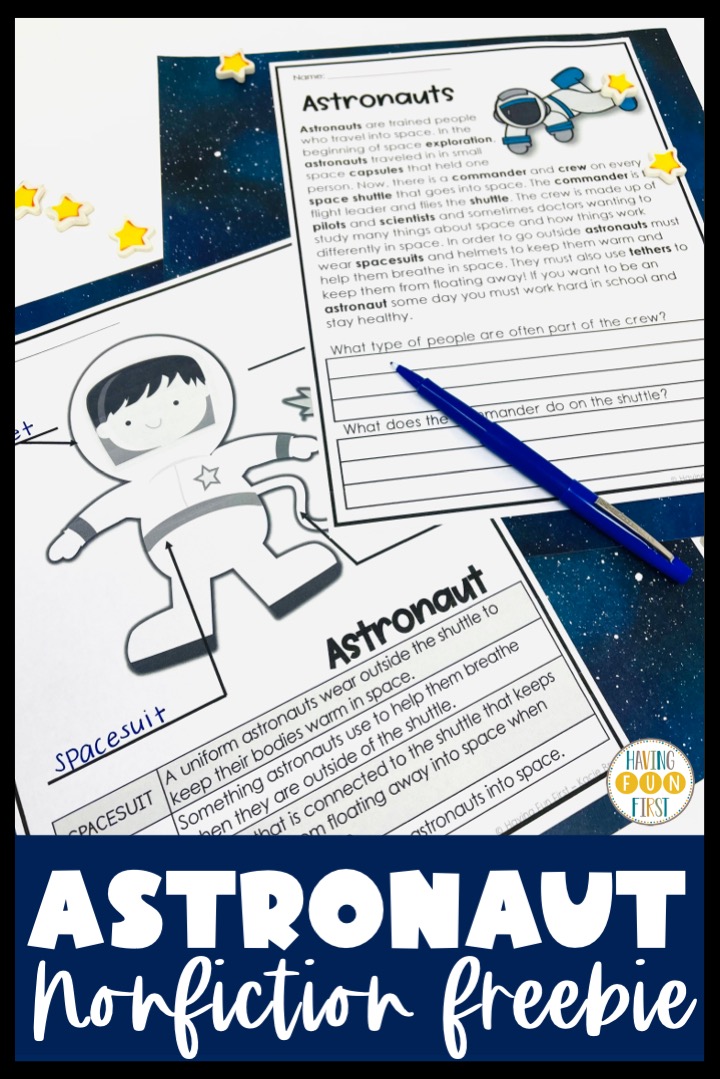 I hope you enjoy using these space reading comprehension activities with your nuggets, and as always, feel free to reach out with any questions, comments, or just to connect!