Hey there friends!
We're on the home stretch to Thanksgiving break and I know I'm looking forward to it! Fun with family and friends and time to relax and reset what could be better? The kids are also in need of a break, which means having to work a little harder to engage our students, and it's a little tricky when our brains are so worn out ha! I would love to share a fun
Thanksgiving STEM challenge
sure to keep your students on task and having fun.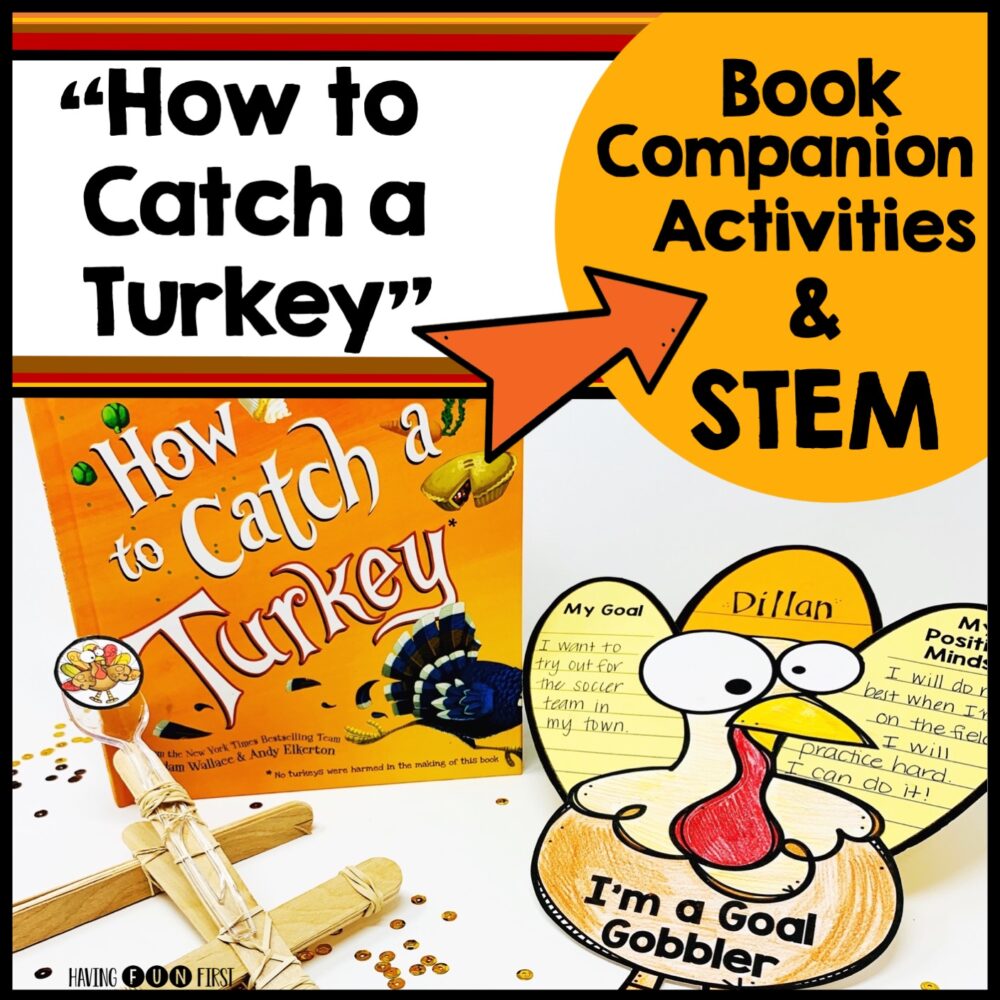 I don't know if you have seen the "How to Catch a …" series by Adam Wallace and Andy Elkerton but they are hilarious, brightly illustrated, and naturally lend to a fun STEM challenge. When I saw "How to Catch a Turkey" on the shelves I knew I had to use it to create an exciting activity.
I read the book with my own boys and after seeing all of the turkey's attempts to escape, we decided to make catapults! You can imagine how excited they were to make things that launch, and mom was cool with it!
Now, if you haven't done a STEM project with your kids before, prepare to be amazed at the engagement and pure excitement that comes with it. I kicked myself for not incorporating them sooner when I did my snowman traps last winter. I couldn't believe the different design ideas and the growth mindset the kids displayed throughout the design and engineering process.
Now with every unit, I make I try to give myself multiple options to extend and support the learning. If you are anything like me, you love to keep it new and fresh each year. Having multiple choices on how to deliver the standards keeps it new and fresh for me and keeping me engaged is important too. Ha!
Thanksgiving STEM Challenge
Ok, so what does this Thanksgiving STEM challenge involve?
Materials
When I'm planning a STEM unit, I always brainstorm all the materials that kiddos might need to create their ideal design. The materials don't need to be fancy. Look around your house and try to think outside the box. (I include suggested materials inside all my units) I then make a list and ask parents to donate materials off the list if they can. I'm talking toilet paper rolls, toothpicks, tape, popsicle sticks, cardboard scraps, etc. I often get other things I hadn't thought of. Anything not sent in I can provide. As for leftovers, I keep them for future projects.
Clear Expectations
Conversations about growth mindset are always important to have before starting a project like this. We talk about mistakes mean we are trying and pushing ourselves to think beyond what we may have experienced. When we make mistakes, it creates opportunities for different ideas to grow. We can't give up and be proud of our creations. We also talk about teamwork. Our expectations are that you let everyone have a chance to voice their opinions and share their ideas without negative criticism.  You may or may not have kids work in teams. I recommend at least a partner so that they can reflect on their design choices and practice compromising which are other great reasons to have activities like this in our classrooms.
How long does this take?
This all depends on you. I have done this Thanksgiving STEM project in multiple ways. I have broken the activities into separate days. We read the book and then I chose one of the comprehension activities that focused on a strategy we needed to review or used it to introduce a new standard. One another day we watched an engineering video (I provide links in the unit) then we talk about how we might design our catapults as well as start the design process. Then the last day we partner up to share our designs to make a joint design plan and start construction. Now, this can be done in one session as well. I have read the book to my students. I then would tell the kids we are going to help our turkey escape and will be constructing catapults to do so. Their eyes light up!  We would watch the video I have on catapult design and we get to designing and constructing. I do have two options as well for a determined design or free design engineering.
I just have to tell you how rewarding it was to get to stand back and observe their minds at work. Kids going beyond where they thought they could, kids celebrating and laughing… ALL ON TASK! Not being cheesy, but ok it's cheesy… I couldn't stop smiling. It is a whole new view of your kiddos and an experience I know they won't forget. Let's keep these students engaged this November with this fun
Thanksgiving STEM challenge
!
If you have 't taken advantage of downloading my FREE STEM POSTERS 
click on the image below. 
I hope you have a great week! We can do this, friends!