"Teacher! He did, she said, I tried but.." I know you are hearing it all. Our kids are having a harder time gettin along. It's just that they are now more like siblings instead of just classmates. They are getting to know each other more, spending more time together and needing a little space. This time of year is usually when I need to reteach what is tattling vs. reporting and do some targeted instruction on problem solving.
What I have found is that sometimes kids just need to get their feelings out and want to be heard.

Unfortunately, we know how long that line can get after recess. Without taking all the time, I still want to hear their concerns in order to validate their worries because I know kids will not be fully focusing on me if they have something else weighing on their minds whether it feels like a big deal to us or not.
Many years ago, (yes I'm old enough to say that) I decided to create a "Problem Solver Station". It has evolved over the years, but the basics remain. I found a small space in my room where kids could go to problem solve their issues independently before coming to me. At this station the main component I have is problem solver forms.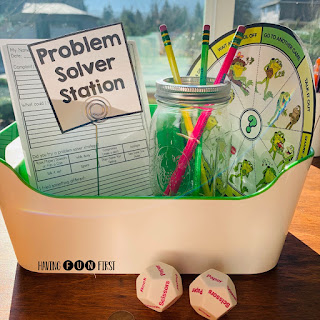 On these forms they write out what the problem/concern is. They then write how they tried to solve or avoid the problem, there is even a bank of strategies we have discussed in class to choose from. There is also a space where they indicate if they still need to talk to me about this. You would be surprised how many kiddos say no. Many times, they just need to write it out.
Now, you may be thinking how does she have enough time to read all of those?! First, they don't write that much. Second, if they took the time to write it all out, I owe it to them to read and see if it is something I need to look into further. Another reason I like the problems or concerns being written out is it helps me collect data for reoccurring issues. Last, it cuts down the line up and blurts right after recess which we know can sometimes ruin an effective lesson launch.
Another great component at the problem solver station is a copy of your schools problem solving strategies, if you have one. In my district they use "Kelso's Choices". I printed a smaller copy of the visual they use, to help kids chose quick and efficient strategies to solve a problem.
Last, I have a penny for simple "let's flip for it" problems and a set of rock, paper, scissors dice. These are amazing because kids can't argue over who cheated or no you can't use "bomb", etc. Ha!
The problem solver station has been a huge help to cut down on interruptions and problems getting out of hand. Kids need to be able to problem solve independently. Now of course we talk about small problem vs. big problem and when you must get an adult. Asking students "Is this a small problem or big problem?" is my go to prompt before sending them to the station.
You can pick up your copy of my problem solver forms by clicking on the image below.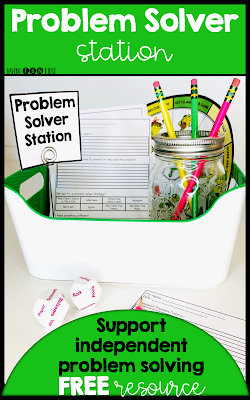 Now, if you haven't directly taught big problem vs. small problem or you need a refresher for your students I have a great book companion unit with the theme of problem and solution which also focuses on tattling. Inspired by the book "Don't Squeal Unless It's a BIG Deal" I created engaging guided reading activities, book talk questions, craft templates, mentor posters and writing extensions ready to print and go! Click on any of the images below to check out the unit in my store.

I wish you the best of luck in supporting your kiddos and your sanity. I would love to hear how you support your kiddos working through their problems. We can all use some extra ideas!