Intro to the Guided Reading with a Purpose Curriculum
Hey friends,
If you are looking for something deep, engaging, focused, and organized to incorporate into your literacy block, you are in the right place. For those of you who are not familiar with my Guided Reading with a Purpose curriculum, I am excited to tell you a few important components of the program! I have loved using this to not only meet standards but to teach grade-level themes and important social lessons that are oh so valuable to our classroom foundations.
Below are a few building blocks of the program explained, but you can also read more about the curriculum here. To those of you who are familiar with this program, you know that Guided Reading with a Purpose incorporates literature. Each day a new book is shared with your class, in fact, five different books are shared each week revolving around a central theme to keep your guided reading time focused and impactful. Some books are printable and some you can purchase, listen to online or check out at your local library.
Guided Reading with a Purpose Incorporates…
STANDARDS BASED INSTRUCTION – Each weekly unit focuses on one main standard though many more standards are integrated in daily lessons. All other standards incorporated are reviewed in either previous weeks and if not taught in 2nd grade yet they are foundational skills from previous grade levels. 

WRITING – Literature is an excellent way to inspire ideas for writing. Each daily resource has a connection to use in writing with either informative, opinion, or narrative writing as well as, how-to and letter writing.

CRAFTS/Hands-on projects – There is a craft or hands-on activity included in each daily unit. They are also inspired by the literature featured. I liked to pick and choose to keep things new and exciting for me from year to year.
What You'll Love Most About Guided Reading with a Purpose…
The most important piece of Guided Reading with a Purpose is that you don't need to rush through multiple elements and strategies each week. In order for our students to fully grasp concepts, we need to spend the time to analyze and explore the skills we are teaching.  This leads our students to make deeper connections to concepts. Sharing engaging text, creating fun crafts, completing themed activities, and participating in focused book talks can't help but lead to memorable learning for our students.
What People Have Said About the Guided Reading with a Purpose Curriculum…
"I homeschool my daughter in 2nd grade and needed good comprehension and writing assignments. I was not satisfied with the curriculum I purchased from her school and searched TPT for help. This was PERFECT! My daughter enjoyed the assignments, learned a lot, and loved the book options. Worth every penny."

"Great as always! I love that I can print and be ready for all levels for myself and when I have a sub!"
"Thank you! Such a huge timesaver. Everything is very clear and easy to deliver to the students."
"You have put your whole heart into this!  Thank you for a great resource that has everything I could ever need in it for guided reading groups or a whole class lesson.  I love this story, and now I have a great set of activities to go with it."
Guided Reading with a Purpose Resources
Here is a link to the year-long curriculum map that features literature titles, standards focus, writing extensions, etc. It is updated as new units are added.
Click on any of the images below to explore my first few weeks of the guided reading curriculum perfect for getting to know your students while learning/reviewing literary concepts.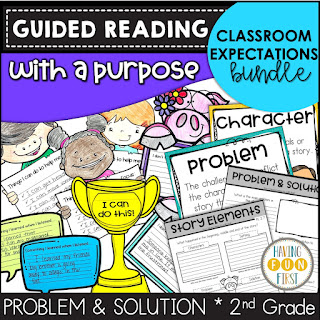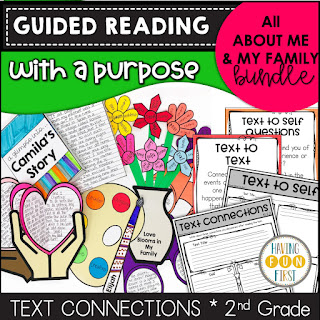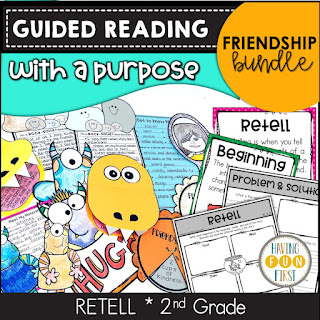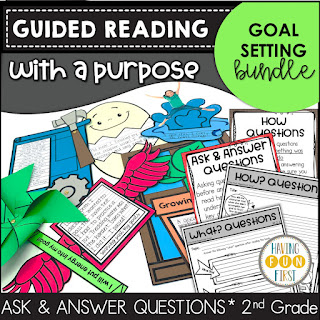 At the end of the day we all love being able to hit all the standards, but with this curriculum, I loved how it brought up the level of fun and engagement with my students. If you want to do the same in your classroom make sure to check out my Guided Reading with a Purpose Curriculum. If you want a direct peak, you can also download this free back-to-school Guided Reading with a Purpose resource here.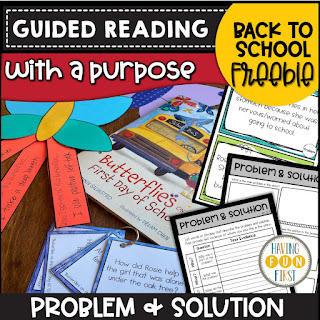 I hope you have an amazing week and always feel free to reach out.