Hey there!
So, I have been doing state reports for years and I always felt like they could be so much more. I love doing them during our Flat Stanley adventures so the kids can really compare our state to the states that Stanley visited. I was also always surprised at the lack of literature out there on our states. So I decided to start a huge project and make a mini-unit of each state. Each state will be available individually and I intend to bundle the states by region and of course the entire United States. I am hoping that it brings a little more fun to learning about our 50 states.
The first state completed is California.
Check out what's included:
Literacy
1. State reports
– My state report
– State report wheel
– All about book
– Opinion outline:
California is the best state… Why you should visit California…
– Informative outline
– Blank writing paper
2. KWL
3. State compare and contrast
4. Non-fiction passage with comprehension questions about state
5. Non-fiction small reader
6. Travel brochure
7. Word search
8. Crossword
Math
1. Differentiated story problem:
I often have kids color and cut out when finished for a
fun display.
2. What is your favorite state symbol graph
Art
1. State puzzle
2. Design your own state plate
3. Coloring sheet
Other
1. State symbol cards
2. State stat cards
3. Recommended state books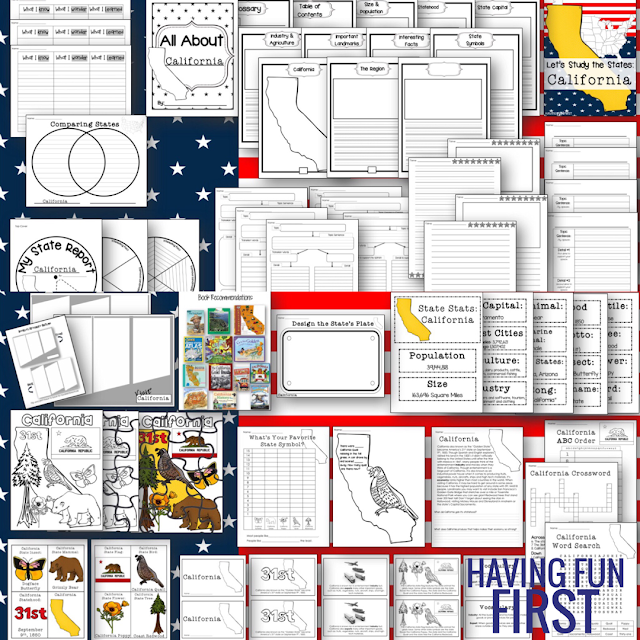 Study The States: California